Golddust Dresses ~ Look Out & Wonderland Collaboration
An interview with Roxana Zal and Niki Tsukamoto.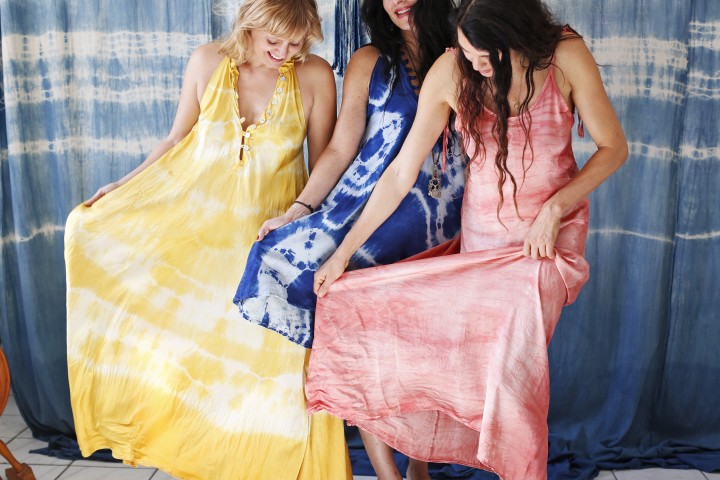 My two favorite Angeleno artisans have joined their skills to create a line of beautiful dresses. It was so inspiring visiting with Roxana Zal  and Niki Tsukamoto at Niki's studio in China Town. There we got to play dress up in these beautiful, one of a kind, vegetable dyed silk dresses. I have known Roxana for years since like me is a half Iranian, half English, thespian that has moved on from acting to hand crafting items with love. Her bohemian, gypsy loving style comes through in her designs for her line Golddust Dresses.
I know Niki from various craft fairs around our fair city of Angels. For example she is responsible for the lovely dressing room curtains at The General Store in Venice. I have long admired her indigo dying technique. Niki uses the ancient Japanese form of indigo dying  or shibori to make beautifully rich colored pillows, scarves, textiles, dresses, and insanely sexy bathing suits.
The light and energy in the studio made me want to move in and set up shop. The combination of being in the midst of Old world Chinatown, and the touches of Japanese treasures sprinkled around, made the place all the more charming. Wearing one of the dress is like putting on some happiness. The way the silk feels on the body, and the soothing colors that can only come from botanicals are truly a lady's dream. The one I picked out was of course a rose colored hue that comes from Brazilwood.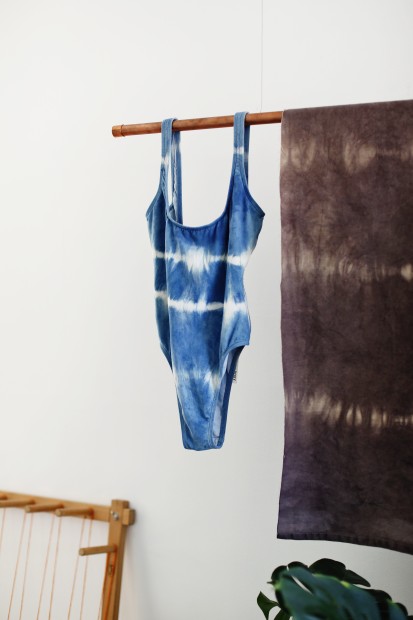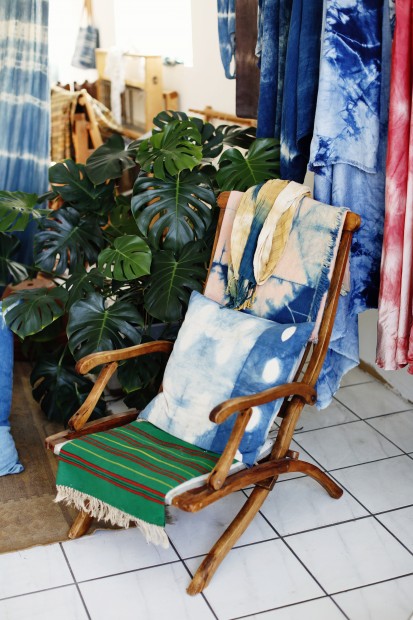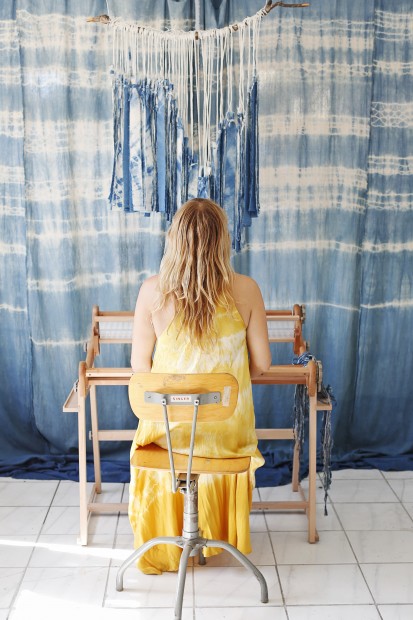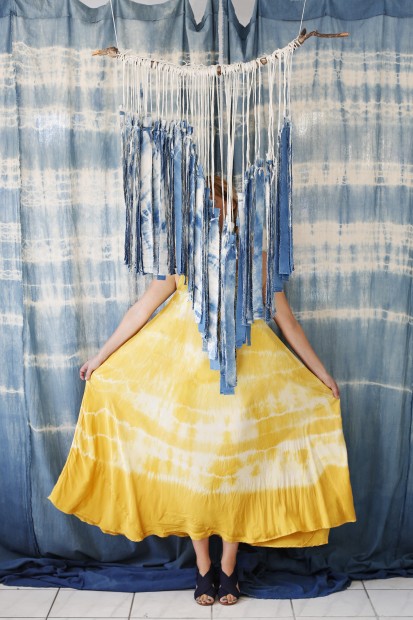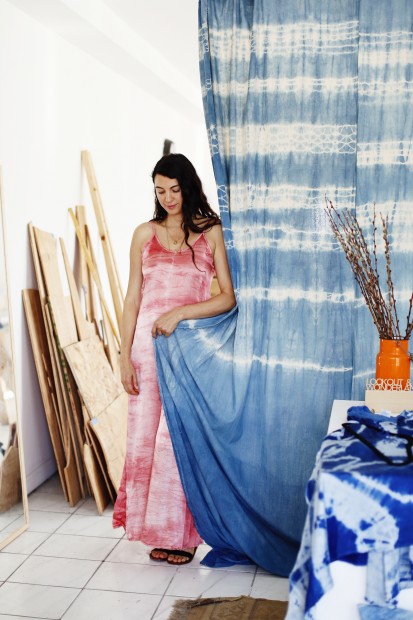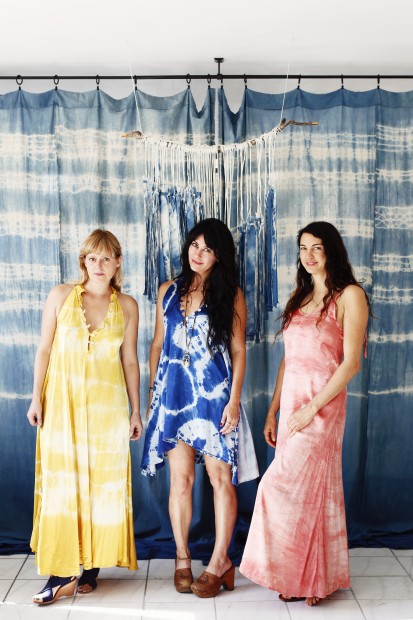 1) What inspired this magical collaboration between Golddust Dresses and Look Out Wonderland?
Roxana: love discovering new textures and patterns in fabrics that I can use when designing Golddust Dresses. I have been a fan of silk and I have always wanted to use it in my line. I have followed Nikki's art and designs for quite a while now and realized that my silk dreams could come to life in such a magical way if I were to collaborate with someone so talented.
2) What makes your hearts sing? Or what is your bliss?
Roxana:My heart sings when I travel. I am so very fortunate that my artistic seeds are planted when I am able to roam the country, attending vintage markets worldwide. Bliss to me is my family and friends, the most important things in my life.
Niki:stillness and sunshine
3) How does our city of angels inspire you two with your designs?
Roxana: I am so inspired by all mediums…there is a beautiful artistic community where I live in Silverlake, we have art, design, fashion, architecture, photography, film…it's all around us here in LA. I am always seeing exhibits, shows, movies, concerts etc. Seeing others produce and create their art really inspires me.
Niki:The community. This city is filled with creative, open, giving people. Long dinners filled with exciting conversation are endlessly inspiring. Of course, there's also the landscape and all of the color, the hand painted shop signs, mercado displays, the piñata district, a slow drive down a favorite street in the summertime with the windows down and the radio on…
4) Do you have a spiritual practice?
Roxana: My spiritual practice is to stay in the present moment and gratitude. I also love retreats, meditation, yoga, connecting with nature, and connecting with women on a similar spiritual journey.
Niki:Walking meditation. I'm always practicing to keep present in my actions, the way they spin off and create ripples that multiply and affect everything around me. Even the smallest positive or negative action can expand exponentially into the life of the receiving person.
5) Niki how are you influenced by Japanese culture and Roxana with Persian?
Roxana: My Persian Heritage has had a huge influence on me as an artist. As a young girl I was obsessed with the shimmering woven silk textiles and handwoven rugs my dad had in our home..These textiles were often inspired by poems and paintings…My dad studied art when he first came here from Iran, he was always painting and creating. My parents designed and built two homes together in Malibu which we lived in, so from a young age I learned so much about designing and creating the space and energy around you.
Niki:The part of Japanese culture that resonates with me most deeply is their appreciation of simple and imperfect beauty. It's a concept derived from the Buddhist teaching of the three marks of existence (impermanence, suffering, and absence of self-nature) known as wabi-sabi. Also, the profound quiet found amidst profound confusion…anyone who has walked through Tokyo has experienced this phenomenon. This experience serves as a reminder of internal stillness and it helps guide me through life.
6)Who is the woman you imagine wearing these dresses?
Roxana:She is a down to earth dreamer .. She's easy, chic and loves beautiful handmade clothing.
7) Are you forest fairies or mermaid?
Roxana: Aww great question.. I grew up on the beach in Malibu, I have always been a mermaid. I love the water, Scorpio woman that I am.
Niki:Definitely a bit of both.
8) Where can we these dresses?
www.golddustdresses.com and by appointment at Lookout & Wonderland studio. Emailcontact@lookoutandwondwand.co