Crystals and Jewelry with Ele Keats
Using Crystals to bring healing into our lives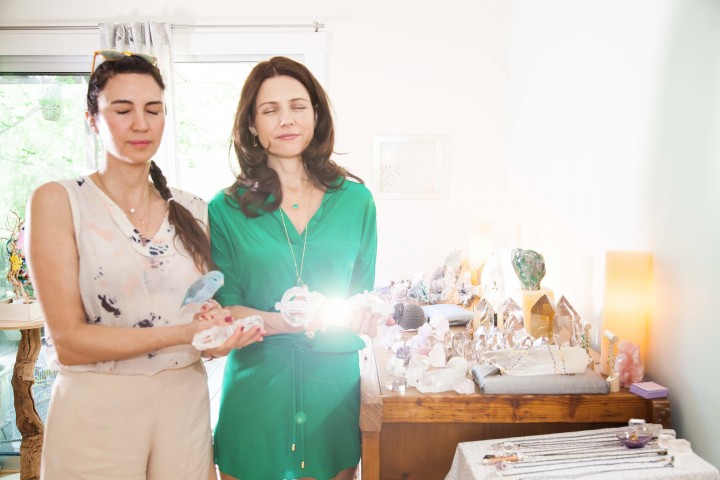 As a little girl I used to spend time imagining what the inside of a Genie's lamp looked and felt like. I used to imagine the magical stones that adorned the inside of the lamp and the magical items that were housed in it. When walking into Ele Keats' sweet home, I felt like I was finally making my entry into the Genie's lamp! Not only was her nest adorned with twinkling, smiling, singing, crystals but she also had the cutest companion I have seen yet   . . . a blue canary.
For more bohemian and spiritual style see The Local Rose.
Ele Keats an actress and jewelry designer is well versed in the power and beauty of crystals. You all know by now that I cannot get enough of crystal love, and Ele's collection which she sells at her new boutique is pretty phenomenal. I still look at these gems from the earth, and marvel at how they are formed naturally by the elements and minerals.
Ele makes beautiful necklaces, earrings, and rings with precious gems, and her vast knowledge about the unique properties of what she creates with is amazing. For example, I never had heard about the Dorje before our visit. A Dorje is an ancient tool made in quartz crystal to help activate and radiate energy. I asked Ele to break down the basics of which crystals are used for what properties. Picking out a crystal for the first time is a bit like falling into the rabbit hole, and one can get quite overwhelmed. Ele gives us the guideline on which ones for used best for what purpose (see diagram below).
I keep many crystals around my work studio and at home. I keep certain ones in specific areas in the home to activate specific energy. For example if I feel I need to bring in some more abundance, I will place a citrine crystal in the Feng Shui area of my house for creating more work and prosperity. By my bed I always have some amethyst and rose quartz for keeping my heart clear and open. By my computer I keep a large piece of black tourmaline which I acquired from Ele to help transmute the EMF radiation. Ele also gives us tips on how to cleanse the crystals and how to activate them.
Our day was definitely blessed by Lakshmi ~ we got to discuss the magic of crystals, drink tea, play with her blue companion and try on her beautiful jewelry.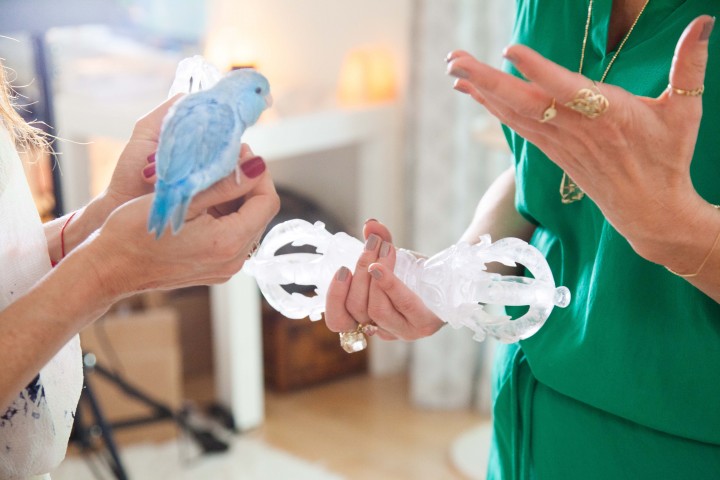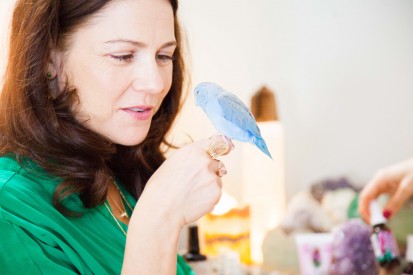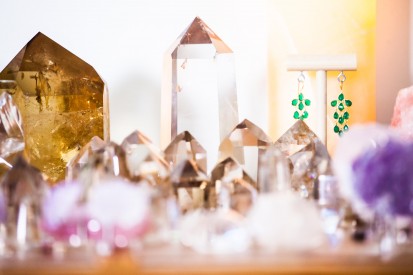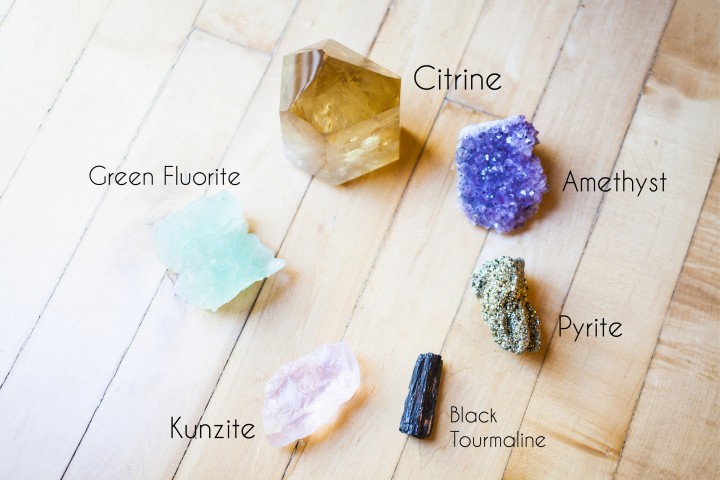 Citrine ~  is a stone of abundance. It never needs to be cleansed and is good for attracting wealth and prosperity.
Amethyst ~ is an extremely powerful and protective stone. It guards against psychic attack.
Pyrite ~ helps increase vitality and enhances mental clarity and focus.
Black Tourmaline ~ protects agains EMFs and is also recommended for ridding oneself of negative thoughts.
Kunzite ~ radiates peace and connects you to universal love. It is also beneficial for helping one to enter into meditation.
Green fluorite ~ dissipates emotional trauma and absorbs negative energy.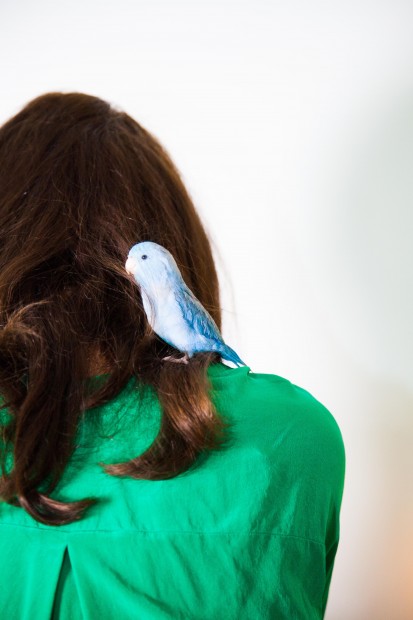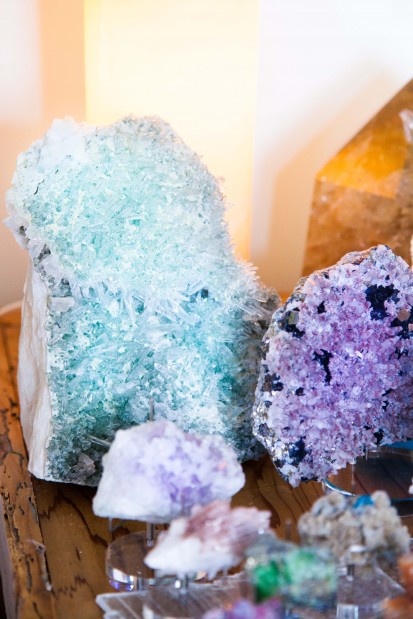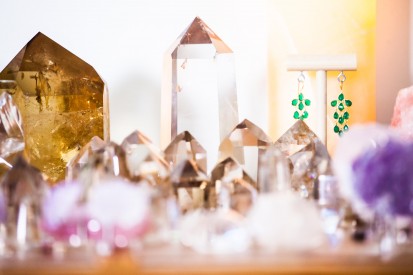 1) What makes your heart sing?
Spending time with friends who I can be myself with,
eating nourishing and delicious foods (vegan), dancing, playing by the sea, and finding hidden treasures
2) Do you have a morning ritual?
I do! Every morning I pray and meditate.
Lately, I have been working with a few crystals in my morning meditation.
It has been a very potent and transformative experience.
I use a Dorje in one hand and the twin flame/ soulmate crystal in the other. The Dorje is a remover of obstacles. It is hand carved out of crystal.The twin flame /soulmate formation crystal calls in your partner. I particularly use a sprouting quartz because it attracts spiritual partnership which is what I am manifesting at the moment.
3) What are three crystals we all should have in our homes and what are their attributes?
1. Citrine – The ultimate crystal of abundance in all areas. Its a powerful cleanser, it dissipates negative energy, its a protector, its useful for smoothing family discord, teaches one how to manifest attract wealth prosperity success and all good things. It encourages one to share what you have and hold on to your wealth. You want to put it in the wealth corner of your home, which is when facing the front of your home it will be the most left corner. Make sure to get natural citrine that has NOT been heated. Many of the citrine(s) on the market are actually amethyst that have been heated. Here at Ele Keats we only sell natural citrine.
2. Rose Quartz-Gentle, loving stone considered to be the stone of unconditional love, and is very important for the heart charka. It teaches the true essence of love. If you want to attract love you want rose quart in your house which should be placed in the most right corner of your home. Its one of the most comforting and sweetest stones.
3. Amethyst- Is extremely powerful and protective. It facilitates decision making and mentally it calms and dispels anger and anxiety relives sadness and grief it is was one the most spiritual stones creating love of the Devine. I particularly love amethyst because it a high vibration stone and violet flowers bring love and light to the environment in which its placed.
4) How do you charge and cleanse your crystals?
I fill my bath tub with water and i get a pound of sea salt and put it in the tub after placing a towel soaking them over night. You can also place them in salt water bowls and place them in the sun. I charge them in both the sunlight and the moonlight. Its important to do this especially during transitions and when feeling negative energy. The Full moon is important and a potent time to charge ones crystals. A quick way to cleanse your crystals is to hold them in your hands neutralize your energy and hold them under water. Make sure you are in a calm and balanced state to support the cleaning of your crystals.
5) What are you grateful for?
I am grateful for so many things and I love the opportunity to reflect upon them. I am grateful for my ability to keep and open heart and open mind. I am grateful for my extroderany friends who bring perspective, love, and light to my life. I am grateful for being able to have a shop that inspires and supports well being and creativity.
6) Do you a motto or philosophy you live by?
We are here to bring connection creation inspiration and beauty to the world.
7) Do you have any beauty secrets or rituals?
Beautiful skin starts from within and the most important system to maintaining you glow is your digestive system. Having a clean and clear gut allows your skin to reflect your inner balance. I have been a vegan fro 17 years and I eat organic, high vibrational foods and believe your health is your wealth. Making sure to exercise and drink half your weight in water a day (if you weigh 120lbs be sure to drink 60 ounces of water). Make sure to use glass vs. plastic. I highly recommend castle rock water.
I am a big fan of the LED, a natural way to rejuvenate your collegian. Its soothing and healing. I use it once a week and the resaults are amazing. Im not shy to say that I will be 44 years old on August 24th and the LED is my secret to maintaining my youthful and vibrate luminance skin. We sell the LED light at Ele Keats Jewlery and Lifestyle Experience
8) Are you a mermaid or forest fairy?
I am a mer-fairy. My magic space is Kauai. Kauai is where I feel the most vibrant and alive. Its lush, fragrant, and with its ever changing weather it speaks to my heart. I love being in the rich earth and waters of that extraordinary island.
9) Tell us about your jewelry and new shop?
SO excited to be opening my brand new shop at 1611 Montana Ave. between 16th and 17th. Its has beautiful white and wood interior with treasures from all of my adventures. This magical little space is a hidden gem in itself. its located in a beautiful Art Deco building. It will light you up and amaze you with all the wonderful treasures.
Lately I have been working with crystals in their natural form, mounting them in organic settings that stimulate nature its self. Natural crystals set in 18k where you can actually feel the stone touching your skin. This is important in order to feel that benefits of the crystals and stones. Both organic and refined there is a little special something for everyone. Here at Ele keats we have a lot of fun and the girls who work with me are positive and knowledgeable. If your looking for something special this is the perfect place to explore.
10) What gems should we wear and for reason?
Gems you should wear are citrine for all reason mentioned above. Ruby for extraordinary love. Amethyst to balance your body. And emerald because for one its all around my favorite stone. It's good for protection, abundance,and your heart chakra.