Erica Nicotra
Erica's new show From The Woods takes us into a forest derived of feminine trees and fauna. Erica an angeleno
has some stunning paintings that can be seen on her website and this saturday at a benefit for Moveon.org  Scroll down
for a mini interview with the lovely artist.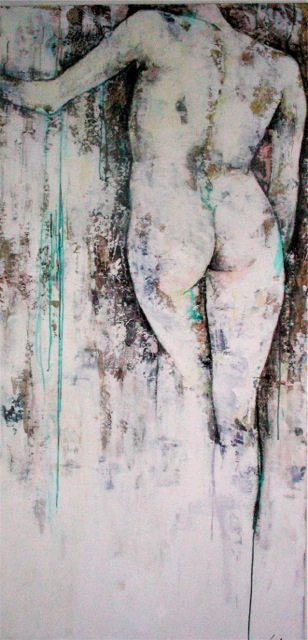 1) What do you like about our city of angels? I love LA for all the usual reasons: the weather, the pace, the hikes… but what I really adore, and what always gives me pause, is the sky… it's so vast and colorful.
2) Sea mermaid or forest nymph? I am definitely a forest nymph. I only feel at home amidst greenery. I did a painting series entirely on forests called, 'From the Woods'. I spent the better part of two years in and out of forests… it was wild. And felt great.
3) What artist inspires you?
Egon Shiele.
I never grow tired of his work. It inspires me to no end. it's so raw and beautiful and deliberate. I love him.
4) Do you find being an artist even more challenging right now?
I think it is. I know that I personally have felt the affects of the economic climate in the last few years, without question.
But it doesn't really affect the creating process, just the surviving part.
5) Where is your favorite place to eat?  
Sun Cafe
. Yum.
6) What books are by your nightstand? Two are by my bed right now, and both are being sorely neglected! Nonetheless, they are: 'Tropic of Chaos: Climate Change and the New Geography of Violence' by Christian Parenti, and '
The Transit of Venus
' by Shirley Hazard.
7) What was the last song you listened to? 'That's the Way' by Zepplin.