Dreamy Victoria Morris Pottery
As soon as I saw Victoria Morris' work I was in awe. I met her through Lauri Kranz and now the two are collaborating on some planters for Lauri's gardens. I so so love those muted blue bowls and her little ceramic lamps. After we actually met I was even more impressed. Her studio is so insanely cute with it's doll house ceilings, and boho chic striped textiles, which she of course found on a surfing adventure in Mexico. Victoria has managed to carve out an ideal life as an artist and surfer. When she's not  lost in the flow of creating in her light filled studio, she can be found surfing the waves along the coast with her man. What could be better? Her clean aesthetic is seen in her choice of muted colors. I left coveting one of everything for my nest, and also being inspired to surf and make ceramic pottery!
For more bohemian inspiration for your home, see The Local Rose.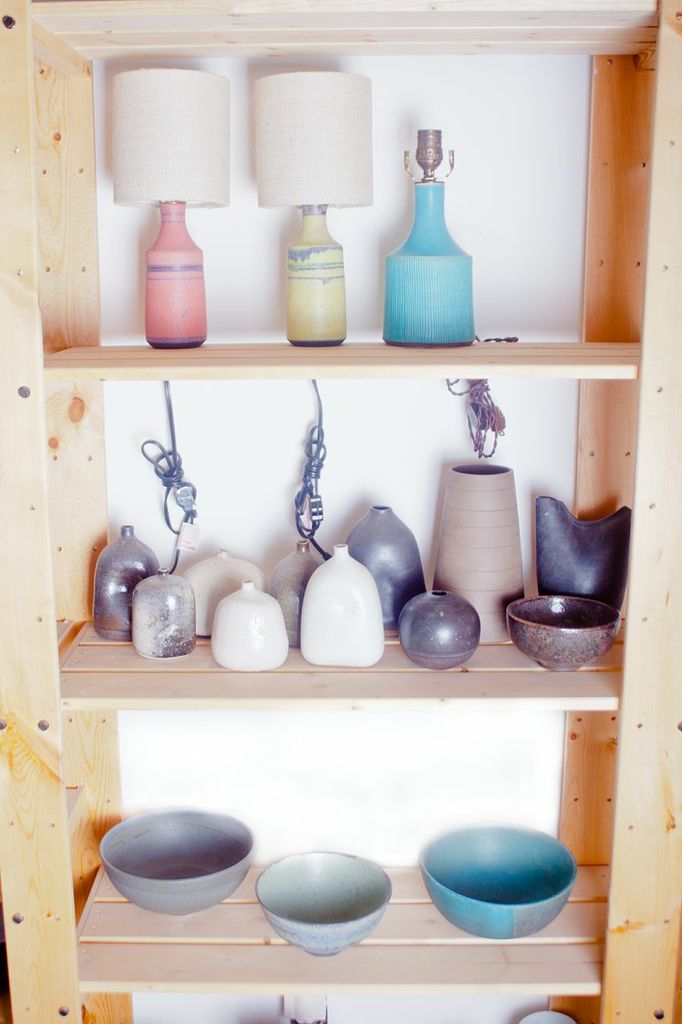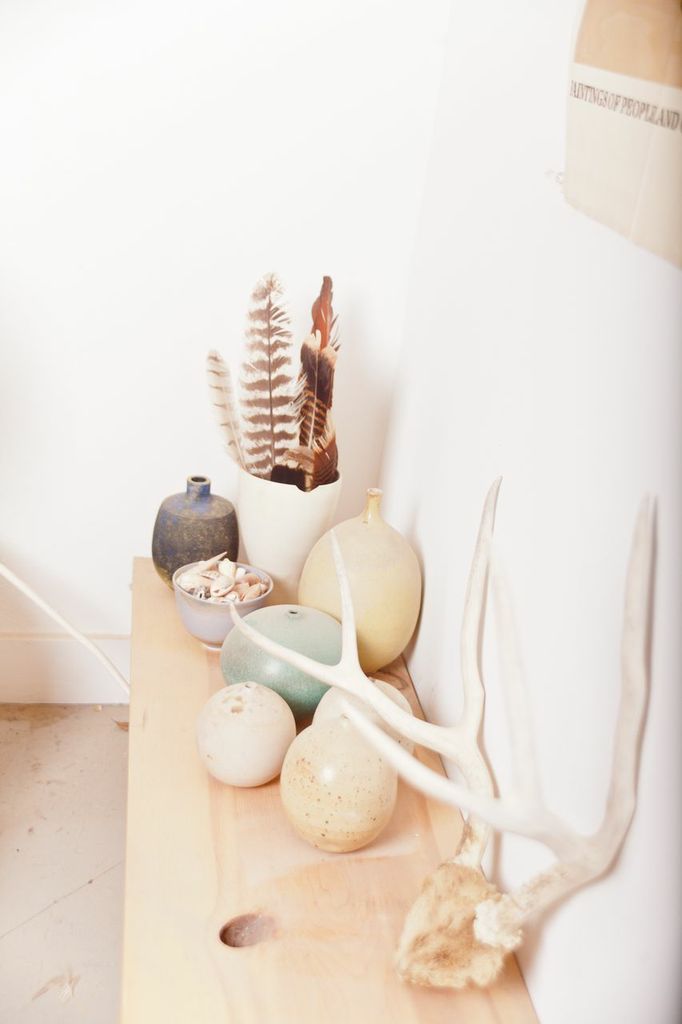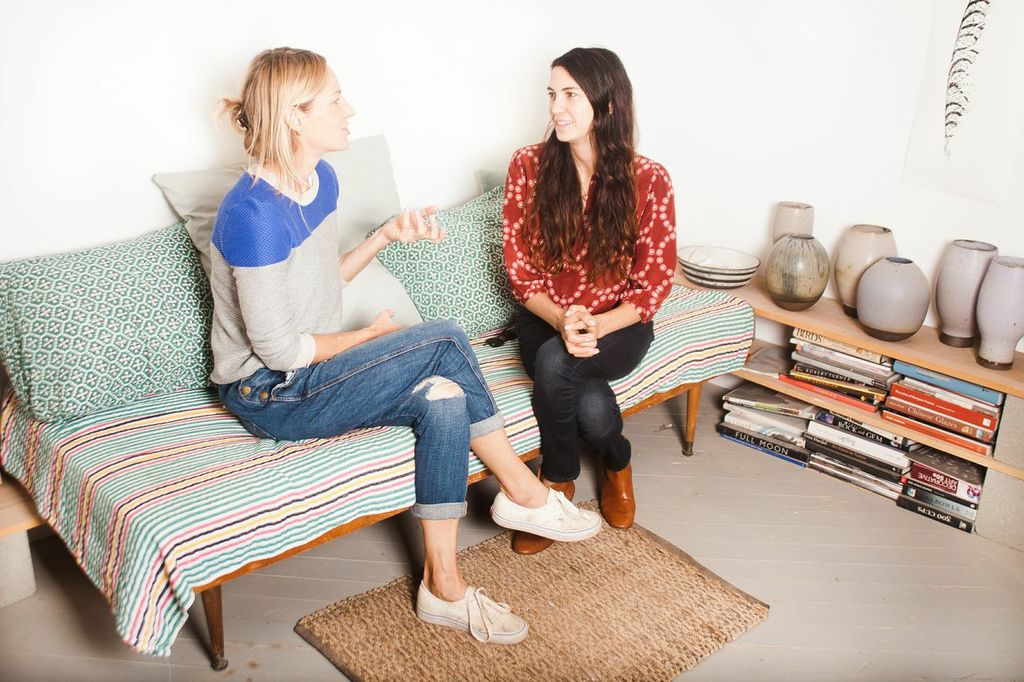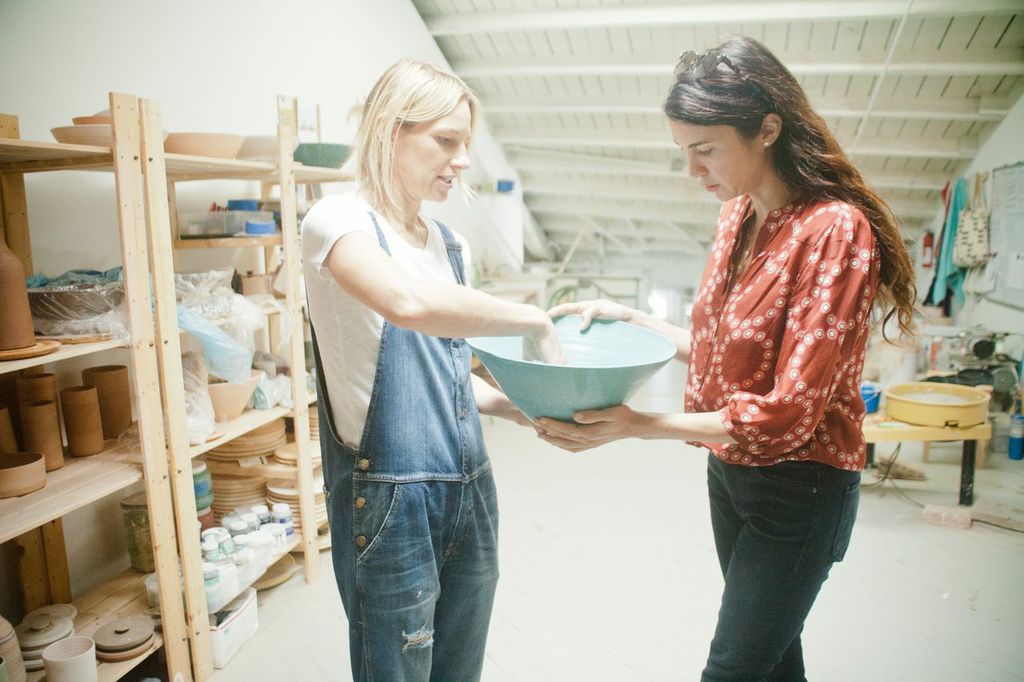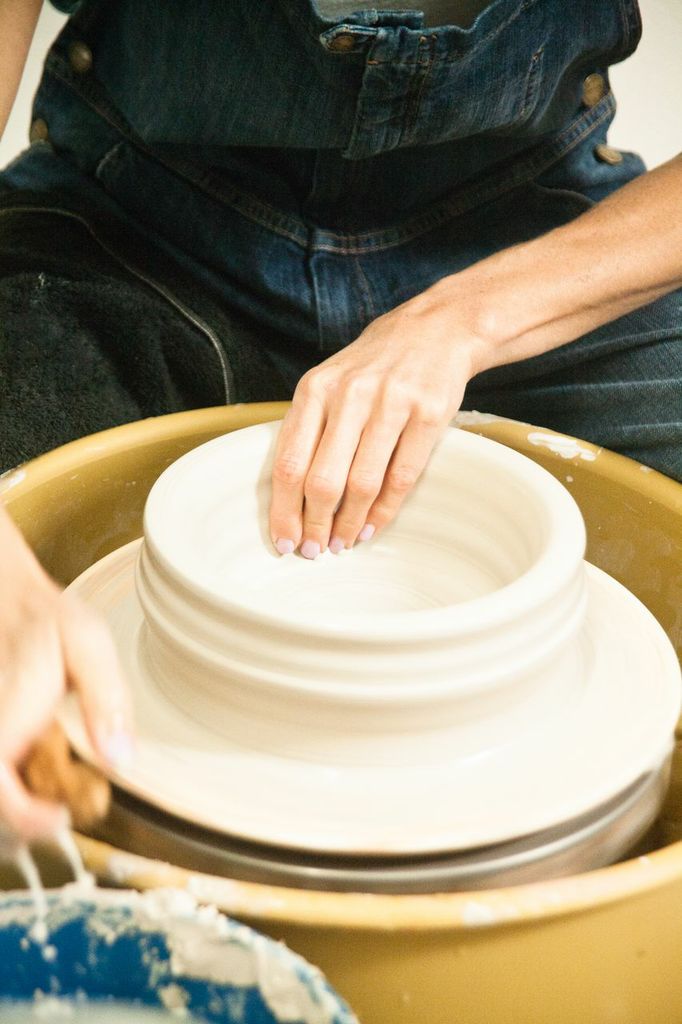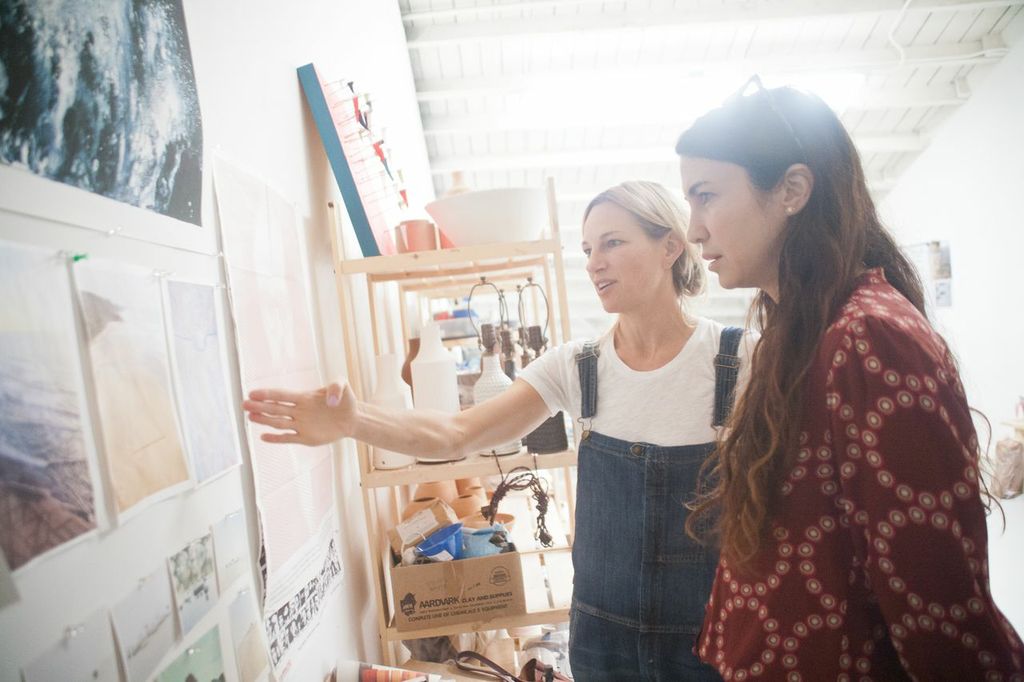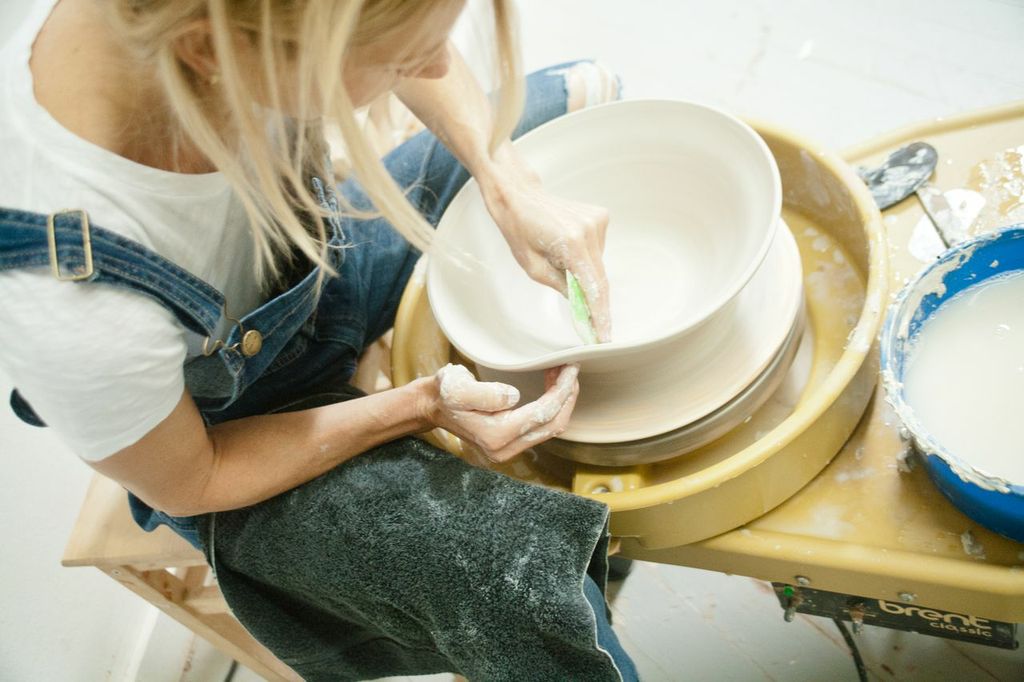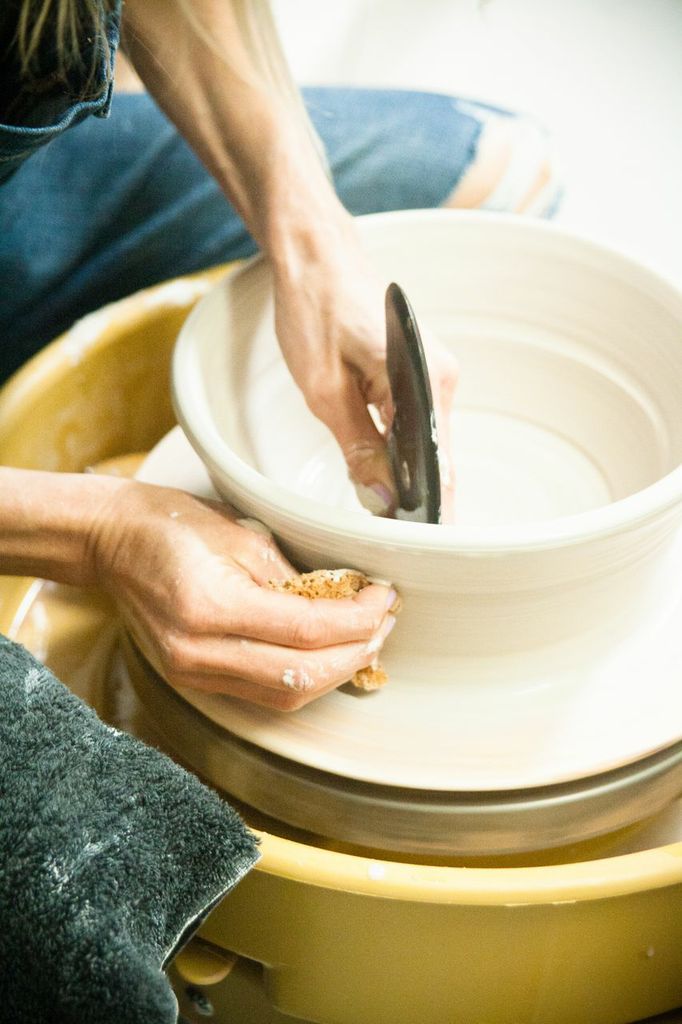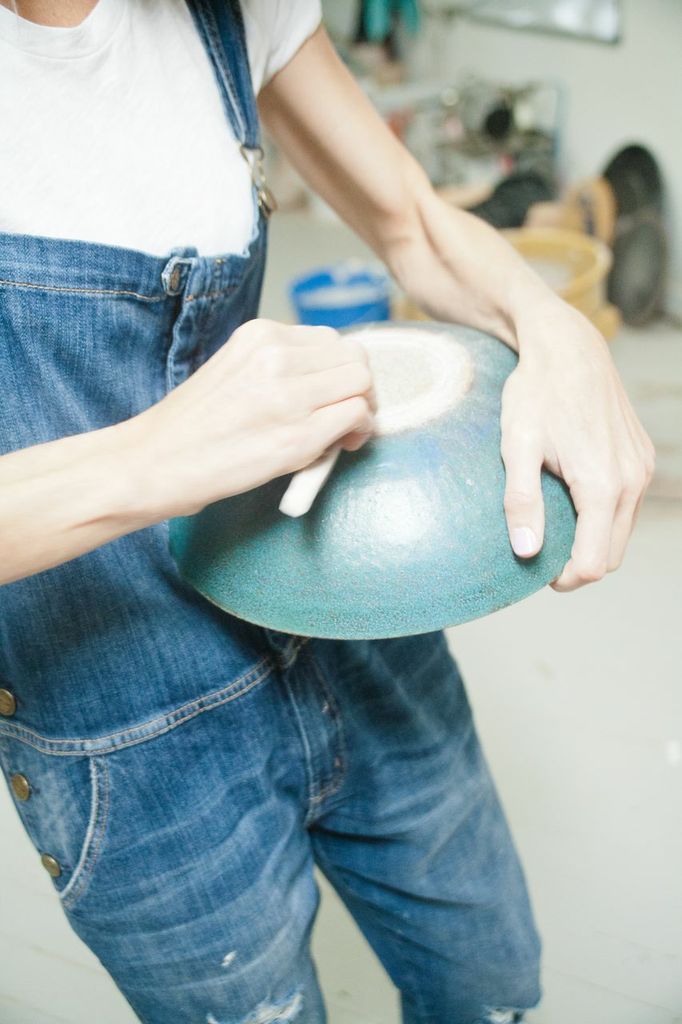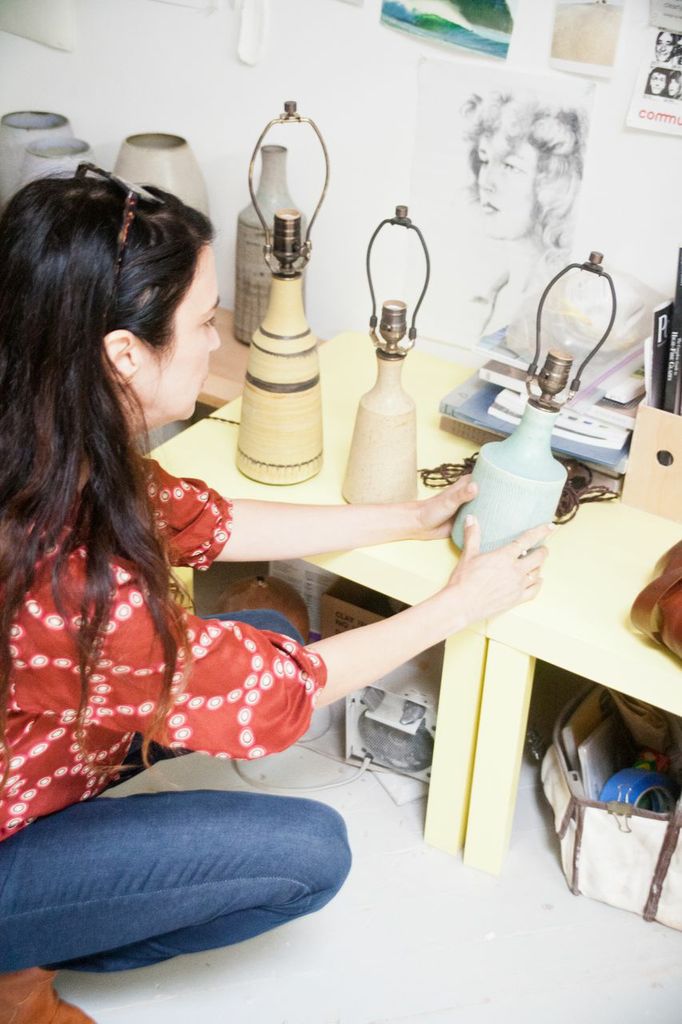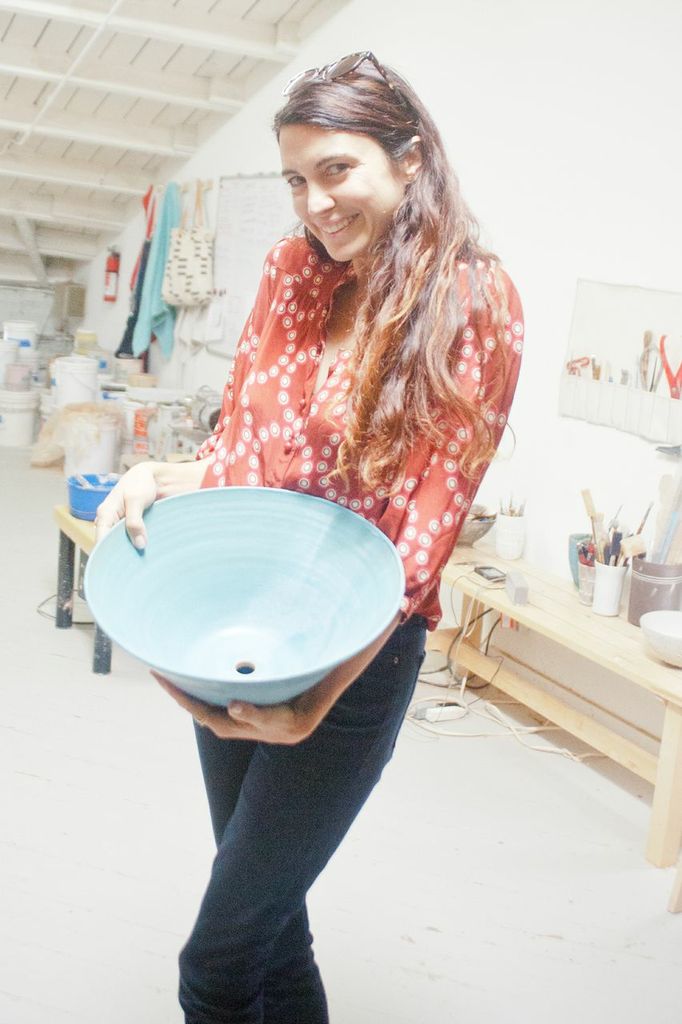 1) Where do you get your inspiration?
I get my inspiration from so many things around me, some totally pedestrian and some truly beautiful.   Some typical,  like nature, fine art (Agnes Martin, Morris Lewis), Scandanavian and Japanese design, and some strange – like the patchwork geometric patterns you see from above while flying in an airplane, the movement of lines on an EKG, basic geometry…
2) I so admire how you find ways to to get into the flow of what you love whether it is surfing or pottery. Is it difficult to tune the world out and find this time?
One of my nick names is "go-go"…I'm always doing something!  I find that surfing and pottery, while being two wildly different activities require the same type of attention.  If I'm not all there and I'm letting my thoughts get in the way I surf like a kook and my pottery doesn't flow either.  I think that's why I'm so attracted to both activities.  I find them both so satisfying – at this point its relatively easy to tune out and turn on.  If only I could do them both at the same time….
3) What's or where is your favorite meal?
Oh thats an impossible question!  I love food!  The pizzas at G'Jelina and Mozza are probably amongst my favorite meals in Los Angeles.  My boyfriend's indian cooking is right up there too…
4) Where is your favorite surf spot?
In Los Angeles, I'd say Point Dume and Leo Carrillo are the prettiest and most fun spots to surf.  I'm not willing to share my favorite spots outside of LA though!  They're good because they're still pretty uncrowded. 🙂
5) Where do you se yourself in ten years?
Ten Years from now….I hope that I'm still leading a creative life, traveling as much as possible, and hopefully showing my work in Art Galleries rather than stores.

6) Are you forest fairy or mermaid? I think I know.
I'm a forest fairy who LOVES the water.  
7) Do you have  favorite beauty product?
If I had to choose just one, it would probably be Neocutis Journee

my daily sunscreen – Its got a wonderful non greasy, non white finish and you'd never guess it was SPF 30.  I'm also pretty obsessed with Sanae's perfumes, they're absolutely insane.
8) Last song you listened to?
Cat Power's SUN…this whole album has been on constant rotation in my car all year long. 
9) What book is on your nightstand?
On my nightstand is a constant collection of New Yorker magazines, and The Razor's Edge
 by Somerset Maugham.
10) Where can we purchase your beautiful work?
My work is currently available at OK, Commune Design, March in SF, and ediblegardensla.com  I'm hoping to launch an online store from my website in the near future and announce special sales and projects from my mailing list, so please join!   www.victoriamorrispottery.com