Serenity During The Holidays with Coyuchi
Exploring mindfulness and relaxation during the sometimes stressful season.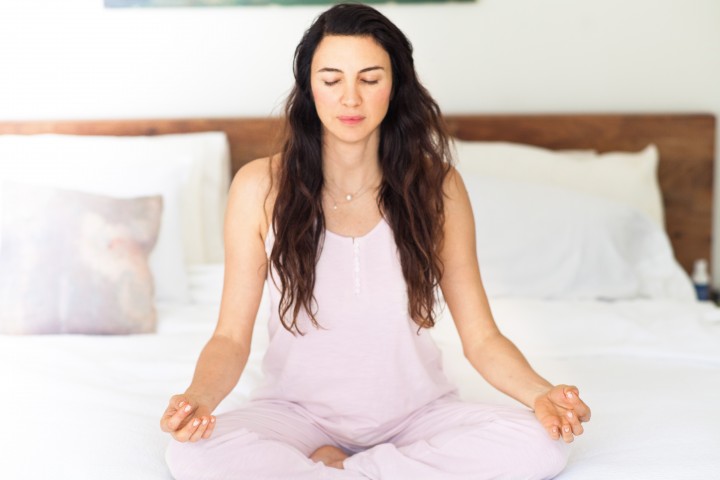 With autumn here, I am enjoying the subtle changes that come with the season. Seeing the bounty of beauty with the leaves changing, pumpkins, squashes, persimmons and pomegranates makes me so happy. I also can appreciate the gradual slowing down that comes with the sun setting earlier. A feeling of wanting to get cozy with loved ones at home. With this grounding energy though, there also comes the series of events and activities that come with the Holidays. With the busy time ahead, we can do certain things to insure we feel calm and balanced. I have put together some tips that I try and follow over the holidays, so I hope they may help you too stay peaceful and calm during this time.
Tip 1: Starting the day right by waking up to clean, organic, natural, non-toxic bedding like the beautiful sheets by Coyuchi. I wear their soft, organic pajamas as well. It is so crucial to know what our skin is absorbing. It doesn't make sense to eat well, and then wear garments or sleep in bedding that has been exposed to chemicals. There is more and more data associating illnesses with how fabrics are treated. I first started using Coyuchi ten years ago when I wanted to eliminate all synthetics from my home. With Coyuchi, I feel confident that I am keeping my family and myself safe. I also love the serene color palettes and design of the lounge and sleep wear. Being green doesn't mean you have to sacrifice beauty.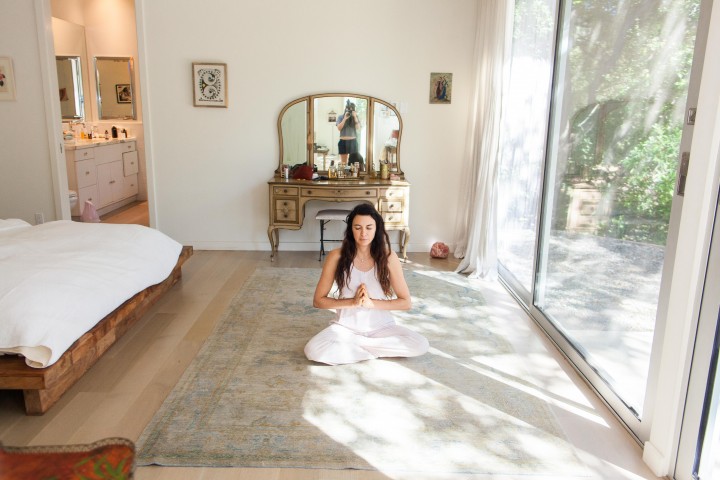 Tip 2: One way I like to start my days especially with the chaos of the Holiday season is with meditation. Meditating first thing in the morning can set the tone for the entire day. Having a moment to connect with your internal self or spirit, and set intentions can completely change the course of events in a day. Simply tuning in before you start your day, with some breathing in and out and stilling the mind, you can settle your nervous system.
Here is a simple meditation exercise.
1) Sit upright, comfortable and relaxed, with your hands on your knees or thighs, palms up or palms down or resting, one on the other, in your lap.
2) Turn your eyes slightly downward and close them gently. This removes visual distractions and reduces your brain-wave activity by about seventy-five percent, thus helping to calm the mind.
3) Your mouth should be closed so all breathing is done through the nose. This, too, aids in quieting the mind. Though your mouth is closed, the jaw muscles should be relaxed so the upper and lower teeth are not clenched or touching one another, but parted.
4) Inhale and exhale slowly and deeply three or four times, feeling the inhaling and exhaling breath moving in and out through your nostrils.
5) Do this for 10 minutes and allow thoughts to just stream in and out and to eventually drift away like falling leaves. Eventually you will notice the mind will calm down and seem clear.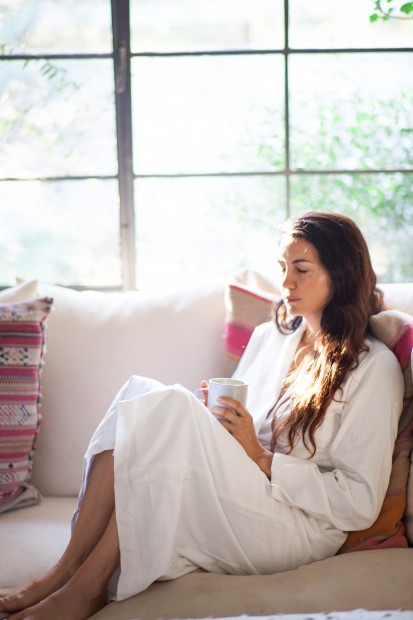 Tip 3: Little acts of self-love like reading, tea time or having a bath time ritual can reset our systems after a long day at work. Then we become energized enough to handle the rest of the day and evening to come. As we give to others in our lives, we have to remember to take in and receive so we can feel full-hearted and not depleted. The holidays are a time when we are giving lots of our energy and spirit. There are some simple ways to give back to ourselves in the comfort of our homes.
The simple act of making a cup of tea for 20 minutes and simply unwinding after a long day can actually help the nervous system relax. Drinking an herbal blend of tea like chamomile, nettle or mint with the intention of bringing nurturing warmth into our body can be a healing act of self-love.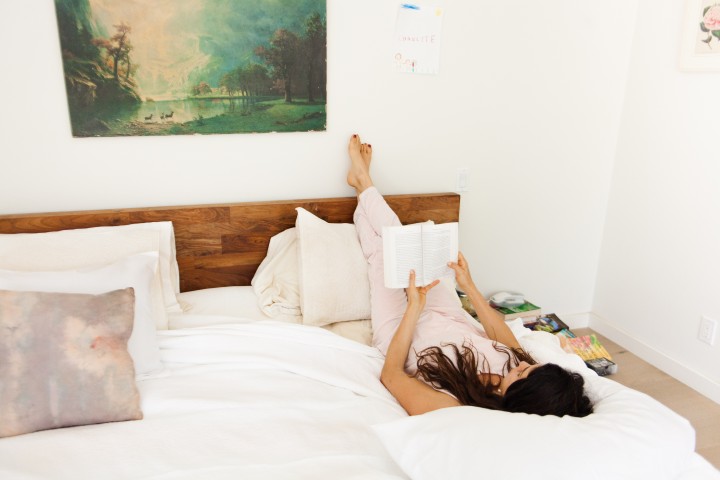 Reading something inspiring and uplifting is also a good way to plant the seeds of wisdom for the journey ahead. Wearing a comfy robe or loungewear made of organic, natural fibers help reboot our whole system. I love putting on the Women's Sateen Terry Robe after a warm bath. The interior is soft organic terry cloth and the outside is the softest cotton sateen. I feel like I'm immersed in a white cloud of bliss!
Self help books, poetry or a fictional story can help our brains release stress. Studies show that reading silently for six minutes can slow down the heart rate and ease tension in our muscles.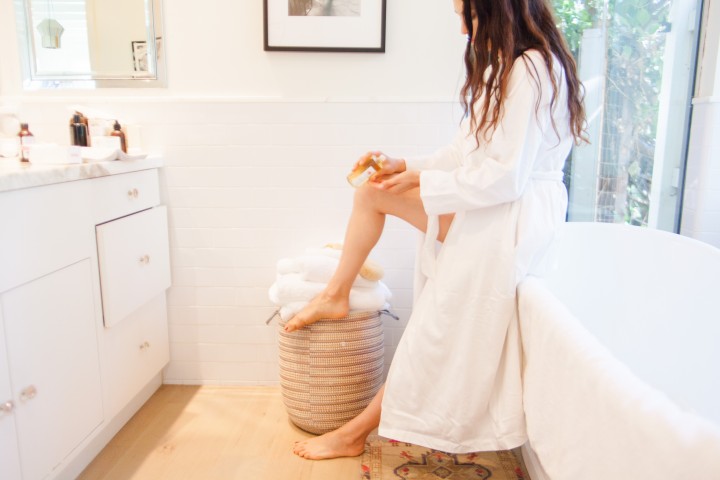 Bath time for me is my salvation. Using pink Himalayan bath salts with some essential oils can cleanse a day's experiences and revive us. Using the Cloud Loom Towels makes the whole bathing experience even more luxurious. The loops in the loom are bigger and so these 100% organic towels feel so fluffy and soft.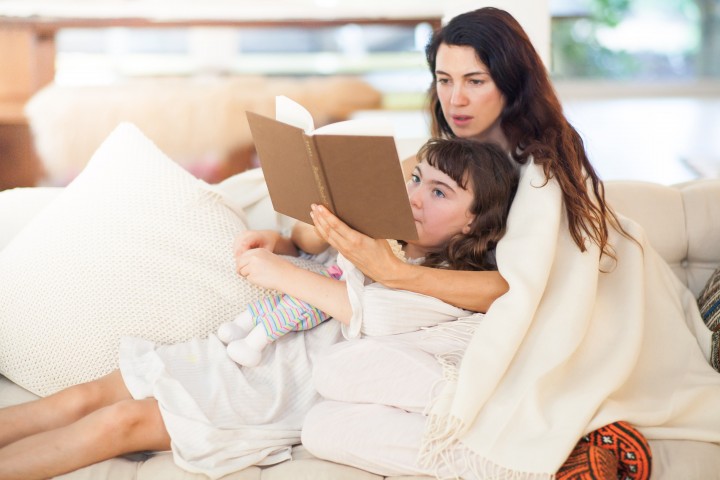 Tip 4: Cuddling with family and loved ones in the late afternoon is a good way to de-stress and keeps us healthy. Cuddling releases oxytocin, which boosts the immune system and lowers anxiety. Blankets made from pure, natural fibers like the Sonoma Baby Alpaca Throw makes one feel completely comforted and cozy. We like reading by the fire with our backs supported by pillows made from organic cotton yarn. These pillows are also so chic and make our couch a stylish haven!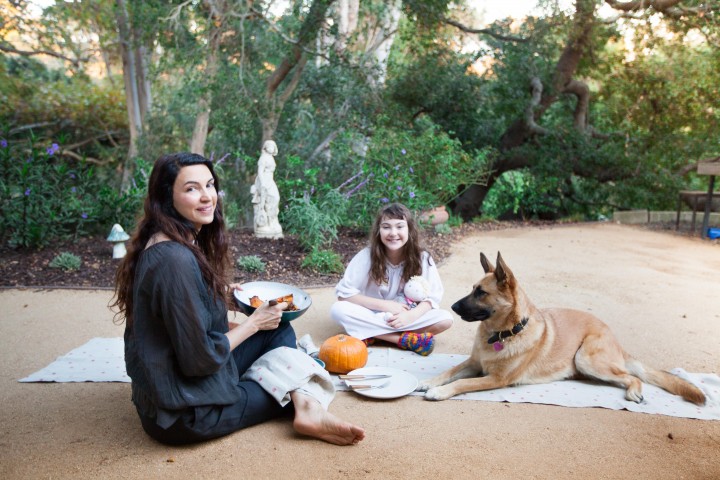 Tip 5: Having outdoor time is also essential for our health and well-being. One of the best things about California is being able to have meals and picnics in the garden. Here we will use the holiday festive prints like Winter Berry Runner and matching napkins. These are what we use for Thanksgiving and Christmas dinner to bring a Holiday farmhouse feeling to our home. These are easy to wash so using them with kids is part of the plan.