Sweet Potato Falafel With Tahini Mint Sauce
A Healthy & Hearty Vegetarian Recipe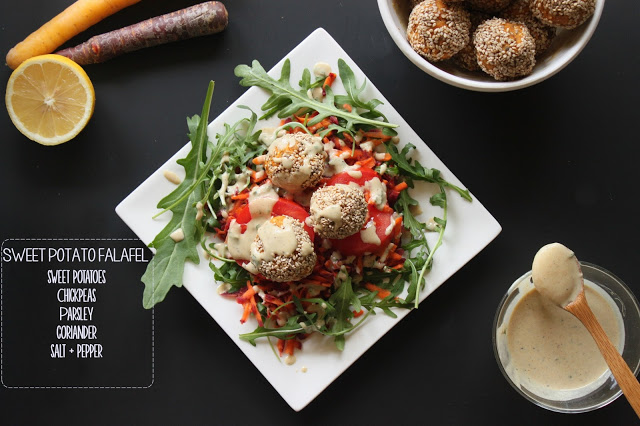 One of the things I love about The Local Rose is the connections I make across the globe. Recently I had a sweet email from Gina Capitoni a yoga teacher and whole food chef that lives in Germany.  She interviewed me for her site Hearty Bites, and when I went to do some investigating I was thrilled to see recipes that I wanted to try right way! You know it's a good thing when you want to go the grocery store or farmers market to get the ingredients to start the process. I have been on a falafel kick lately! This is partly due to craving a healthy yet hearty dish that is vegetarian, and also to how falafels evoke my teenage years growing up in LA. My friends and I used to take the bus to Westwood for a falafel dinner, or to Malibu on our scooters for an afternoon treat at the Malibu Mart.  Certainly those days are long gone, however summer evokes those sensory memories related to food. This recipe is not difficult or complicated, healthy since it is baked and oh so delicious!
For more organic recipes see The Local Rose.
There seems to be a slight falafel trend brewing here in our fair city. I heard Dune is amazing in Atwater Village, and Fala Bar on Melrose is a good standby for my daughters and I. In New York City my favorite place is Taim which is truly delicious.
The recipe below uses sweet potato and coconut oil and all gluten free. Enjoy !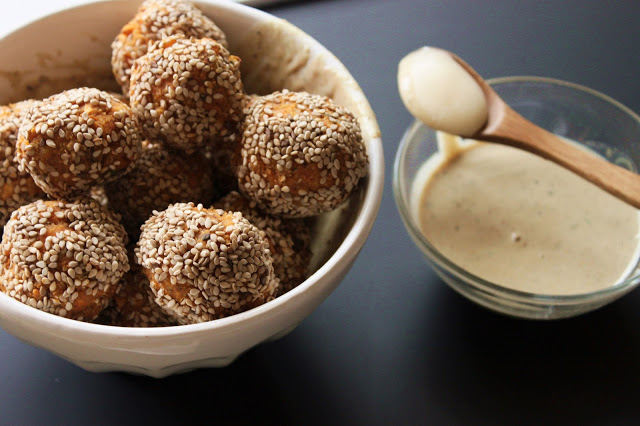 Like the name says these tubers are indeed a sweet thing. Oh how sweet it is for your health to eat sweet potatoes! Not only tasting like dessert, research says that they provide many unique health benefits, responsible for the benefits are important nutrient categories. Among them are anti-inflammatory nutrients, blood sugar-regulating ones and antioxidants!
Compared with other vegetables – fiber content, complex carbohydrates, calcium, iron, protein, vitamins A and C – the sweet potato is ranked highest.
The beta carotene is better absorbed with some fat, where the creamy tahini sauce comes into play.
Falafel + tahini are best friends and are one of my favourite food-friend combinations ever. forever!
Ready for some f l a v o r e x p l o s i o n?
Sweet Potato Falafel
makes 12 large balls
Ingredients
2 sweet potatoes + some coconut oil
1 cup chickpeas
1/2 cup chickpea flour
1/2 cup water
a handful fresh parsley
a handful fresh coriander
1 tsp ground cumin
1/2 tsp ground turmeric
salt & pepper
Directions
Preheat the oven to 175°c.
Peel and cut the sweet potatoes, place them on a baking sheet cover with a little bit of coconut oil and roast for 20 minutes.
Mix all of the ingredients together in a food processor. Let the mixture sit in the fridge for 15 minutes.
Roll the falafel dough into balls and through some sesame seeds. Put them in the oven for another 10-15 minutes. The longer the more crunchy they get.
Tahini Mint Sauce
1 cup tahini
1/2 cup honey
juice of 1 lemon
a handful fresh mint leaves
1/2 tsp ground cumin
salt & pepper
Directions
Combine all ingredients and blend in a food processor. Add more lemon juice or a little bit of water if you want a thinner dressing. Store in a glas jar in the fridge.
Assembly:
a handful arugula
2 carrots (shredded)
2 tomatoes