An Afternoon in the Garden
Summer Entertaining and Seasonal Recipes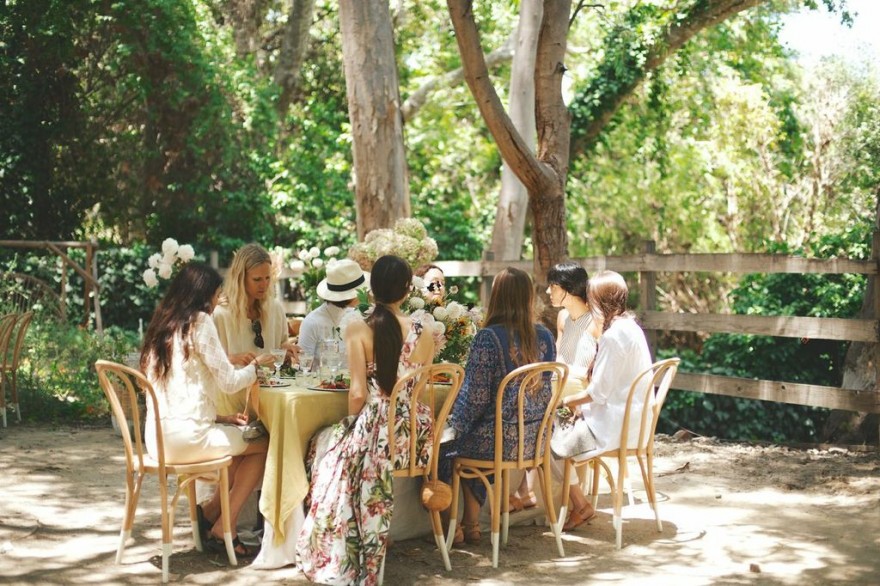 Having the lovely Athena Caldrone from Eyeswoon coming west from NYC was a great excuse to have a garden lunch party. Jenni Kayne organized the event in my garden with the help of Kristen from Moon Canyon for the flowers, and Barrett from Valleybrink Road  for the delicious dishes. Jenni made the napkins from her fall line collection, and the tiny flower pattern was a perfect fit with Rachel Craven's mustard yellow tablecloth. Kristen made tiny corsage bracelets for the table settings which tied into the beautiful florals on the table. I knew the day was going to be a sweet one when it started out with a surprise visitor. A wild peacock comes and visits my garden every spring, and he decided to show up the morning of the lunch. I think he may be a bit enamored with my chickens, so he hangs out above the coop until our new puppy Luna started barking like crazy!
For more summer entertaining tips and seasonal recipes, see The Local Rose.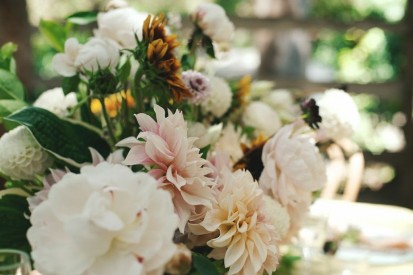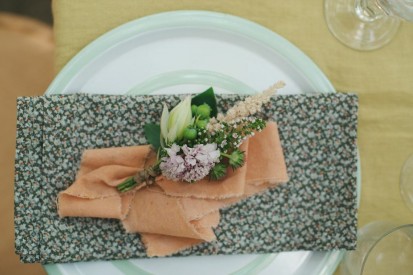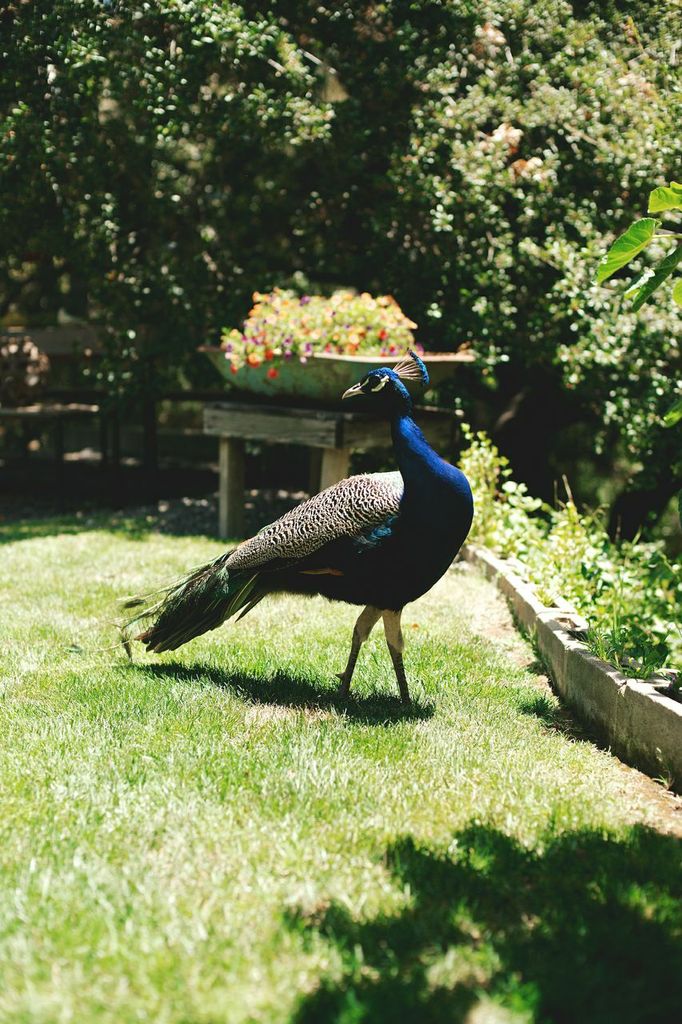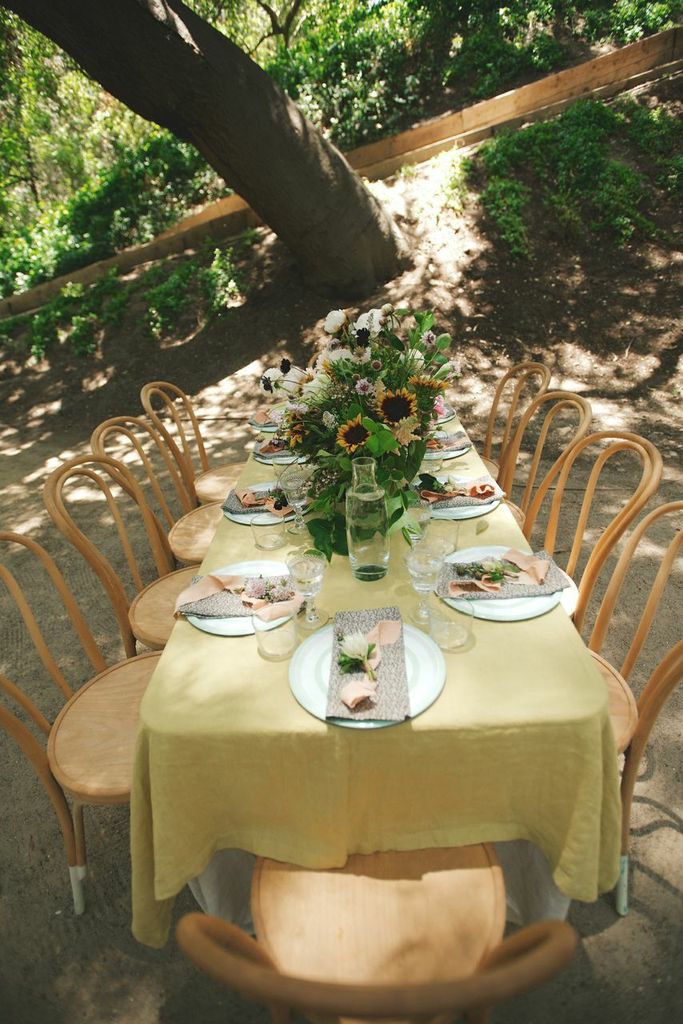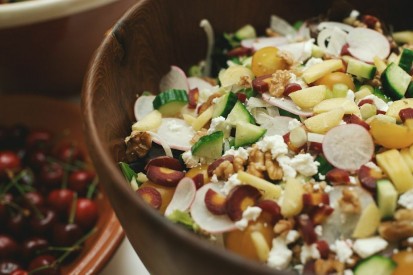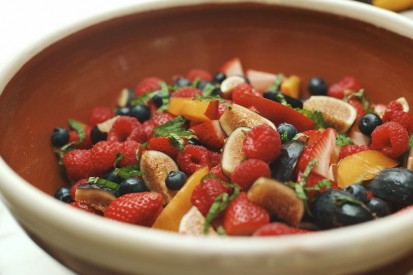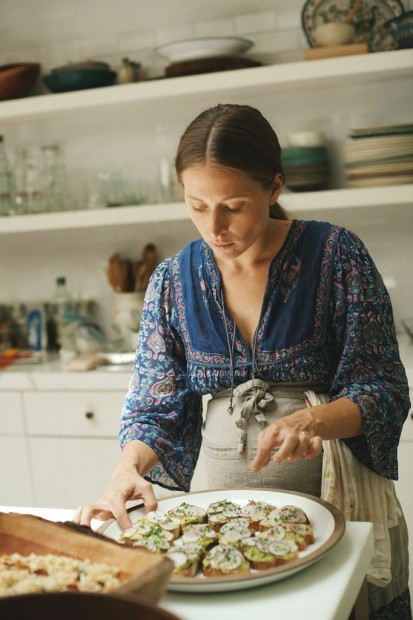 Menu:
FARMERS MARKET SALAD WITH BALSAMIC VINAIGRETTE
Serves 4-6
1 head of your favorite lettuce, leaves removed, rinsed and dried 1/4 lb baby arugula
2 carrots, peeled, cut in half, and sliced into half moons
3 scallions, ends removed, cut into rounds
1 cucumber, ends removed, cut in half and diced
1/2 pint sun gold tomatoes or cherry tomato
1 fennel bulb, fronds and rough exterior removed, thinly sliced on the mandolin
1/4 red cabbage, thinly sliced on the mandolin
1/2 cup raw walnuts
good feta to crumble on top (optional)
balsamic vinaigrette (recipe to follow)
sea salt
black pepper
1. In a large bowl, mix together the lettuce, arugula, carrots, scallions, cucumber, tomatoes, fennel, cabbage, and walnuts, Lightly coat with the balsamic vinaigrette. Taste. Season with sea salt and pepper. Add more dressing if necessary. Top with crumbled feta and serve immediately.
BALSAMIC VINAIGRETTE
1/3 cup good balsamic vinegar
1 cup olive oil
1 tablespoon Grey Poupon Dijon Mustard 4
cloves garlic, peeled sea salt
black pepper
1.Place the vinegar, olive oil, mustard, and garlic in a food processor. Slowly pulse to combine. (Do not just let it run or it will become very thick) Season with salt and pepper and give a few final pulses.
AVOCADO TOAST WITH WATERMELON RADISH AND CHIVE
Serves 4
4 thick slices of a country loaf style bread
2 ripe avocados
1 lemon
1 watermelon radish, thinly sliced into rounds on the mandolin 1/4 bunch chives, finely chopped into rounds
Sea salt black pepper olive oil
1. Toast bread in the toaster or under the oven broiler until golden brown. Set aside.
2. In a small bowl, scoop out the flesh of the avocado. Mash it into a chunky consistency. Add sea salt and lemon to taste.
3. Top each piece of bread with a thick layer of the avocado mixture. Sprinkle with sea salt and pepper. Finish with watermelon radish rounds, chives, and a drizzle of olive oil.
4. Serve with a lemon wedge on the side.
NECTARINE, PEACH, AND BLUEBERRY CRISP
2 lbs of nectarines, pit removed, sliced into wedges 2 lbs of peaches, pit removed, sliced into wedges
3/4 cup of blueberries
1 teaspoon orange zest
1 teaspoon lemon zest
2 tablespoons freshly squeezed orange juice 2 tablespoons freshly squeezed lemon juice 1/2 cup granulated sugar
1/4 cup all purpose flour
1 teaspoon cinnamon
1/2 teaspoon ground nutmeg
For the Topping:
1 1/2 cups organic all purpose flour
3/4 cup granulated sugar
3/4 cup light brown sugar, lightly packed 1/2 teaspoon sea salt
1 cup old fashioned oatmeal
2 sticks cold unsalted butter, diced
1. Preheat the oven to 350 degrees.
2. Place the fruit in a large bowl and toss with the orange and lemon zest
and juices, sugar, flour, cinnamon, and nutmeg. Pour mixture into a 9 x
12 x 2 inch baking dish.
3. For the topping: In an electric mixer fitted with the paddle attachment,
combine the flour, sugars, sea salt, oatmeal, and cold butter. Mix on low for 1-2 minutes or until the mixture is large crumbles. Sprinkle evenly over the fruit, covering the fruit completely. Place the baking dish on a parchment lined baking sheet and bake for 50 minutes or until the top is brown and the fruit is bubbly. Let cool slightly before serving.