Heirlooms From the Garden
Ricotta and Buratta "Sweet Pepper Popper" Recipe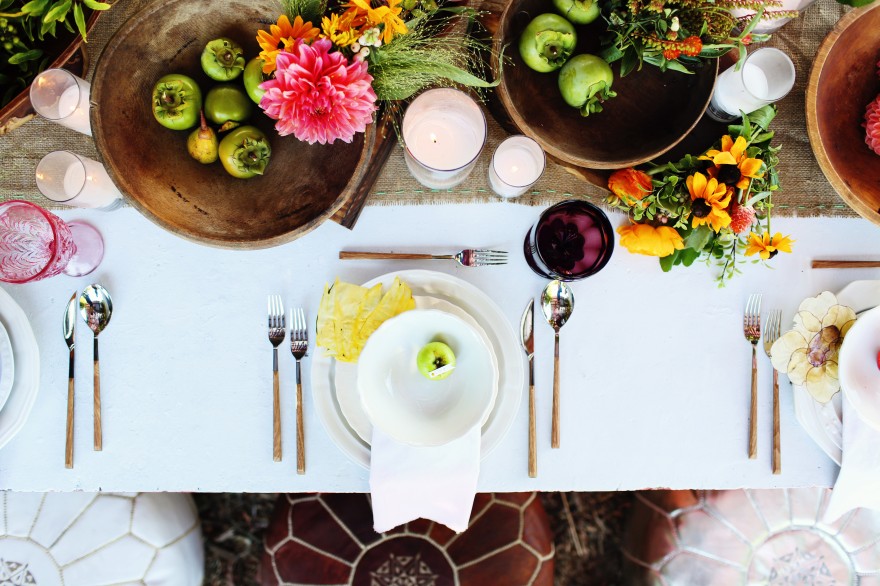 Last month I went to the most magical event to benefit The Garden School Foundation which is a an incredible paradise proving that growing gardens in inner cities can benefit all of us. GSF's mission is to provide meaningful education for underserved youth in Los Angeles through garden-based learning in outdoor living classrooms. They work with Title 1 schools to sustainably implement their curriculum and also with cooking and nutrition, to strengthen the connection between education, health, environmental awareness, and thriving communities. I was so overcome with emotion at this garden of eden blossoming in the middle of our concrete city. Walking among the singing flowers, humming bees, glorious produce grown by the teachers and children just gave me back my faith in community. Tara and Max from Heirloom LA are always giving back to our planet, and when they teamed up with Cassie Martinez from GSF to create a garden to plate menu and dinner they made culinary, deliciousness happen. The beautiful arrangements were by Kristen from Moon Canyon Designs, and the dreamy place settings were made from dehydrated fruit from the garden. These kaleidoscope treasures of natural color and shapes were created by Laila who works both with Heirloom and GSF. The all vegetarian menu, created with such love, included creamy risotto (made without dairy), stuffed peppers, sautéed vegetables, beautiful salads and a dessert of carrot cake. Recipe for the Ricotta Pepper Popper Below.
For more garden friendly, vegetarian recipes see The Local Rose.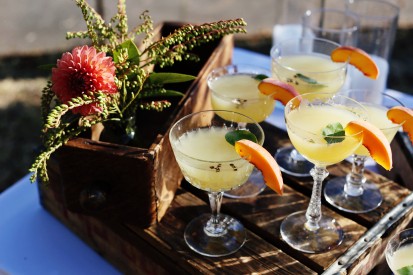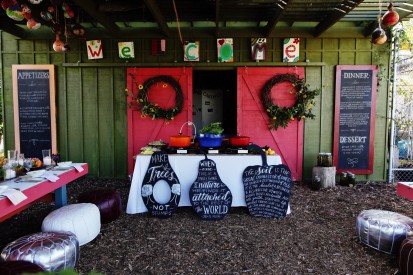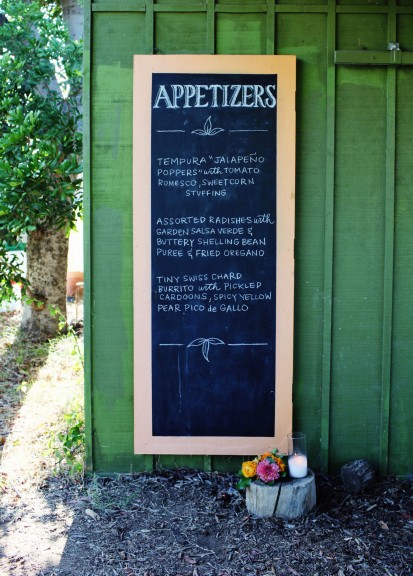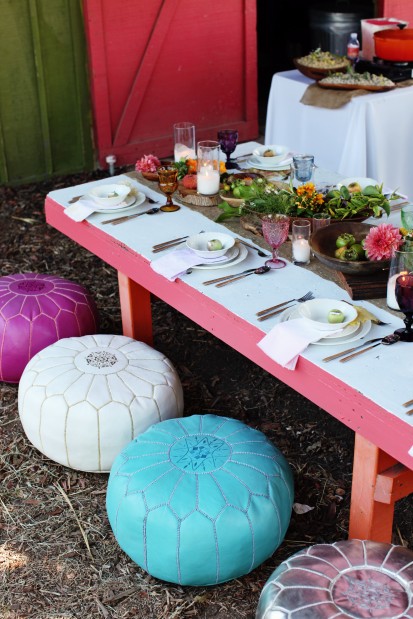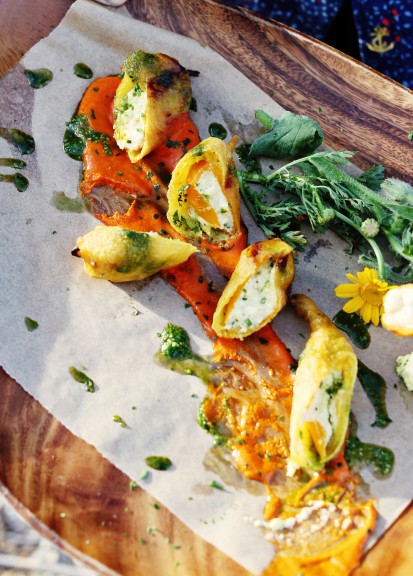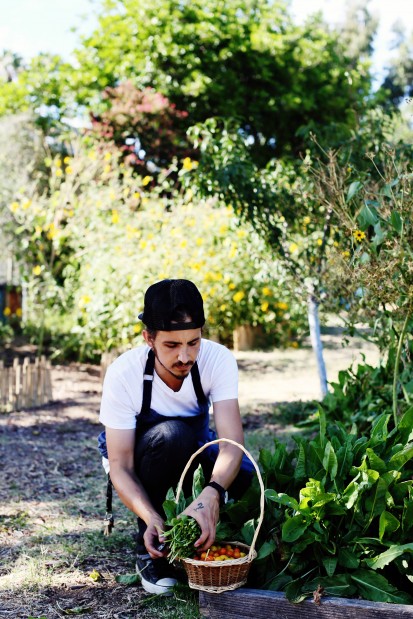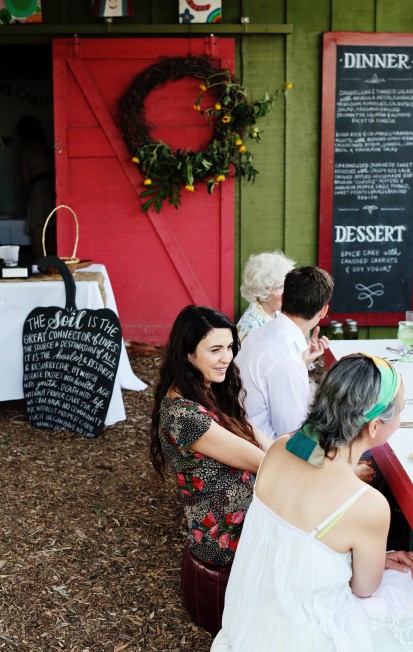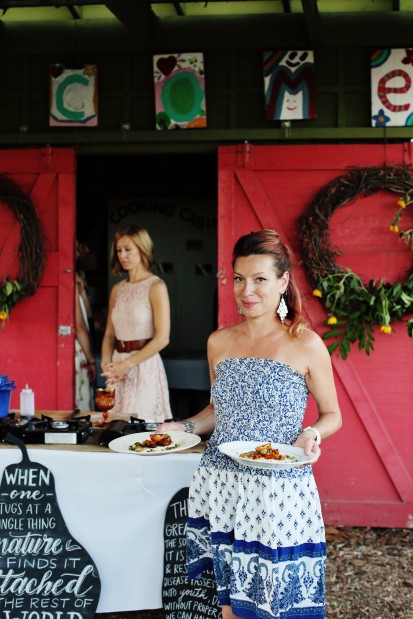 Recipe
Ricotta and Buratta "Sweet Pepper Popper"
Makes 24 poppers
You will need:
Deep Fryer (if you don't have a fryer look below)
Slotted Spoon
Whisk
Mixing Bowls
Torch or Stove top
Spatula/Wooden Spoon
Piping bag
The Filling:
4 oz Fresh Buratta Cheese
4 oz Ricotta Cheese
4 oz Bechamel (Milk thickened with Cornstarch)
1 lemon, juice and zest
1 cup sliced basil leaves
Salt and pepper to taste
Combine all ingredients in a bowl and mix with a spatula or wooden spoon until combine through.
The Sauces: Romesco & Salsa Verde
Romesco:
1 cup Tomato sauce
1/2 cup toasted almonds
1 Chipotle Pepper
2 table spoons Red Wine Vinegar
Salt and Pepper
Combine all ingredients in a blender and pulse until the mix is chinky but smooth enough to move on its own
Salsa Verde:
2 Cups Soft Herbs, Cleaned (mixed parsley, cilantro, basil, mint, dill, arugula)
2 oz Extra Virgin Olive Oil
1 clove of garlic, chopped
1 lime, juice and zest
Combine all ingredients in a blender and pulse until the mix is chinky but smooth enough to move on its own
The Peppers:
12 sweet cherry or baby peppers
1/2 cup Flour
1/2 cup Cornstarch
1/2 cup Chives
1 cup Club Soda
Salt & Pepper to taste
Preheat fryer to 350 degrees. With the torch or over the flames of your stove, char the skin thoroughly and place in a paper bag to steam. Remove the outer skin and internal seeds by placing a small slit with your paring knife along the side of the pepper but keep each pepper in tact as to not loose its blanket like ability to wrap the cheese filling. Arrange the cleaned peppers on a tray and scoop 1-2 tablespoons of cheese filing into the center of each pepper and close the pepper creating a closed stuffed pepper. Place in Refrigerator or freezer to Chill (15-20 minutes, a little frozen will make them easier to work with).
In a separate mixing bowl, combine salt, pepper, flour, corn starch and chives, whisk to incorporate. Slowly add soda water and whisk until it is a fluid consistency and resembles thin pancake batter.
Remove peppers from the refrigerator and dip one by one onto the batter and slowly add to the hot oil. Be sure to hold onto the pepper as long as possible so that way the batter has the chance to solidify slightly before completely submerged. Allow to fry until golden brown. Do this in 6 pepper increments to have even cooking times, feel free to pop in the oven to rewarm after cooking if making this recipe ahead of time. Allow to cool 3-4 minutes and serve with accompanying sauces and some shaved Sea Salt.
In a heavy bottom pot (rather than a fryer) you can fill with oil a couple inches deep and follow the directions from there. It's VERY important to hold the oil at the specified temperature. Oil thermometers that clip onto the side of a pan are available at places like William Sonoma and Surfas as well as certain grocery stores. I've seen them at Gelson's for instance. They usually are around $10-15 and are really helpful to have if you fry anything or make jam or custards.