Transforming Pain Into Joy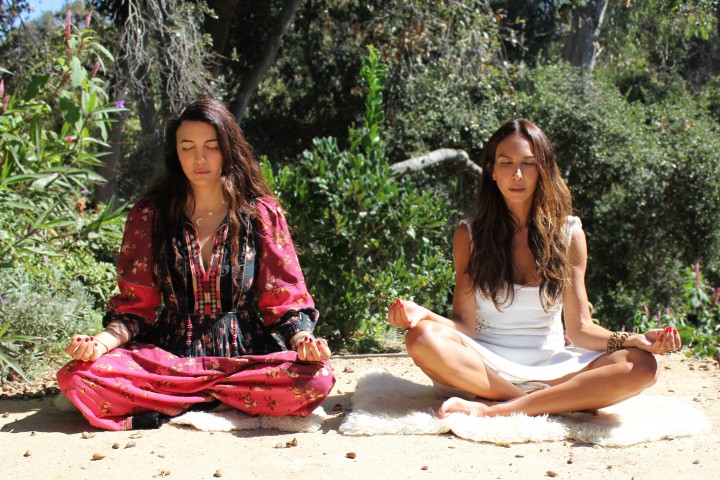 My favorite thing about living in alignment is people will just naturally appear in your life at the right moment. My amazing photographer Nihura came to me one day via a story for the chic boutique Mona Moore last summer. During our shoot Nihura was pretty quiet and kept to herself, but there was a creative spark in her that had me intrigued. Once we began to talk a bit and she opened up, we realized we shared the same spiritual practice of SGI Buddhism. I was looking for a photographer for TLR, so it felt like kismet that she had just shown up so easily. After some time working together, Nihura introduced me to New York based lifestyle coach Joy Dushey since she felt we both had so much in common. Both Joy and I have transformed or transmuted drastic health issues in our lives. In Joy's case it was after she suffered a stroke at the age of 29 that she began her path towards holistic living. After a year of rehabilitating back to the basics of functioning, she began diving into the fundamentals of a whole and healthy lifestyle.
We had a lovely day together in my kitchen and garden when she came to visit. We made face masks (coming soon) and meditated in the garden. I felt really touched by Joy's story and how she maintains her focus and determination to transform the world with what she has learned. Here is the mini Interview with her ~
What led you to create your site? I created my site to inspire positive impact through a holistic lifestyle platform. I spent a long time questioning how I could share from my coaching skills and life experiences and one night I was awakened to receiving  the answer.
"A DIY on line coaching platform through creative expression"
I have so much gratitude for the education and experiences I've received through guides, mentors and the universe and I wanted to share and give back through The Joyful Approach.
 What makes your heart sing? My heart sings when I'm able to share my gifts, whether its teaching a workshop either in a group setting , or  a 1:1 client  facilitating The Joyful Approach coaching or teaching Breathwork. Witnessing  people let go of what no longer serves them and heal their hearts. My heart sings when I am awake before the sun rises and I am in solitude feeling most creative.My heart sings when I chant to Kirtan music every morning.When I'm able to feel my vitality through running in nature and the elements of life. When I push my body to its limits and am reminded of my empowerment and how capable I am.When I'm with my family, gathering my children and husband and  the dogs together surrounded with love.Connecting with people in general makes me thrive and furthermore with deeper connections and building community, I feel so nourished and blessed for the value of those connections.
How did having a serious illness lead you to this path you are on? Having a stroke and the year I took to rehabilitate was the biggest transformation of my life. I was forced to sit still and awaken to what wasn't working any longer in my life. I felt that surviving my illness was a gift and almost like I was born again. I had so much appreciation for my body which I started to create a new relationship with and treat it like a temple. I embarked on holistic lifestyle and it became contagious leading me to this beautiful life I get to live.
What is a word of advice you can give to someone suffering from health issues? Begin with the basics. What does your lifestyle look like? The Joyful approach is based on the 6 fundamentals of holistic lifestyle They are Sleep- Hydration –Nutrition- Movement- Breathing and Thinking (getting clear on your life purpose). When these are out of balance we can't function optimally. Its important to bring those into balance first and then seek care for treating the illness. TJA is based on the Mind Body Spirit connection. It's important to look at what else is going on emotionally and heal the emotional wound as well as the physical. Through all my physical injuries and illnesses I was suffering from, there was always a parallel emotional issue I was dealing with. When I was able to heal the emotional issue, the physical illness would synergistically mend its way back to health.
I also have learned the importance of loving myself through the illness.. to nurture myself through love and loving what was being presented to me no matter how difficult the suffering was.
Do you have a beauty secret or routine? Primarily its living the TJA lifestyle day in and day out. That means getting enough sleep, being well hydrated, eating nourishing foods and meditating (which reduces stress), exercising which is detoxifying. These components  all contribute to looking and feeling younger.
  I wash my face with the Shiva  Rose Pearl Milk Cleanser which I love because its milky and I don't like anything harsh on my face. I layer with serums, oils  and extra moisture. A beauty secret is meditating. If I have an event or special occasion I'll make sure to meditate  30 minutes before leaving my home. I always feel like I am glowing  and shiny and spirited after meditating which transcends to how I look on the exterior.
How can we create joy in our daily life? Create Joy by taking accountability for your life. Take the steps to bring into balance the area's that aren't working for you  and create a daily practice that promotes a Joyful life. Meditation, Moving in nature,Journaling,Yoga, Chanting are all idea's. Find the practices that you identify with and create your ritual that makes you feel joyful.  Start with 28 days, it is said that it takes 28 days to create a habit. Cultivate more self love, slow down, quiet the noise in your brain,make space for creativity, surround yourself with people that make you feel good, live authentically, dare to do something outrageous every now and then.
Tags:breathwork, holistic health, Joy Dushey, The Joyful Approach