Sun Potion ~ Transformational Foods
Tonics, Herbs and Super Foods to Support Healthy Living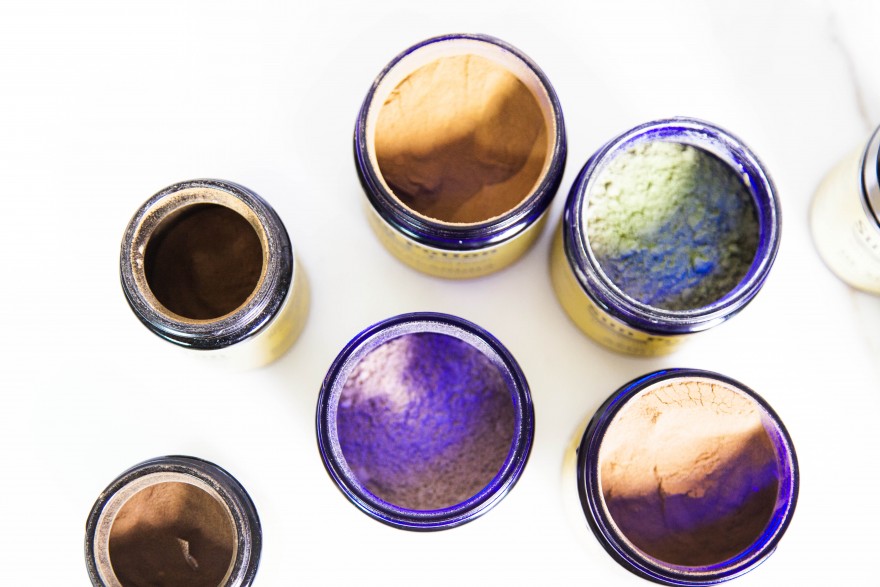 I so love the idea of being able to transform yourself through what you eat ~ I have been taking tonics, herbs and super foods  by Sun Potion for the last year,  and recently I had the good fortune of spending some time with the dynamic duo behind the Sun~ Scott and Nitsa feel like magical beings from Lemuria. They are glowing with good health, have gentle souls, and so full of information on herbs, super tonics and foods that I felt healthy just being in their aura! After meeting them I am continuing my super tonic taking, and with even more vigor. I truly do feel a change in my energetic being after taking these tonics. I started a year ago with their ashwagandha and reishi. Today I take about four different tonics usually around afternoon tea time for an added boost to the rest of my day. Some mornings I take this combination after my Living Tea. My combo right now is Ashitaba which is a powerful skin and digestion tonic from Japan, Mucuna Pruriens which acts as a dopamine enhancer, and He Shou Wu which is a powerful longevity tonic and great for thick lustrous hair! When one reads the benefits of say Pine Pollen, when taken in small portions, there is no going back. Pine Pollen has been an aphrodisiac and longevity food in ancient cultures for centuries. It has twenty amino acids and eight essential ones and is also an adaptogen. I love the golden hue of the powder, and feel its vitality working on me right away. It is vital when taking supplements, to make sure that they are sourced from a pure place and with Sun Potion I know that I am in good hands.
For more all-natural health remedies see The Local Rose.
Watch our video on these beautiful beings and please read their enlightening interview below! In the video we discuss important issues like what to take for The Fukushima crisis and how to balance hormones, and what tonics like Mucuna, He Shou Wu and ashwagandha can do for us in preventing modern diseases.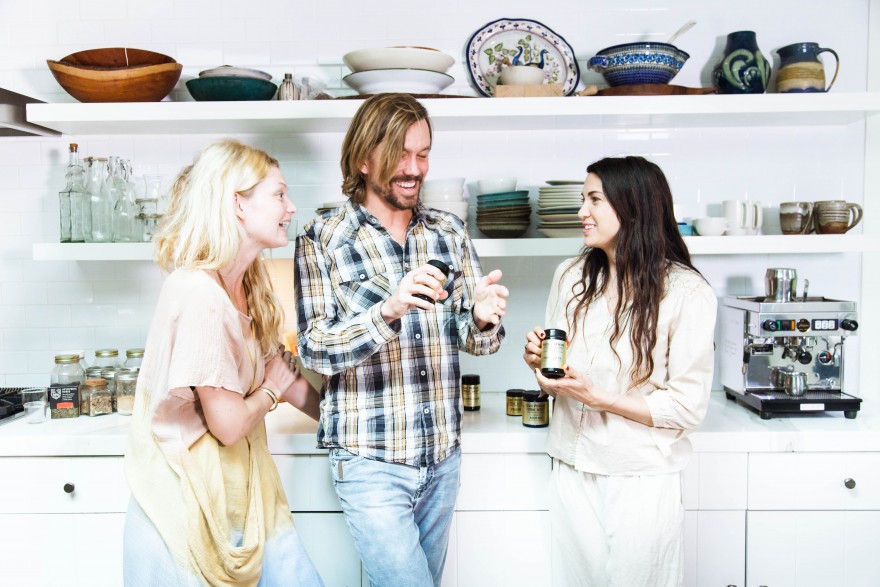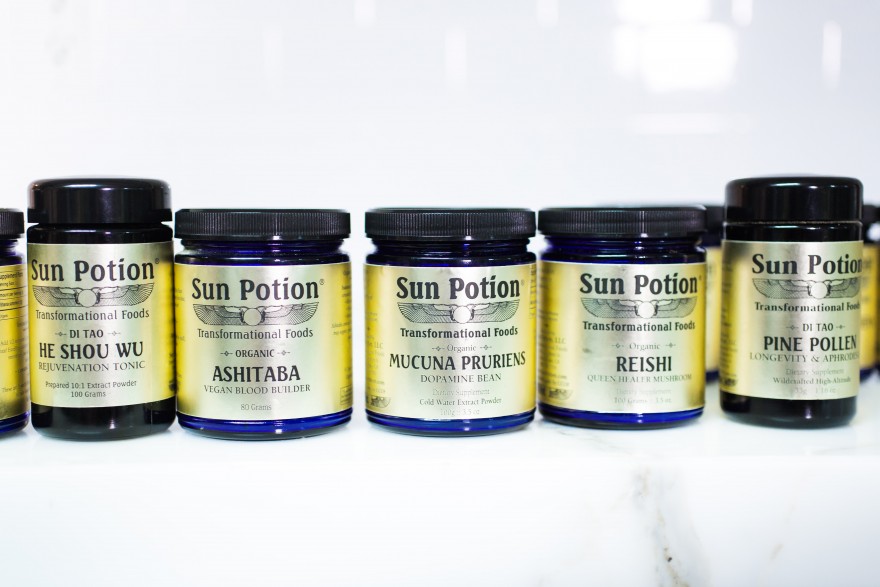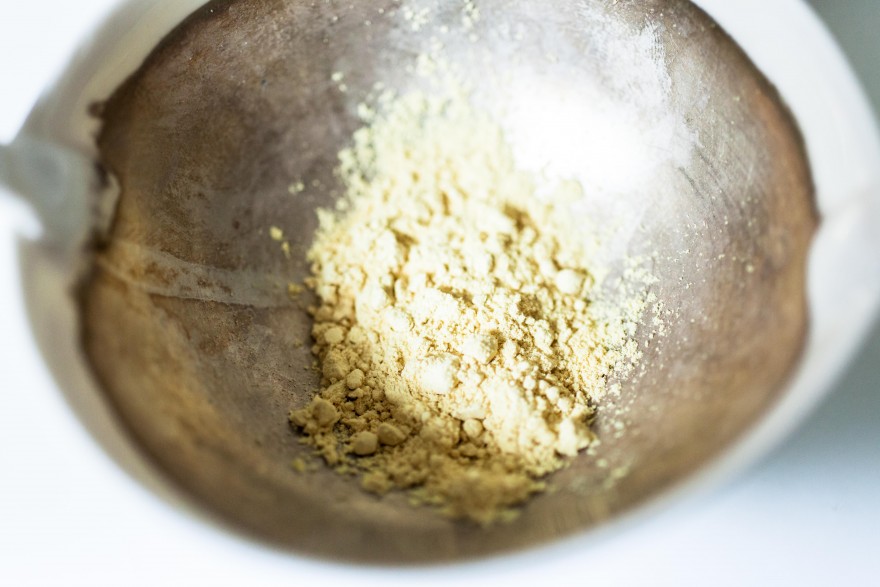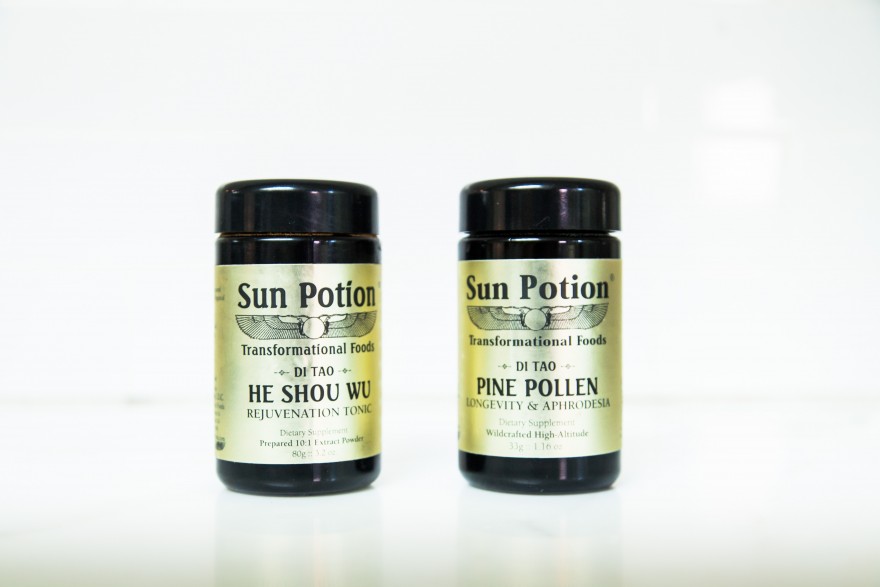 1) What are the top three sun potions one should start with?
Scott:
Mucuna Pruriens Extract (supports the nervous system, and acts as a precursor to Dopamine)
He Shou Wu (super nourishing and restorative to the kidneys and overall life force in the body)
Chlorella
 (mildly detoxifying, clean source of ultra nutrient rich food, great way to start the day)
Nitsa:
Anandmide (it has almost everything in the line and the blissful, harmonizing effects can be felt right away)
Reishi Mushroom
(for immunity, stress-relief and nourishing the heart)
Pine Pollen
 (brain food + aphrodisiac!!!)
2) What makes your hearts' sing?
Scott:I love introducing Sun Potion and Tonic Herbs to people. It is so fun to see how the plants can work with // and support people. It's really satisfying to see people get excited about how great they feel after making these foods a part of their life.
Nitsa: Art, spending time in nature, beautiful experiences shared with loved ones. Also – a meditative dose of solitude.
3) In what ways do you greet the sun each day?
Scott: I greet the sun by boiling water for tea, opening all of the windows, and burning plant resins on charcoal. I love being the first to rise in the morning, and tuttering around the house quietly in the early morning.
Nitsa: When I wake I like to "cocoon" myself in a practice of gratitude. With my eyes closed I begin to internally recognize and feel all the things I am grateful for in that moment and beyond. Articulating these gratitudes to myself has a deeply nourishing and soothing effect on my mind and heart, and I guess is my version of (internally) greeting the Sun. I love to begin my day this way.
4) Do you have a beauty regime or beauty ritual?
Scott: I try to sauna every day that we are in Santa Barbara. I love the heat, and a good sweat is my favorite way to relax after a day at the warehouse. I also enjoy using Shea Butter on a daily basis. I find it to be super nourishing for my skin. This is a simple practice which helps to bring me into my body throughout the day. By applying the Shea, I have a chance to tune in with every part of my body, see how it's feeling, and if there's anything that needs more attention. I have been using Shea Butter consistently for over 10 years and it is my favorite skin food.
Nitsa:
My beauty regime breaks down to
1) holding a vibration in self- love and kindness
2) nourishing my body with organic, seasonal, whole-foods and tonic herbs
3) keeping a creative practice
4) making time for self-care rituals. I am a huge fan of the art of bathing ~I love to pour long, hot baths infused with essential oils, florals, salts, and could stay in the sauna or steam room for days. I also love making herbal face masks, hydrosols, and only use products on my skin that are edible and of the highest quality.
5) Where do you see yourselves in a decade?
Scott: I see myself Married and IN LOVE with Nitsa, raising one or two children, and living at our home in Santa Barbara. Looking back on the ten years, I see themes of Joy, Service, Travel and Success. The biggest accomplishment will be Sun Potion's contribution to the "New Normal" in the ways people relate to food, plants, their bodies, and the availability of Tonic Herbs as a choice for healthy living.
Nitsa: Happy, Healthy, with my family in a gorgeous home with heavenly streams of natural light, tending to my garden, In Love.
6) What is on your nightstand?
Scott: Clean Water (we get Real Water home delivery to our home and warehouse), Shiva Rose Face Oil (I use this right before going to bed, and I love it), Sun Potion Shea Butter, a framed leaf from the Bohdi Tree that was a gift from my Sister, Sarah. It is from Bohd Gaya, and she caught it as it was falling, before the leaf landed on the ground. To me, this is a symbol of playfulness, tradition, the auspicious influences of plants!
Nitsa: Crystals, books, essential oils, shea butter and jojoba oil, a glass jar of alkaline or spring water.
7) Are you a mermaid or forest fairy? Scott?
Scott: I am a water being, for sure! I grew up on a lake in Minnesota, and I was a fish from a young age. In fact, my parents brought me to a class called Water Babies, where they basically tossed me in the deep end of the pool at one month old. There are pictures documenting my early love for swimming and being in the water. I later learned to water ski and barefoot water ski at age 5. I was on a swim team through elementary school and high school. When I was in College at St John's University, I was actually on the US Triathlon Team, and placed 5th in the world for Juniors at a race in Calais, France. I am a Dive Master, and have been into SCUBA since I was 16. Fish Life!!
Nitsa: Golden Elf 😉
8) What is your favorite meal?
Scott: Anything made by Nitsa, Greg Arnold, Scott Winegard, or Stephen McCarty. I want to eat best quality food, everyday. I find this standard of food to be a huge luxury, pleasure, and necessity.
Nitsa: Tea.
9) Do you have a motto or mantra you two live by?
Scott: Service and Gratitude are King.
Nitsa: Love.
10) Where is your favorite place in Santa Barbara where you reside?
Scott: 430 East Gutierrez Street, the location of the Sun Potion Headquarters // warehouse. I love being here. This is were we
house all of the herbs and foods before shipping them to stores and online customers. It's over 1600 square feet, with high ceilings, huge industrial windows that let in tons of natural light, and rooms full of the finished jars. The feeling is bright, clean, and effective. I love being here. It is definitely my favorite place to be. 🙂
Nitsa: Have to narrow it down to 3 places: our home, the Botanical Gardens, or swimming in the ocean at Mesa Lane Beach.