Fourth & Heart Ghee
Benefits of the natural butter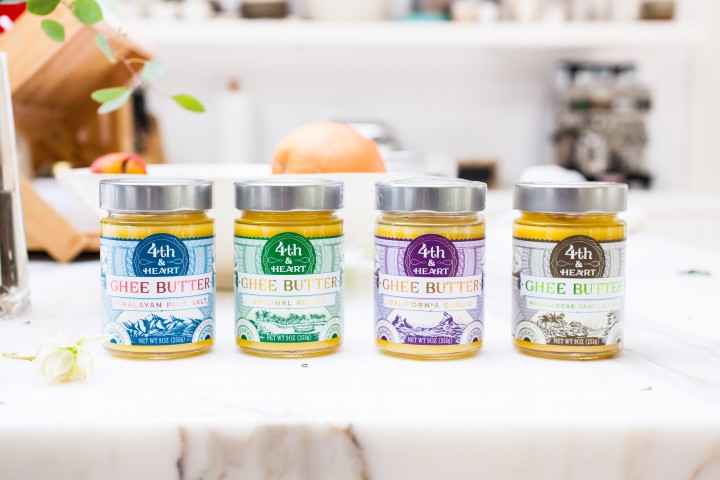 One of my favorite anti-aging and healthy treats is taking a spoonful of ghee every day. Ghee is clarified butter that is a staple in Ayurvedic cooking. It is rich in vitamins A, E and K and therefore a beauty tonic for hair, nails, skin and joints.
I was naturally thrilled when I heard about Fourth & Heart Ghee since they have a variety of flavors in their line of grass fed ghee. This sweet company started by Raquel Tavares Gunsagar makes certain that whole, organic ingredients are used throughout the process. They combine flavors like vanilla and sea salt to the ghee so they are easier to bake and cook with.  I have a spoonful of the delicious vanilla throughout the day as well as adding it to smoothies and teas.  They have five flavors all together Original, Garlic, Truffle, Madagascar Vanilla and Himalayan Pink Sea salt.
Some benefits of ghee are:
~ Ghee contains conjugated linolenic acid which inhibits the growth of cancer and is a good source of the good kind of cholesterol.
~ Ghee aids in ensuring proper digestive health as well. Traditionally used in Ayurvedic medicine as a topical cure for blisters and burns, ghee may also help in minimizing stomach acid while simultaneously repairing the gut's lining
~ Ghee is a potent source of butyric acid as well. A fatty acid which acts as an anti-viral agent in the body.
~ Use ghee as a beauty cream on your face. It does wonders ~
~ Taking ghee with supplements can enhance their power and absorption.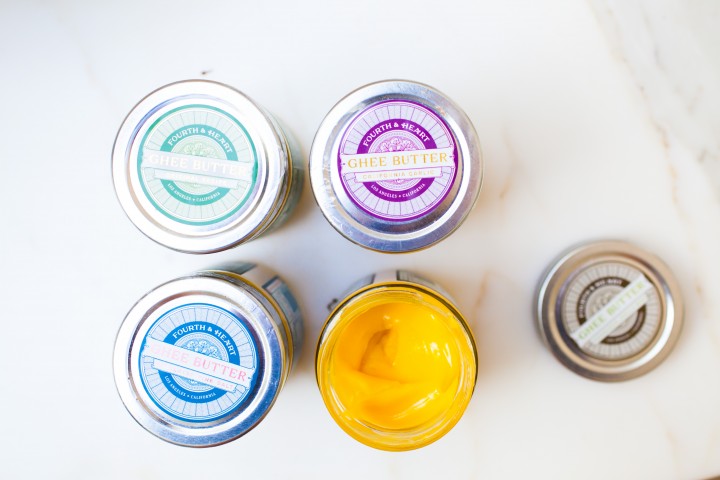 Fourth & Heart is an ode to the Heart Chakra. It's the intersection where most of us get stuck. We think through everything and we rarely feel our way through it. Our intellect gets in the way. I find the most lasting decisions are heart choices and not hard choices.
Fourth & Heart hopes to inspire others through the passion we put into our product and to inspire "heart" decisions, not hard decisions.
We move forward with bold intention, and with your hearts and our hearts in mind. We want what we put into our product to move you, motivate you, inspire you.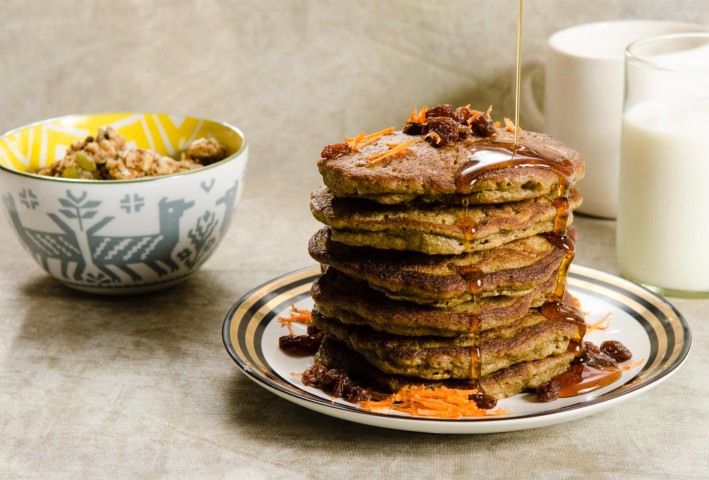 Here is a recipe using their Madagascar Vanilla Ghee for delicious pancakes.
INGREDIENTS
1/2 cup All-Purpose Flour (or gluten-free flour)
1/2 cup White Teff Flour1/2 cup Almond Meal Finely Ground1
1/4 cups Water
3 1/2 tsps Baking Powder (gluten free options available)
1 tsp Himalayan Salt
1 tsp Cane Sugar
1 Egg (optional – use ¼ cup applesauce in place of egg if vegan)
1/3 cup Carrots Shredded
1/3 cup Fresh Pineapple Diced
1/3 cup Apple Shredded
1/3 cup Golden Raisins
3 tbsps Avocado Oil (any oil can substitute but this is our favorite)
3 tbsps Madagascar Vanilla Bean Ghee
PREPARATION
In a large bowl, mix all dry ingredient.
Form a circular well in the center of the dry ingredients
Add the remaining ingredients into that hole (save the ghee for the griddle)
Mix with hand whisk until everything is blended (you may still have some lumps)
Heat a medium size griddle with the ghee and when hot, use a ¼ cup scoop to pour batter in.
Cook on the first side until you see small bubbles rise and fall.
Flip and cook until the pancake slightly rises.
Tags:ayurveda, cancer growth, cholesterol, digestive health, fatty acid, ghee, Heart Chakra, linolenic acid, Raquel Tavares Gunsagar, supplements