A Day with the Inspiring Designer Phoebe Dahl
Creator of Faircloth & Supply shares delicious recipes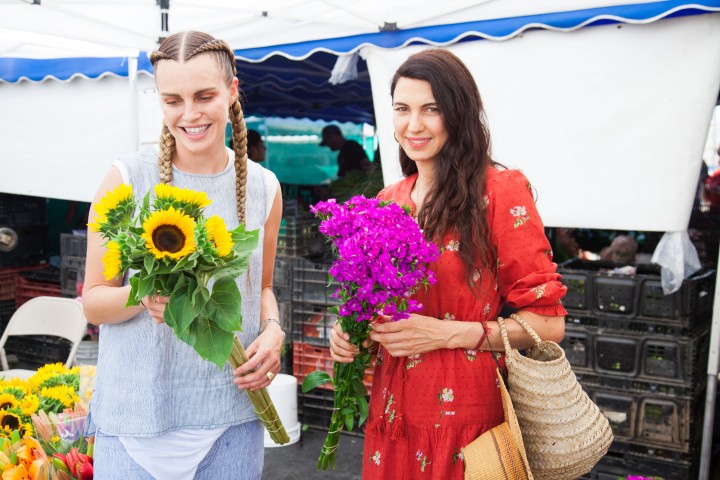 The beautiful, original, electric Phoebe Dahl is an inspiration in so many ways. We spent the day with the creator and designer of Faircloth & Supply shopping at the her local Farmer's Market, and then watching her make the most delicious lunch. Phoebe's line is more than just a sustainable design company, it also has a built in charitable component. For every item of clothing, Faircloth & Supply donates school uniforms to young girls in Nepal so they receive an education. From her first sale she has been donating to a cause that is close to her generous heart. So far they have donated over 4,000 uniforms and these uniforms are also a way to safe guard the girls from sex traffickers. The sex traffickers generally don't approach girls in uniforms. Education is a key to girls and woman empowerment and this has been the true thread to Phoebe's work.
Phoebe is the granddaughter of the imaginative whimsical writer Roald Dahl whose books are a staple on my daughters' bookshelves. Her cousin Sophie Dahl is a culinary inspiration, so it seems perhaps the creative gene runs strong in this family. I felt instantly entranced by Phoebe's big cornflower blue eyes and flaxen braids. I always appreciate the juxtaposition of things, and Phoebe is a rare combination of being strong and grounded, with an ethereal beauty woven into a relaxed California style. I am now a fan of her relaxed yet chic linen line, and I want to get my hair braided like hers ASAP!
We had a charmed day gathering abundant, beautiful, organic produce at the Attwater Farmer's Market, walking back to her bungalow and watching her create an extraordinarily delicious lunch in a relaxed easy way. She even grows the herbs that were used in the bruschetta. She made the recipes look so effortless that I am now making the savory peach salad daily must for summer menus. Look below for a mini interview with the lovely Phoebe.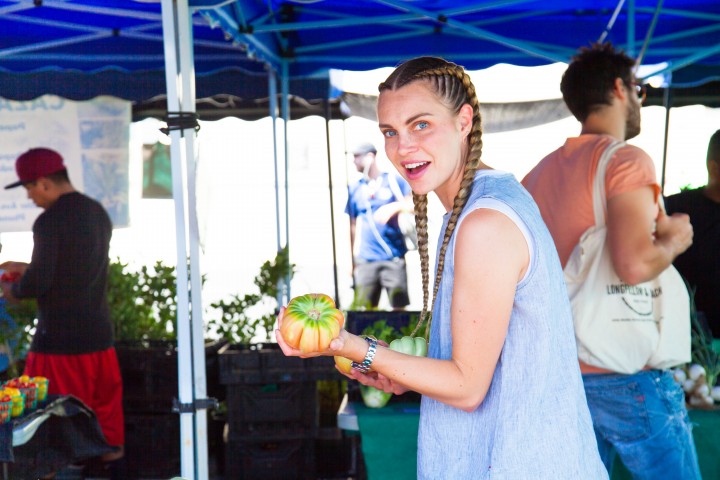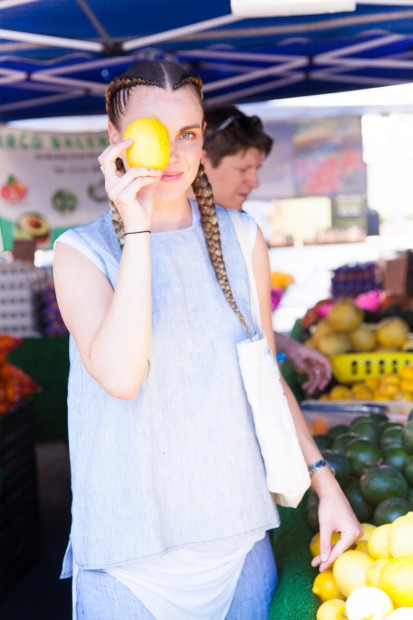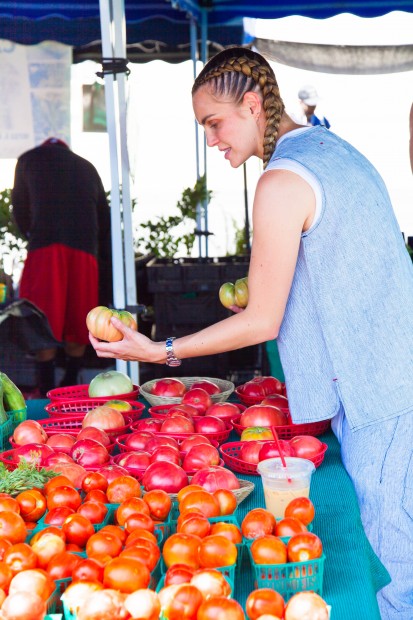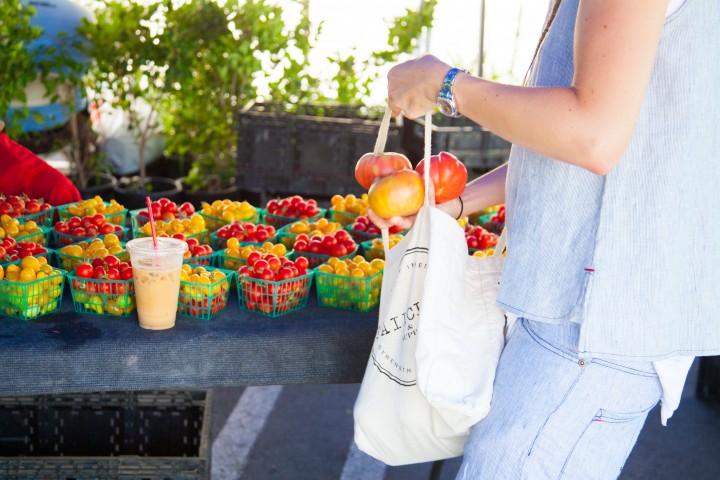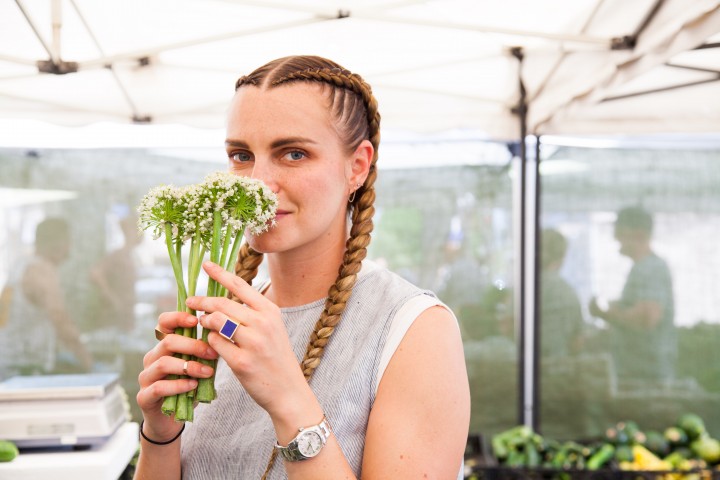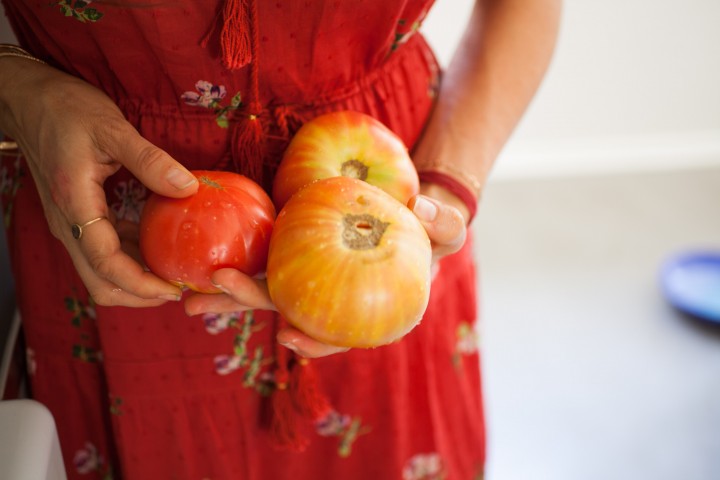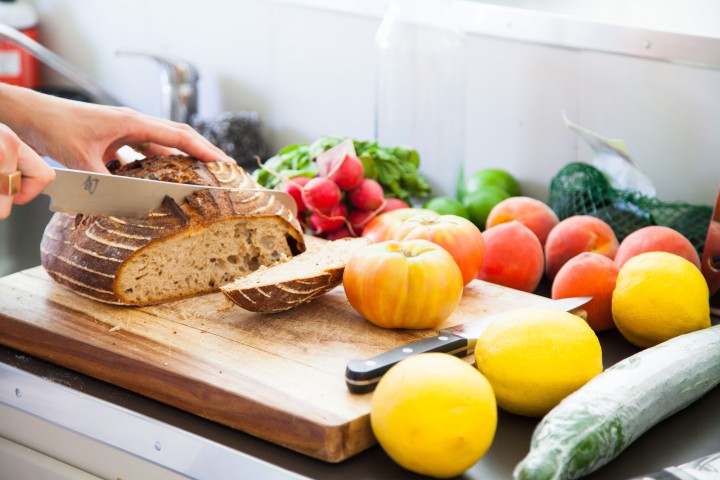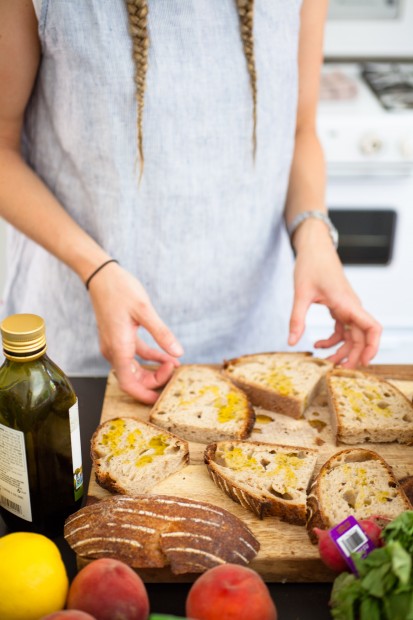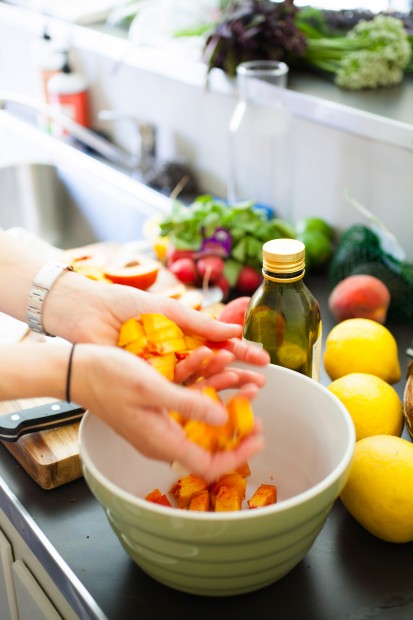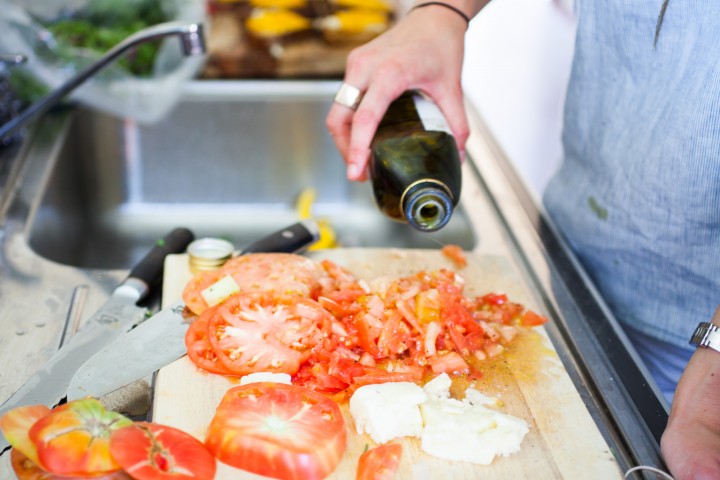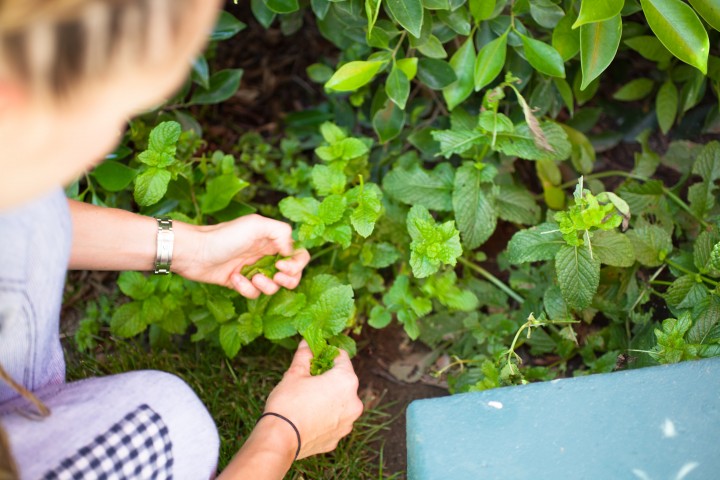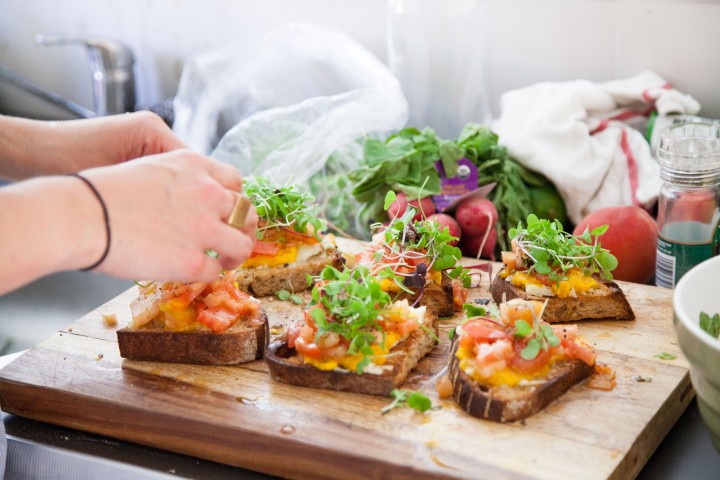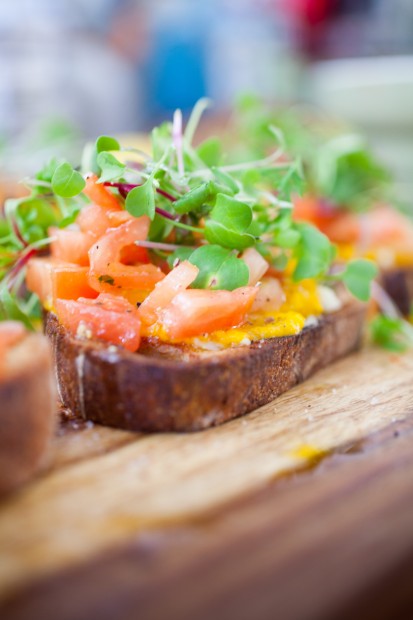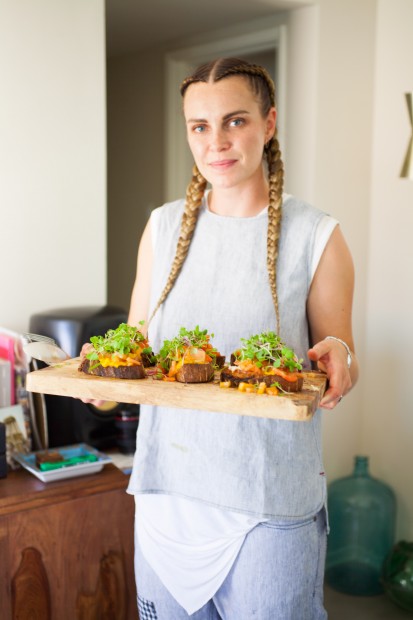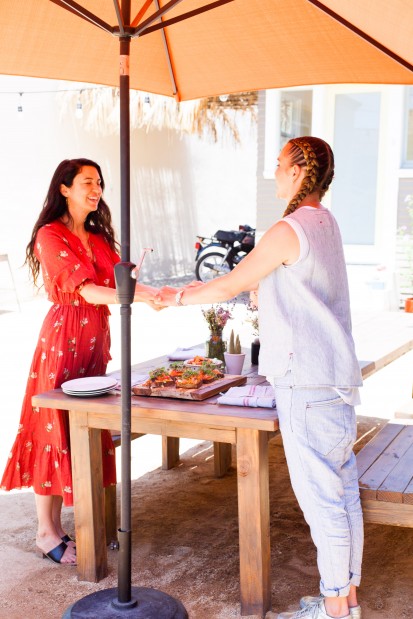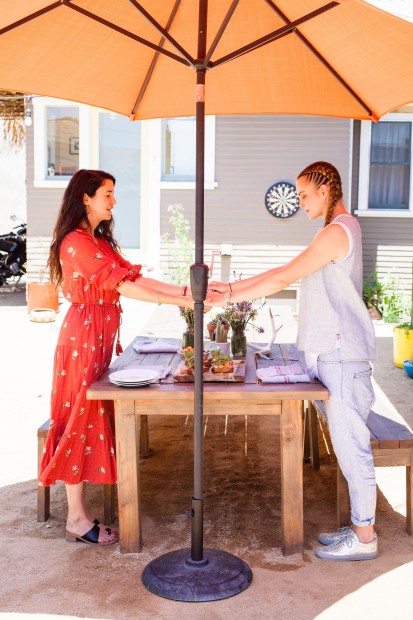 1) What makes your soul sing?
The Ocean – I could spend my entire life in or by the sea. Im a little fish!
2) What inspired you to start your line?
Ive always had a deep love for Linen, inside in my by my grandmother, who is the owner of an antique textile shop in Santa Fe. I have been making nothing since I was about 13 and when I traveled to India, at age 20 was so inspired by the gender oppression that I saw first hand and came up with the concept of Faircloth.
3) Out of all the places you have traveled to for Faircloth which made the strongest impact on your heart?
Nepal, absolutely Nepal – whats why I have devoted my life work to improving the state of the nation and working closely with the people.
4) Do you have a beauty secret?
I spray Laurie Herman's Rose water on my face day and night.
5) Do you have a mantra or motto you live by?
I have a few:
"You don't make memories while you're asleep, however don't believe anything anyone says after 2am"
6) Are you a mermaid or forest fairy?
Mermaid, for sure, I wish I could actually be a mermaid, ,im my happiest in the water!
7) What is exciting you for the future as far as personal or business?
Personally, everything! Im so happy and excited about everyday, I've made my dream into my career and I get to travel a lot which is all I've ever wanted. For business, im super excited about collaborations I have coming up with brands I've personally been huge admirers of for years.
8) Please share with us your delicious recipe.
Make sure you get up early to get to your local famers market!
Buy: Sourdough bread, yellow tomatoes, micro greens, mozzarella, peaches and mint
Bruschetta
Toast Sourdough bread until slightly charred
spread the mozzarella on the bread.
Chop the tomatoes and put them on top of the mozzarella
Add olive oil, truffle salt and pepper and sprinkle with micros greens.
Peach Salad
Chloe fresh peaches
Chop fresh mint
Put in a bowl with chopped mint olive oil lemon and sea salt for a delicious refreshing summer salad!
Tags:Attwater Farmer's Market, charity, Faircloth & Supply, farmer's market, Nepal, Phoebe Dahl, sustainable fashion