Healing Bliss with Patti of Mojave Desert Skin Shield
Exploring beyond a gentle skin facial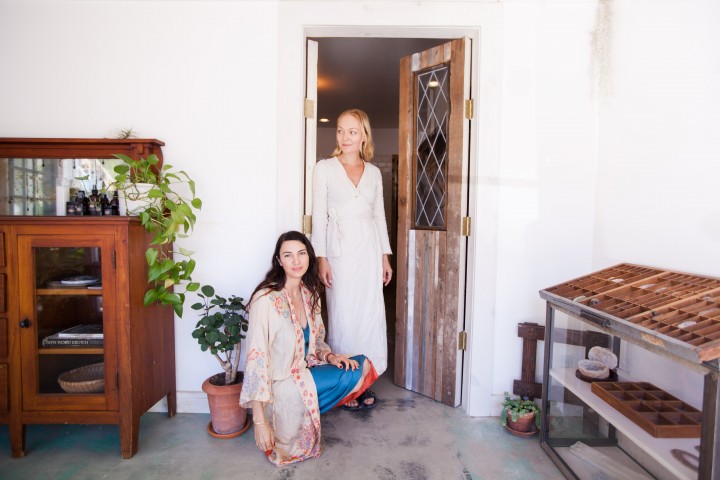 One of the reasons I started The Local Rose was so I could celebrate people who truly walk the path of healing, beauty and wellness. My dear friend Charlie wrote to me a few months ago and said that I needed to meet with Patti from Mojave Desert Skin Shield. He told me she gave facials but that it was so much more, and that she was out of this world. I have to say he was indeed correct, and I am so grateful that I was led to Patti's light and healing. She is such a gentle, angelic soul that just being near her calms my sometimes vata nervous system.
Patti's beautiful treatments are based in the wisdom of Ayurveda. They are also steeped in the teachings of the vast and arid Mojave Desert where Patti has called home for the last 3 years. She begins the sessions with Ayurvedic cleansing of the mouth and eyes using an oil she blends. She then gives various treatments focusing on the face, body or both. The facials are with the purest, most high vibrational ingredients like chamomile and lavender that she grows herself. Her face oil and face masks use high integrity ingredients like special drawing clays, local desert honey, sage, olive leaf juice and more.  The body treatments are started with a very vigorous session of body brushing that isn't for the ultra sensitive. She also has the sweetest most serene assistant named Florence who is a grey Whippet. Florence who is more like a doe from the lost land of Lumeria, truly gives off a healing energy.
Another aspect of the treatment is hearing her lovely accented English (she is originally from Poland via London and New York), describing her philosophy on living. I am so in awe of her dedication to this way of healing. In such a short time Patti has taught me alot on how to trust the nobility of our souls. Patti has spoken to me how we are divine beneath our egos.  She believes that when we strip away layers of ourselves like our ego, desires, and ambition we get to meet with our cosmic royal selves. Becoming cosmic royals doesn't come from birth rights, but rather from our decision to be so. This Decision comes from awakening to our purpose and walking towards that with every step. She chose to live by herself in the desert for three years and with it came the burden of letting go. This was a choice which led her to the fulfilling life she now has. Patti is now expecting her first child and soon will be moving to the East coat to be with beloved and partner in life. You may still be able to get a session or order her lovely products by emailing her at mdskinshield@icloud.com
These sessions were held at the most magical new healing space in Culver City called Ayam, more coming on this soon.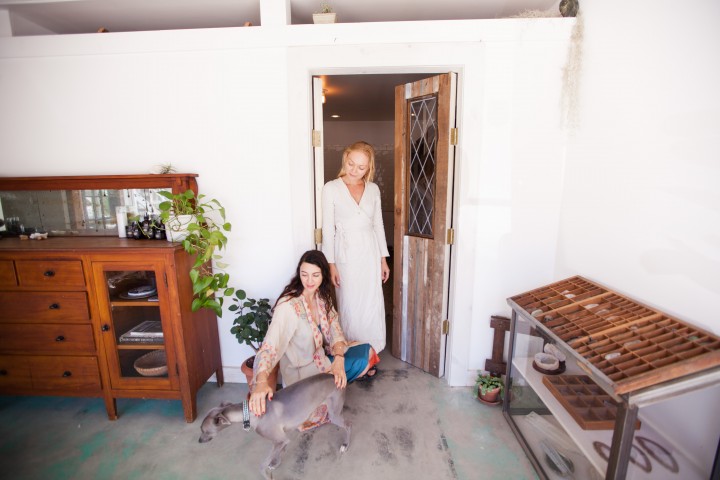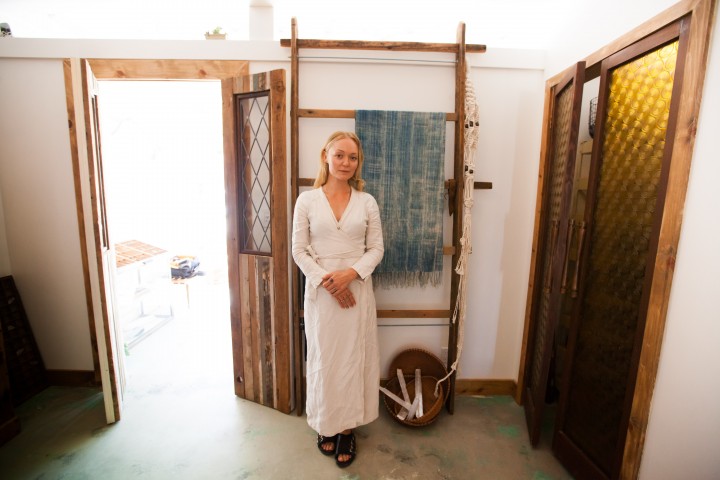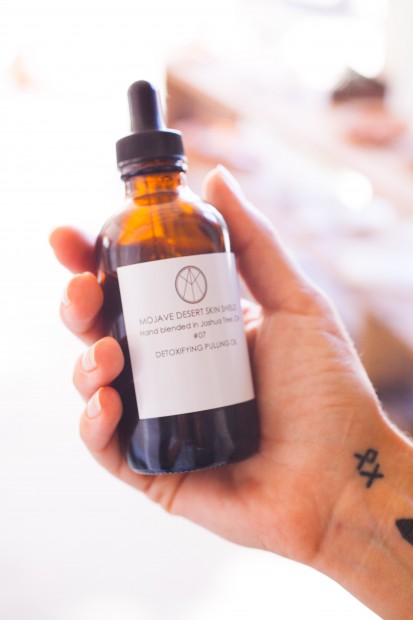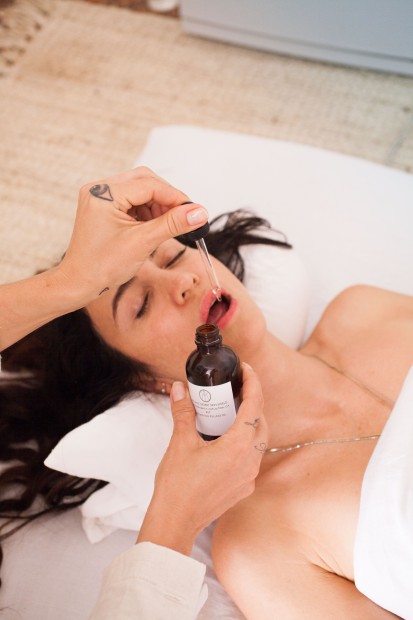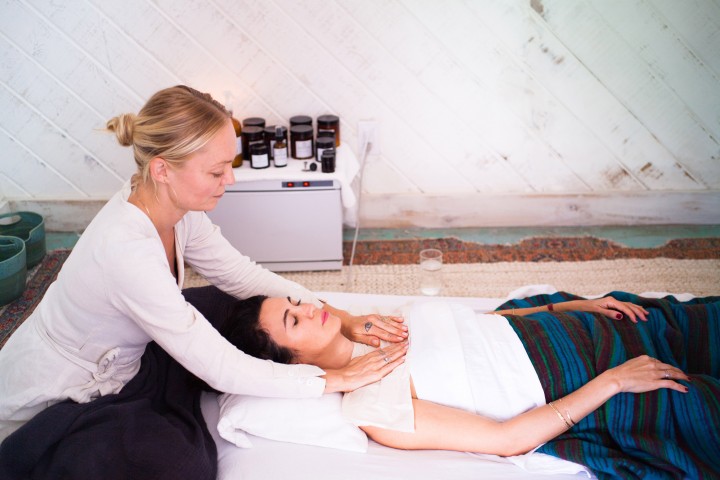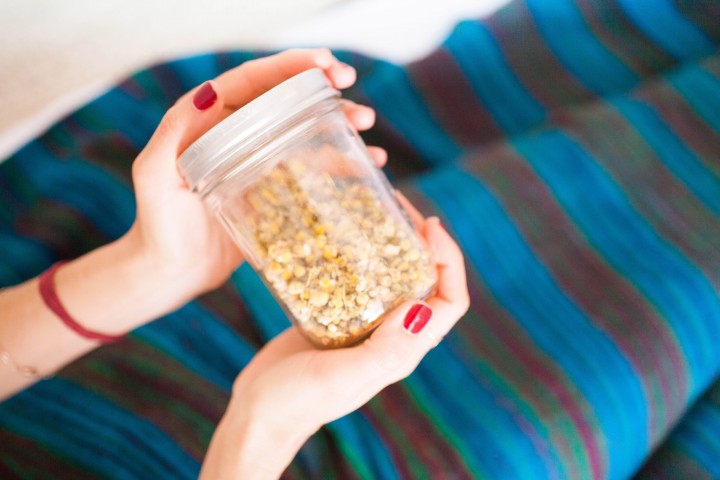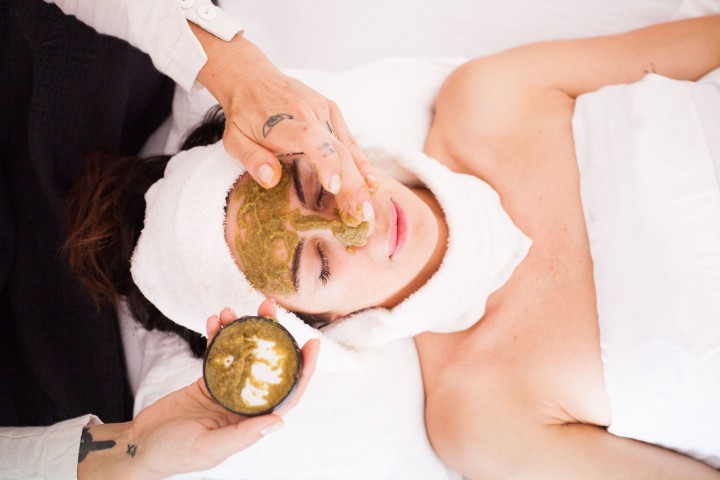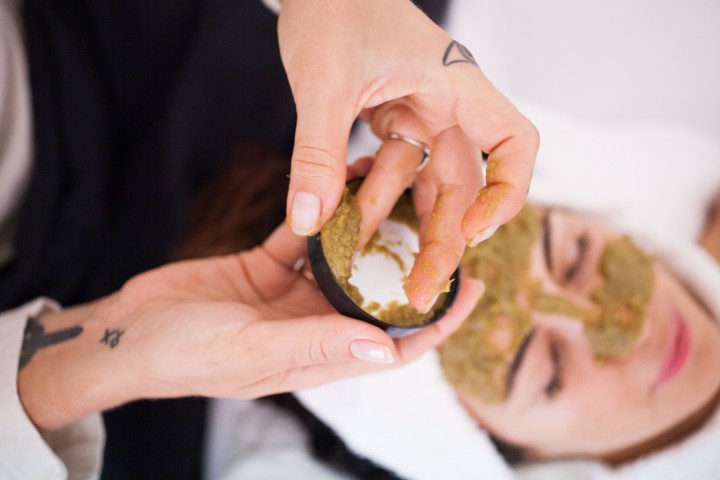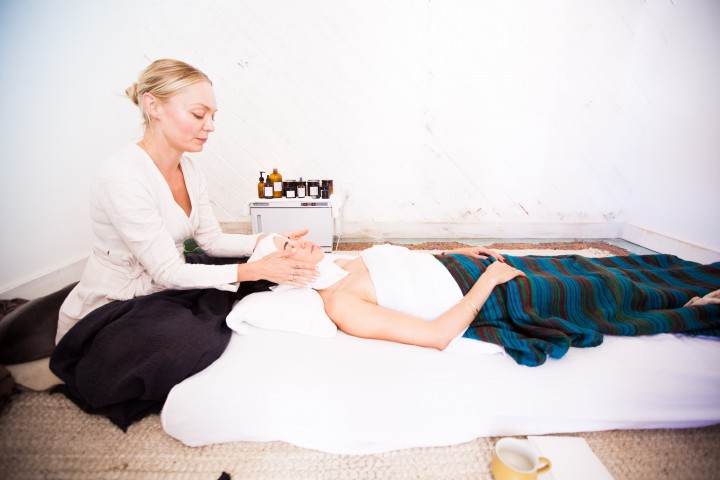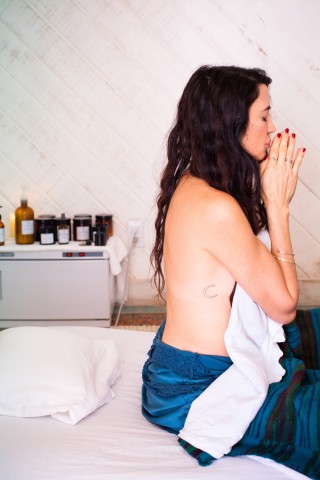 1) What drew you to the desert?
The search for the ultimate freedom, redefined outside the frames of society. I was guided by intuition to come here to live and work in silence and draw energy from the sun and from the infinity around , to look for all the answers within rather than outside of myself , to study and acquire self discipline that this environment requires and challenges and to increase the flow of Light and merge with nature at a level I never experienced before, with a far sighted goal of then bringing it all back to community and sharing my findings from a truly humble place.
2) What connects you to the source?
In my view the connection to the Source is an ongoing inner dialogue which we can amplify by daily practice of awareness , study , kindness and through a regular personal ritual. The better we are connected to ourselves the closer our connection to the Source. It's important to hold a sacred space within us for that which we love, the Light channels through it.
3) What are three Ayurvedic Practices women should implement in their routines?
Oil pull with tongue scrape, eye rinse and conscious breathing . I also try to inspire everyone I work with to implement daily dry brushing of the whole body.
4) What is your go to product in your line?
The line came out of pure necessity of cleansing, nourishing and protecting my skin in the dry desert land and my friends, guests and clients with whom I shared the products inspired me to make it more available so it's a difficult question. I love the Detoxifying Pulling Oil , it tastes really fresh and delicious and after years of pulling with coconut oil I feel spoiled now that I have it, it makes the morning routine really enjoyable . I love the cleanser and the Super Power serum oil .. oh and the Earth mask .. you see, it's impossible to pick one ! I just feel grateful for all of them.
5) Does Florence help with your treatments?
Florence is a being that's hard to call a dog .. She went through two Yoga Teacher Training Immersions with me and I could really feel her working along me. She is 9 years old which also makes her quite a Rishi! She definitely emits peace and beautiful energy during treatments, which she always silently assists at.
6) What book are you reading?
I keep The Course In Miracles on my bedside table as reading it always feels like "coming home", even if just a few sentences, opened randomly. I recently came back to read Alberto Villoldo's "Illumination" again , as it's the only book I would buy in larger quantities every now and then so that I always have a spare copy to gift . But my library of books and films is ever growing and spans across philosophy, art, music, history, poetry and fiction , I think it's the best way to keep your mind sharp.
7) Do you have a mantra or motto?
" Be Noble"
8) Are you a forest fairy or mermaid or perhaps a desert flower?
I am a ray of light from another world , wherever I fall is my home away from home.
9) Do you have a beauty food that helps with skin and hair?
Daily organic wellness shot on empty stomach : 2 lemons ( juiced with peel but they have to be natural and unwaxed of course) , ginger root , turmeric root and a spoon of cold pressed hemp seed oil . Also a month long edible red clay detox twice a year.
10) What is the last song you listened to?
Primal Scream's "Movin' On Up" and the entire Screamadelica album was playing this morning at the Temple House..
Black Sabbath's "Planet Caravan" also, and it's totally not what you'd expect, it's vintage, mellow and really awesome.
Late Night Tales is one of the best music compilation series , always curated by amazing artists.
Tags:ayurveda, body treatments, desert, Desert Skin Shield, English, facial, honey, massage, olive leaf juice, Patti Mojave, sage