Persian Autumn Dish ~ Adas Polo ~ Lentils and Rice
A favorite hearty recipe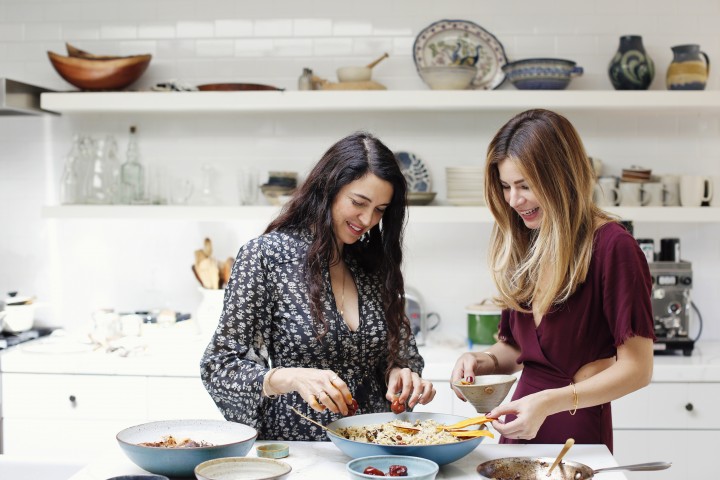 For me Autumn conjures up warm and hearty Persian dishes that are scented with the ancient aromas of cardamon, cinnamon, turmeric and coriander. One of my all time favorite Persian rice dishes which I love to serve with the Winter Pomegranate Walnut Stew , is this easy to make lentil and rice dish. You can substitute brown rice or quinoa to make it more of California version, however it is still quite healthy and a complete protein as is. The sweetness comes from the dates and raisins, and we improvised with dried oranges as well for a holiday flavor. We also used coconut oil but you can use vegetable or olive oil. As a side dish we made the typically Persian rice, feta cheese and herbs. I love to add soaked walnuts to this and some homemade yogurt with dill.
My dear friend Golriz who has the most chic boutique in Brentwood called Brigette and Stone, came over for a cosy afternoon of cooking, chatting and sisterly loving. I so appreciate her generous heart and for me there is nothing better than cooking around a stove and chopping beautiful, wholesome, ingredients for a family meal.
One of the best treats in Persian cuisine is the crunchy bottom of the rice dishes called Tadik. Making rice in general becomes an intuitive process in Persian cooking and therefore it is so difficult to learn from recipe books or blogs. It's basically a trial and error type of procedure until it clicks in. You can see from the photos below that we had a success when making our delicious tadik. The added lentils and dried fruit to the recipe made it all the more delectable.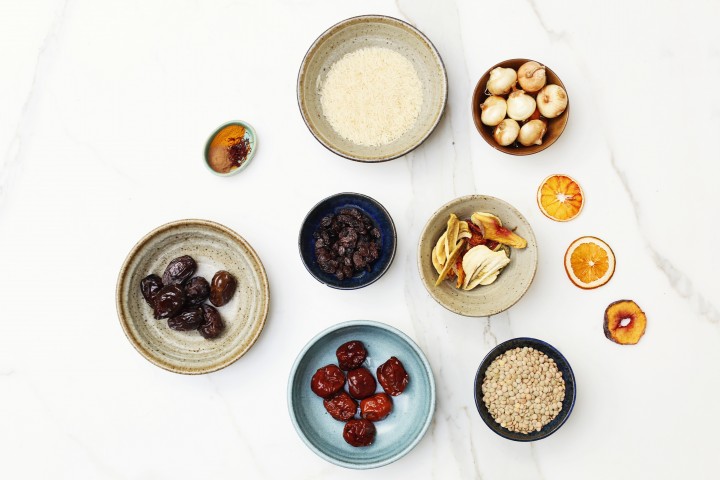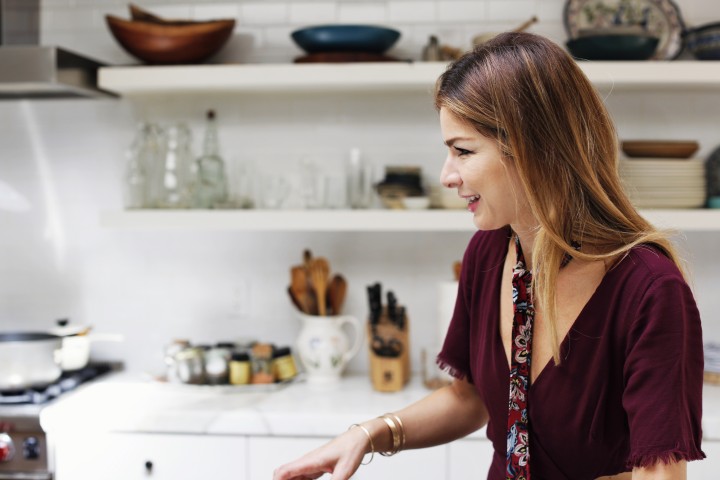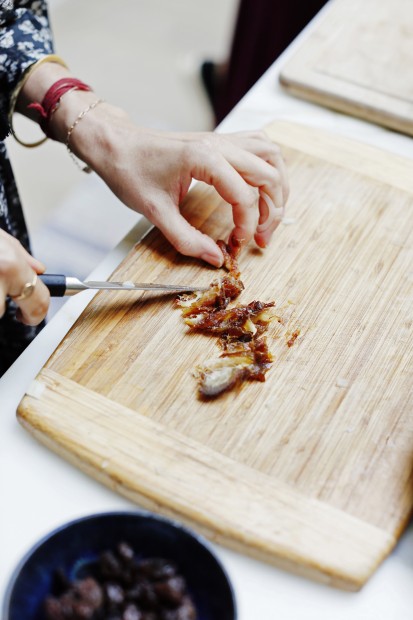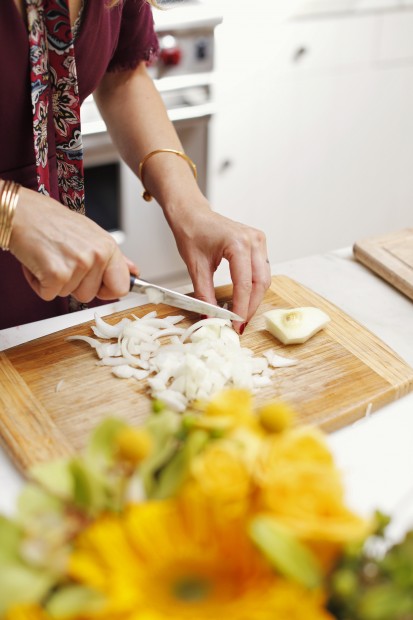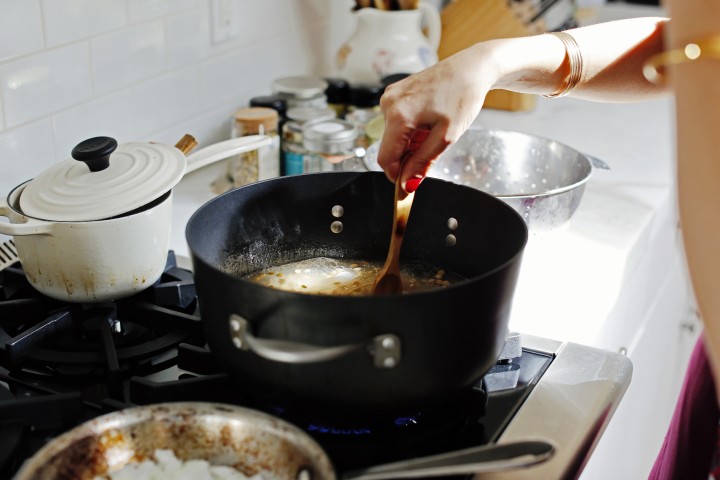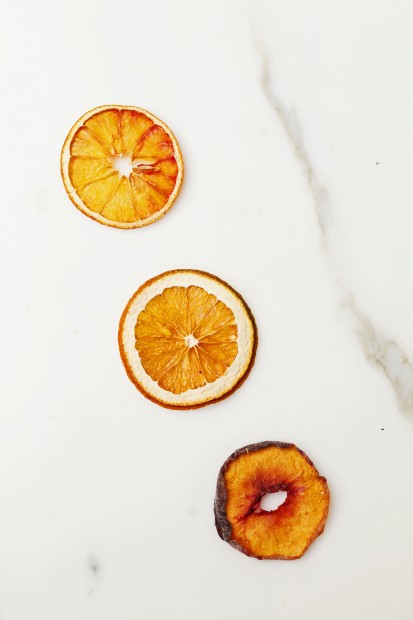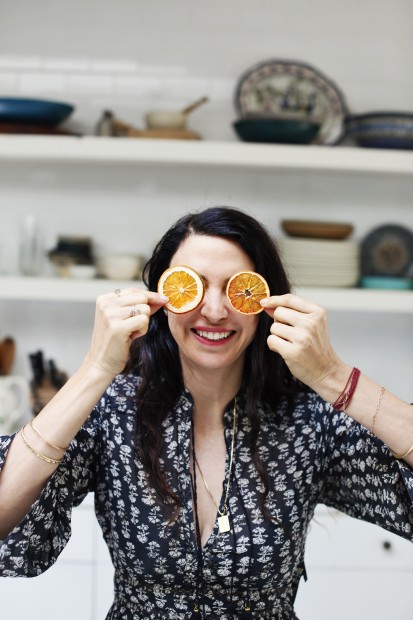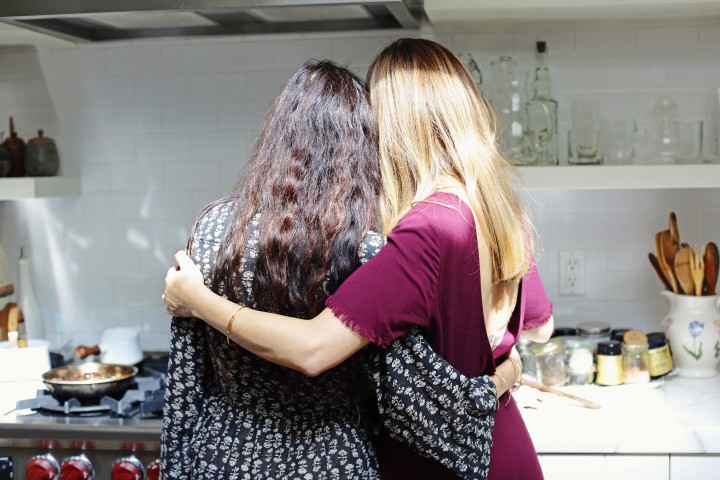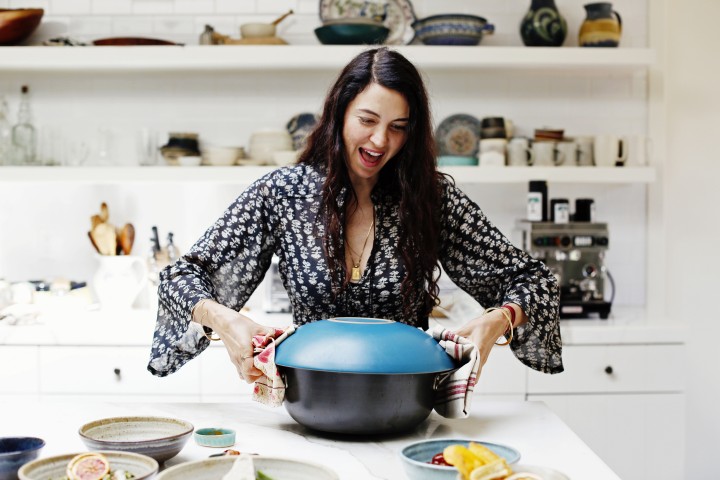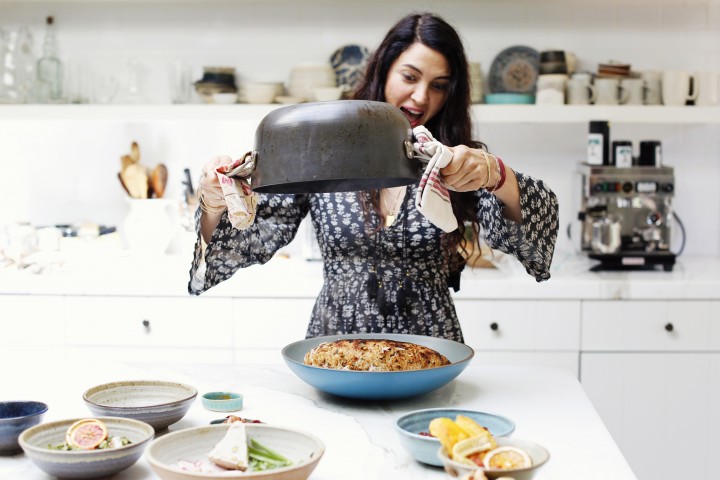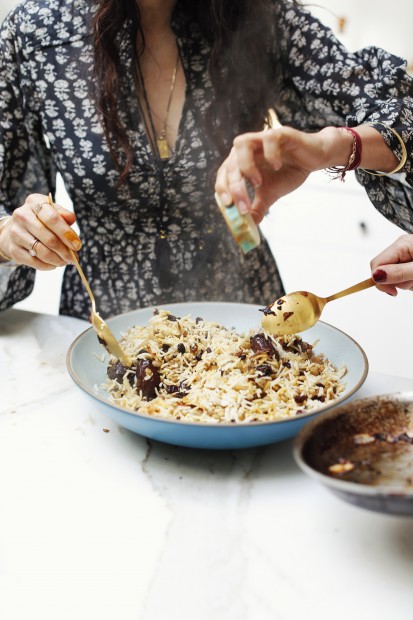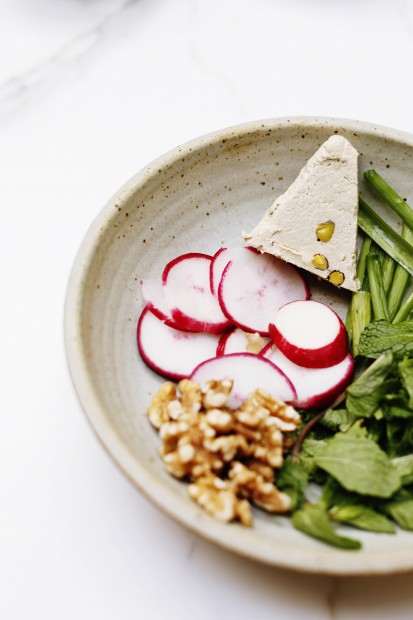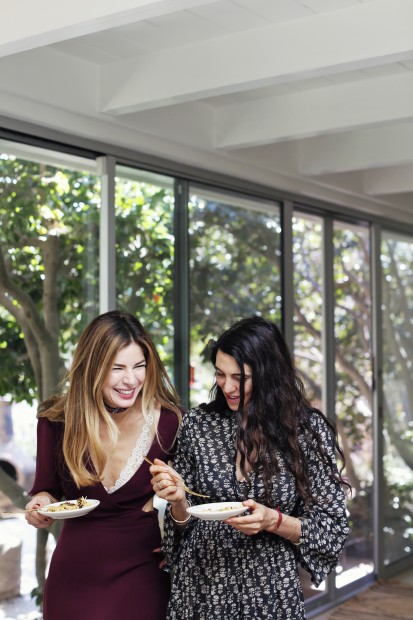 ADAS POLO (lentil rice)
Simple and delicious, this Persian dish can be paired with protein like boiled or grilled chicken or stewed beef, or lamb shank.
Though we made ours as a VEGAN DISH which is delicious.
3 cups of white basmati long rice (our brand was "Mother" from Persian market)
1 onion (chop and fry/grill onions separately in a skillet until dark golden)
1 1/2 cup lentils (wash the yellow lentils then boil them until it's cooked, then drain)
1 cup raisins, and 10-12 large dates (cook the raisons and dates in a skillet with 1/4 cup water or white wine and one teaspoon of coconut oil until fully cooked)
2-3 tbsp "spices" (combined spices like pinch of cardamom, pinch of turmeric, 1 teaspoon cinnamon, this gets mixed into boiling rice)
4 tbsp Saffron (boil water and add saffron to brew, then when dish is ready this is a last step to add to the cooked rice before adding the cooked raisons and dates)
salt (we used pink sea salt) & fresh pepper
3 table spoons of oil to boil rice, then 3 tablespoons to cook rice after draining it once its boiled (we used coconut oil, but vegetable or grapes oil is used often)
We boiled our "adas" or lentils, then set aside, then we boiled our water in 4 cups of water, as our rice was boiling and almost fully cooked we added the lentils, and salt (many fully cook the rice in full pot of water then drain it and recook with oil and added lentils, but we made ours the simple way called "ca-teh" which is when you add just enough water to cook into the rice).
Add spices to boiling rice, and cooked lentils.
Let the rice keep cooking on medium heat after fully cooked to make "tadik", a delicious toasted crispy rice on bottom of pot.
Add fried onions, saffron, then the raisons, dates and enjoy!
For making Tadik
In a large saucepan bring water with salt to a boil. Add rice and boil 10 minutes. In a colander drain rice and rinse under warm water.
In a 2- to 3-quart nonstick saucepan melt butter. Spoon rice over butter and cover pan with a kitchen towel and a heavy lid. Fold edges of towel up over lid and cook rice over moderately low heat until tender and a crust forms on bottom, 30 to 35 minutes.
Spoon loose rice onto a platter and dip bottom of pan in a large bowl of cold water 30 seconds to loosen tah-dig. Remove tah-dig and serve over rice.
Tags:dill, feta cheese, herbs, lentil, Persian, pomegranate, rice, stew, walnut, winter, yogurt