Thanksgiving Dishes with Kitchen Mouse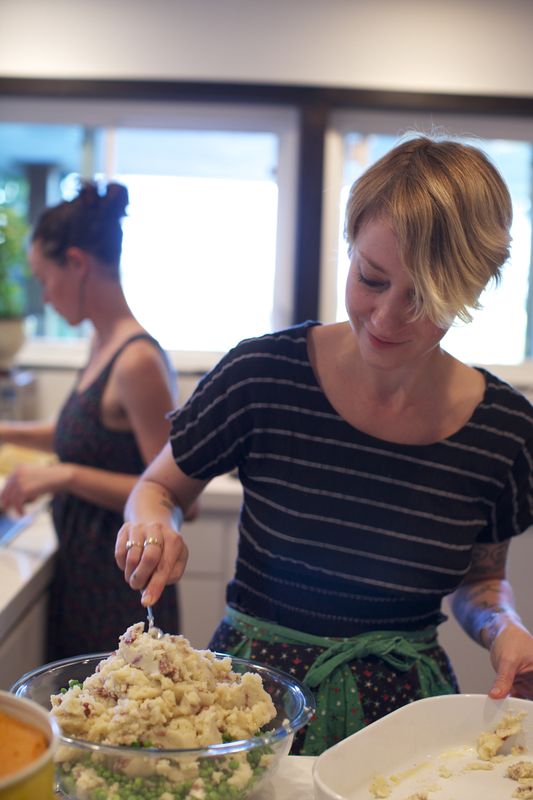 I have been obsessed with a particularly sweet mouse that cooks up a storm on the East side of town. She will soon be opening her own restaurant appropriately called Kitchen Mouse in Highland Park very shortly, but until then here is a sample of what mice can do in the kitchen! I recently was invited to a fabulous Thanksgiving luncheon at my dear friend Kimberly Muller's house with Chalkboard Magazine and Rip and Tan. It is a rare afternoon when I can just eat, drink and be merry for a few hours.  Erica Daking is the mouse who cooks vegan and non-vegan dishes using all organic and wholesome ingredients. (The sweet potato pie was heavenly! )Kimberly made a beautiful flower arrangement using flowers from her garden and persimmons from the Farmer's Market. Erica, Jenni and Kimberly made and packaged beautifully some home made pumpkin body scrub. Recipe for that here. Vegan recipes below!
See more organic and healthy recipes on The Local Rose.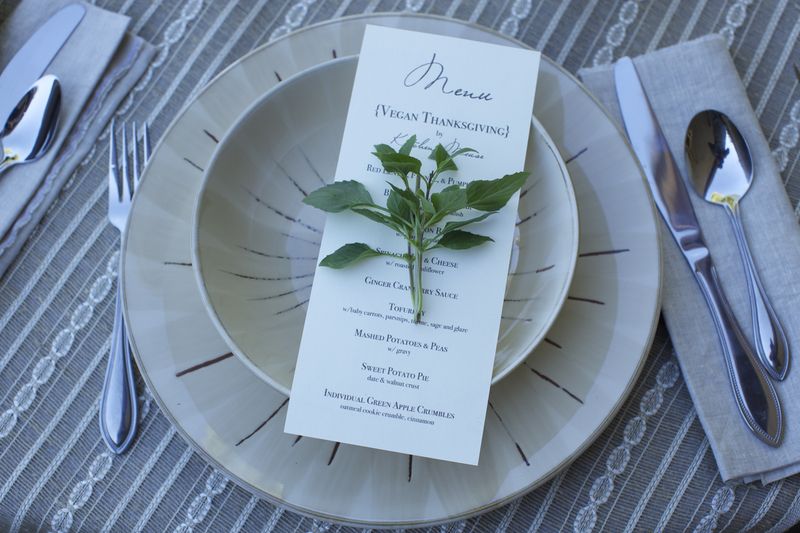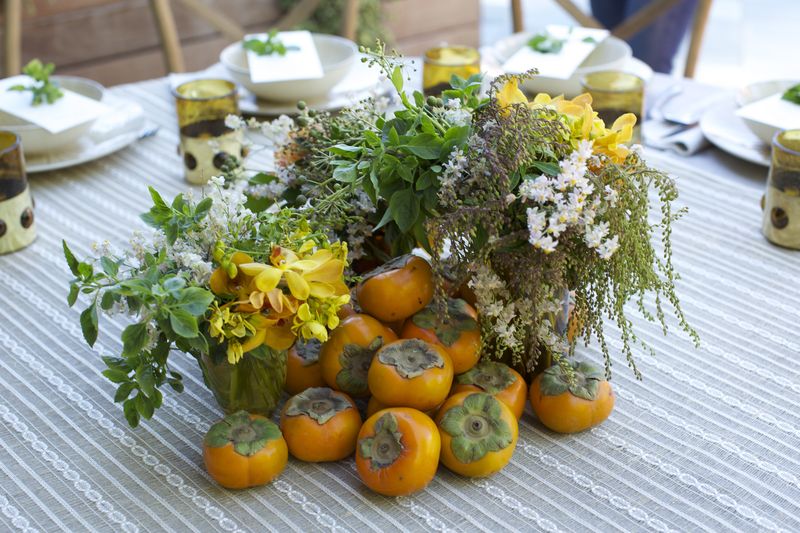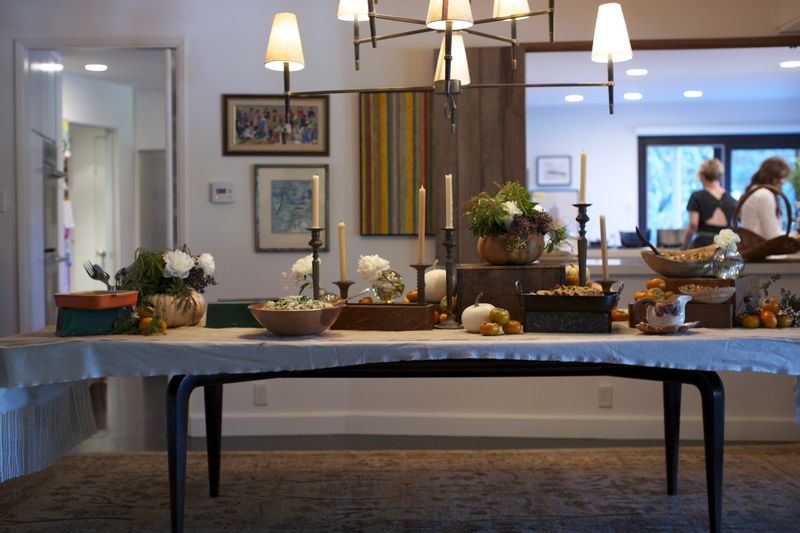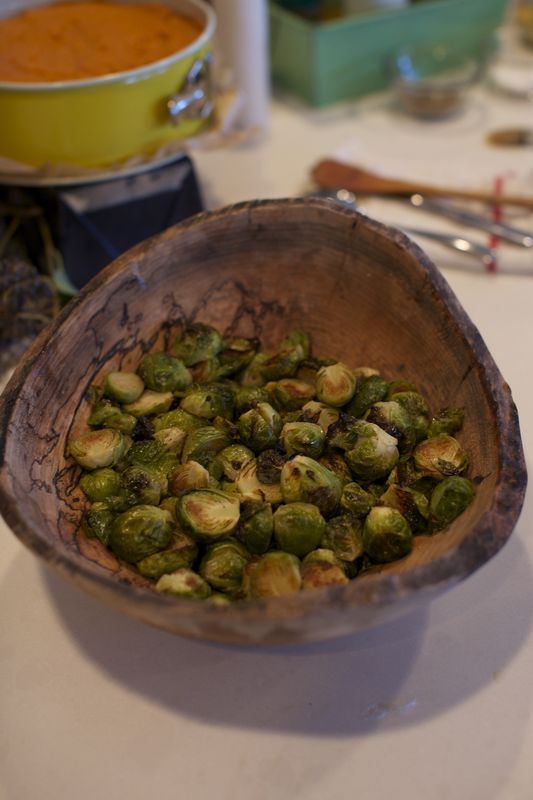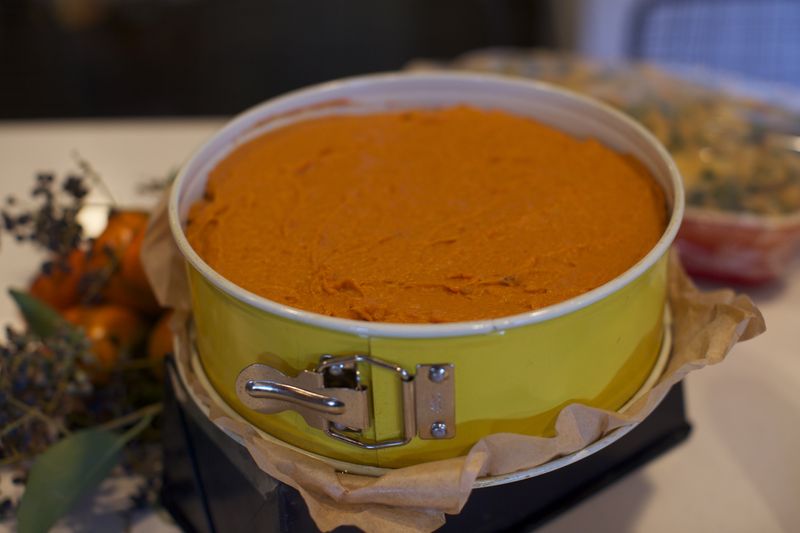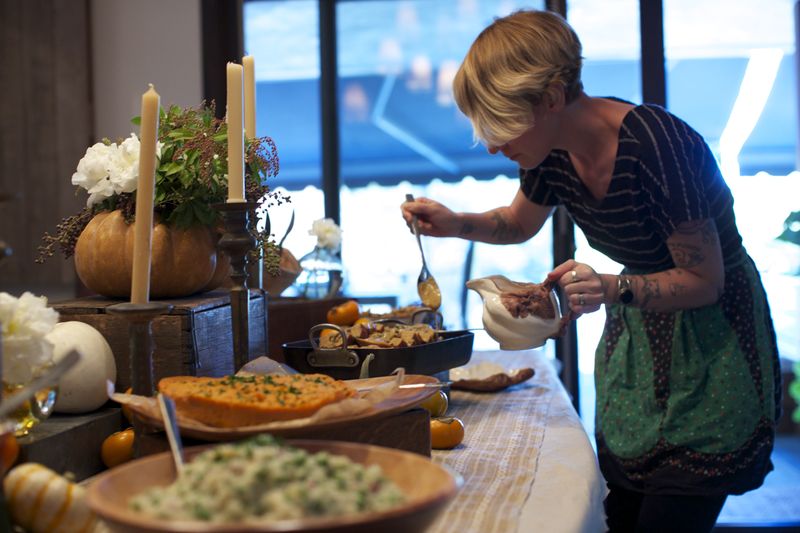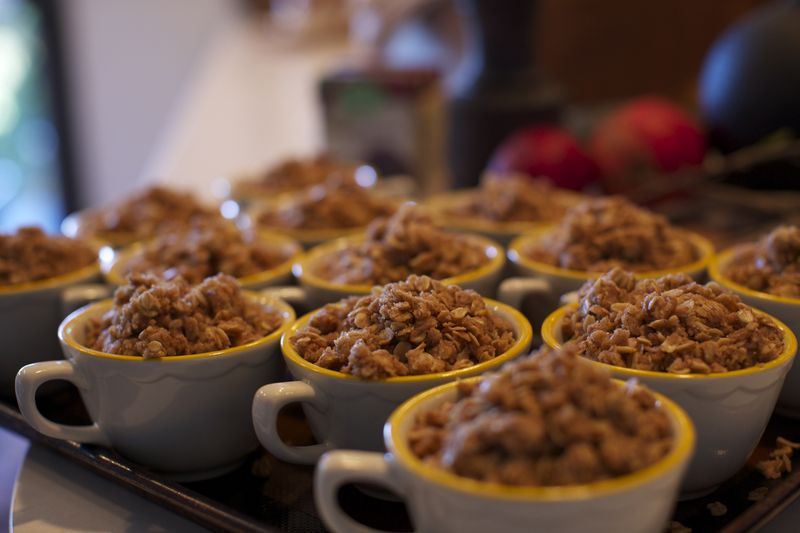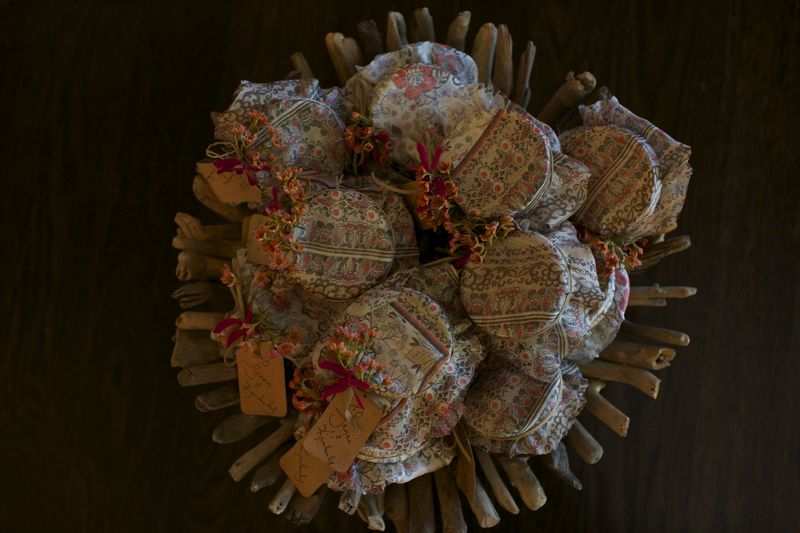 VEGAN CREAM SPINACH MACARONI AND CHEESE
4 quarts water
1 Tablespoon sea salt
16 ounces Tinkyada elbow pasta
4 slices gluten free bread (optional)
2 Tablespoons olive oil
3 cups water
1 head cauliflower, chopped
2 cups potatoes, chopped
1 large onion, peeled and chopped
2/3 cup Earth Balance
1⁄2 cup raw cashews
1⁄4 cup nutritional yeast
4 teaspoons sea salt
1⁄2 teaspoon garlic, minced
1 Tablespoon Dijon mustard
2 Tablespoons lemon juice, freshly squeezed
1⁄4 teaspoon black pepper
1/8 teaspoon cayenne
1⁄4 teaspoon paprika
2 bags frozen spinach, or fresh if you prefer (cook with the pasta for the last 2 minutes)
In a large pot, bring the water and salt to a boil. Add macaroni and cook until al dente (we do 14 minutes with Tinkyada Elbows). In a colander, drain pasta and rinse with cold water. Set aside. In a food processor, make breadcrumbs by pulverizing the bread then add the olive oil to create a medium-fine texture. Set aside.
Pre-heat oven to 350 degrees. In a saucepan, add water, potatoes, cauliflower, sweet potatoes and onion, and bring to a boil. Cover the pan and simmer for 15 minutes, or until vegetables are very soft.
In a blender, process the Earth Balance, cashews, nutritional yeast, salt, garlic, mustard, lemon juice, until perfectly smooth. Add frozen spinach to cheese sauce.
In a large bowl, toss the cooked pasta and blended cheese sauce until completely coated (you can stop here for creamy mac and cheese, or for traditional baked style mac and cheese continue on). Spread mixture into a 9×12 casserole dish, sprinkle with prepared breadcrumbs, and dust with paprika. Bake for 30 minutes or until the cheese sauce is bubbling and the top has turned golden brown.
VEGAN GRAVY
2 cups water
2 cubes bouillon, we use "not chicken"
1⁄2 teaspoon onion powder
Few good dashes garlic powder
2 heaped Tablespoons nutritional yeast
Few good dashes soy sauce
1 teaspoon Dijon mustard
1 teaspoon yellow mustard
1⁄4-1/2 cup flour, as needed (I use brown rice flour) 1 Tablespoon vegan butter
Big pinch sea salt to taste
Big pinch pepper to taste
Combine all ingredients in pot, and bring to boil. You can toast the nutritional yeast, flour, and vegan butter in the pan first. Also, you can sauté chopped onion or fennel before you add any of the ingredients to the pan for extra flavor.
Cook on medium low heat until done.
You can also add poultry seasoning for that traditional Thanksgiving
smell and taste.
VEGAN SWEET POTATO PIE
For the crust:
4 cups pecans
6 large Medjool dates, pitted
4 Tablespoons Earth Balance, melted Pinch of salt
For the filling:
8 cups sweet potatoes
2 teaspoons salt
1⁄2 cup extra virgin olive oil 1⁄2 cup maple syrup
1 dash pumpkin pie spice
1. To make the crust: Preheat the oven to 350 degrees. In a food processor, pulse the pecans and dates until finely chopped. Add the melted butter and process until a dough forms. Press the dough lightly into a springform pan lined with parchment paper.
To make the filling: Chop the sweet potatoes into large chunks and boil in a pot of water. Then mash the sweet potatoes (you can use a stand mixer if you would like). Add the salt, olive oil, maple and pumpkin pie spice and stir until fully mixed.
Place filling on top of crust and bake (optional) for 10 minutes. Release springform pan and serve.
BRUSSEL SPROUT CAESAR
For the dressing:
1 cup veganaise
3 cloves garlic
1 Tablespoon red wine vinegar 1 1⁄2 teaspoon Dijon mustard
1⁄2 lemon, juiced
Salt and pepper to taste
For the salad:
3-4 lbs. brussel sprouts, destemed and halved
1⁄2 cup radish, thinly sliced
1⁄2 cup gluten free bread crumbs, tossed in a few dashes of poultry seasoning and drizzled with olive oil
Olive oil, salt, and pepper for tossing
To make dressing: Combine all ingredients in a food processor until thoroughly combined. Add water to thin if necessary. Will yield approximately 1-1⁄2 cups of dressing.
To make the meal: Preheat the oven to 450 degrees. Toast the gluten free breadcrumbs or cubed gluten free bread and set aside. Toss brussel sprouts in olive oil, salt and pepper and bake in the oven until caramelized and soft, about 15-20 minutes. Combine cooked brussel sprouts and radish and toss in the dressing. Sprinkle breadcrumbs on top to serve.
VEGAN APPLE CRISP
For the topping:
1⁄2 cup Earth Balance
3⁄4 cup sugar
2 Tablespoons pure vanilla extract
1 Tablespoon flax seed
1⁄2 cup Wholesome Chow AP mix, or any self rising gluten free flour blend (or Bisquick)
1⁄2 teaspoon fine sea salt
1 teaspoon ground Ceylon cinnamon
1⁄4 teaspoon baking powder
1 1⁄2 cup regular rolled oats, Bob's Gluten Free Oats
For the filling:
4 green apples, diced and peeled 1/3 cup brown sugar, firmly packed 1⁄2 lemon, squeezed
1⁄2 cup Earth Balance
2 Tablespoons white rice flour
Preheat the oven to 350 degrees.
To make the topping: In a stand mixer fitted with a paddle attachment,
beat the butter, sugar and vanilla extract on medium-high speed for 2 minutes, scraping down the sides as needed. Add the flax and mix until just combined. In a small mixing bowl, whisk together the flour, salt, baking powder and cinnamon. Add the mixture to the wet ingredients in two parts, mixing on medium speed after each addition. Once the flour has been incorporated, add the oats and mix until just combined.
To make the filling: Combine apples, brown sugar, lemon and white rice flour into a bowl. Cut the Earth Balance into cubes and mix it by hand with the apple mixture.
Fill ramekins 3⁄4 of the way full with apple mixture. Flatten oat mixture on top of the apples, covering the whole top of the ramekin. Bake in the oven for 30 minutes until slightly brown on top and apple mixture is bubbling up.