Turmeric Oats ~ A Cleansing Breakfast by Kristin Dahl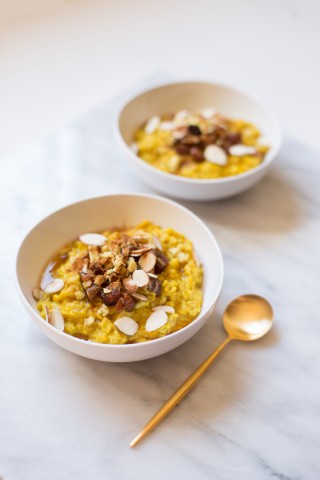 I like a good hearty breakfast since it really balances the blood sugar and helps sustain energy throughout the day. Studies are suggesting that eating breakfast will maintain weight loss by keeping the metabolism moving and active. Once a week I make my favorite kitchari by Kristin Dahl and now she has a delicious detoxifying oat dish to share with us.
Kristin's use of good healthy fat in the recipe allows the turmeric to be fully absorbed into the body. I also love the cooked fruit with the oats combined with the crunchy nuts.
If you would like to check out Kristin's Detox program here is a link to more information.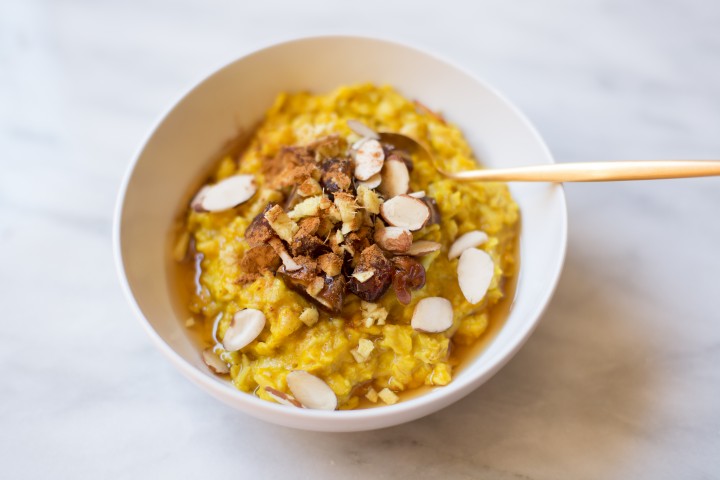 CLEANSING TURMERIC OATS
During my 21 Day Transformation & Cleanse Program, Kitchari is consumed over the course of 3-5 days to offer the body a break from the burden of overconsumption. This periodic cleansing helps to clear accumulations of excess toxins from the system and acts as a reset for the digestive system. Foods that are taken in during the cleanse are simple & easy to digest, thus enhancing metabolic fire (agni) & dramatically improving health. According to Ayurevda, this form of cleansing is one of the most important factors in increasing vitality and supporting long-term health.
During an Ayurvedic cleanse, Kitchari is generally eaten three times per day. However, oats are an alternative & easy to digest grain that make for a perfect breakfast option while cleansing. Plus, they are full of fiber, vitamins, and minerals. Topping with nuts & seeds also makes the dish a complete protein. The turmeric offers anti-inflammatory effects, a beautiful color, and a bitter/pungent flavor that supports the balance of the 6 tastes.
Traditionally, grains and fruits are a poor food combination, though cooking fresh apricots, apples, pears, and peaches + combining them with the oats improves digestibility. The stewed fruit is an optional but lovely addition.
INGREDIENTS :::
1/2 cup Oats
1.5 cup Water
½ tsp ground turmeric
1/4th tsp ground ginger
1 tsp Cinnamon
Pinch of Himalayan salt
TOP WITH OR MIX IN :::
1 Tsp of Ghee or Coconut Oil
1/4th cup Coconut Milk, Fresh Almond Milk or Hemp Milk
1 Tsp Fresh Chopped Ginger or Ginger Powder
*Optional – finish with- 1 Tsp Chia Seeds, 1 tsp Ground flaxseed, 1 tsp hemp hearts, goji berries, 1 Chopped Medjool Date, Slivered Almonds or Walnut Halves
*Optional fresh apricots, apples, pears, and peaches. (stew with 1 cup of water for 15 minutes – then, add oats + remaining water & cook as directed) Choose from fruits you like or create a Tri-doshic blend with the fruits listed.
METHOD :::
Bring water & oats to a boil
Add Spices & Sea Salt
Cover, Reduce to simmer & cook for roughly 3-5 minutes (until         oats are tender & water is absorbed)
Turn off heat & let stand for 2 minutes
Add desired toppings
Tags:breakfast, oatmeal, recipe, turmeric, turmeric oatmeal