Whole Beauty ~ Book on Daily Rituals and Natural Recipes
How my practices illuminated this path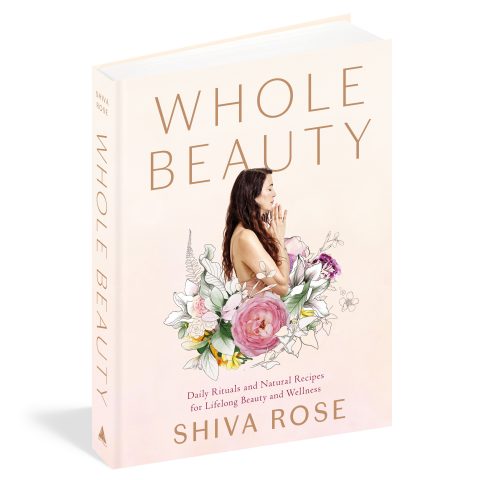 Years ago I felt my world crashing around me. Agonizing auto-immune issues, divorce, moving with two small children in tow, and old childhood traumas were rearing their heads. It was a time where I was plagued with physical exhaustion, chronic pain, depression and anxiety. I slowly and intuitively began to rebuild my life by creating a safe nest within the gentle embrace of the natural world. I started to grow my own food, detox from chemicals in my home and beauty regime, started a spiritual practice, and more. All of these elements led to the creation of this site The Local Rose which documented my journey into the world of wellness. That was almost a decade ago, and now it feels like I have officially closed a chapter. My new book Whole Beauty is a culmination of those years as a blogger for TLR, and then creator of my skin care line. It is truly surreal to see this book now in the physical form. I am so grateful to the team that made this a reality. Artisan my publishers, simply got me and what I envisioned for this book. What this process has ultimaley taught me the most, is that when we are seeking, when we are aligned, and when the timing is right, things will fall into place easily. My nature can easily go into warrior mode, and try to make things happen. Through my daily practices, and with how the world is unfolding for me now, I am seeing how the merits of allowing things to flow as they are meant to is truly the key.
Whole Beauty was meant to be published by the tribe of creative women at Artisan. It was meant to be published in 2018. It was meant to be in unison with my budding beauty line. In essence, we have to trust when spirit guides us. Years ago, when I pitched my book to publishers  in NYC, I didn't get any traction. Instead of the usual feelings of being rejected,  a familiar terrain from all the years I worked as a an actress, I tried to focus on the positive elements that were occurring in my world. This only came from having a strong daily practice that made me align myself with source energy.
I truly want to thank all of you loyal readers of the site who have inspired me to write this book. I hope this book will bring you some joy, love and bounty . . .
More to come on recipes and rituals . . .