Chyawanprash ~ Elixir of Life
The natural supplement you need to be taking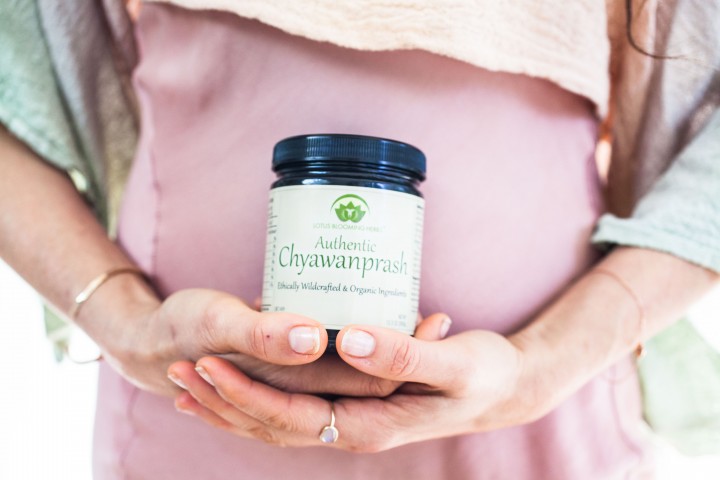 Chyawanprash is an ancient Ayurvedic blend of 35 ingredients which is taken like a supplement for wellness, rejuvenation and longevity. The idea is that all these herbs, spices and fruits working together in union make this a tonic for the ultimate health. It tastes sweet and is jam-like due to the amalaki fruit (indian Goosberry), sesame, ghee and honey. Amalaki which is high in vitamin C, aids in the elimination of toxins, boosts the immune system, strengthens the liver and other organs. Chyawanprash is excellent for the reproductive system enhancing fertility and the libido. Ancient legends of India say it was formulated to enhance an elderly sage so he could satisfy his young bride.
My favorite brand for an authentic chyawanprash is the one by Lotus Blooming Herbs. They use an ancient technique which takes a 21 day cycle to create. I usually take a spoonful in the morning and one in the afternoon. You can lick it slowly off a spoon or even add it to hot water. The ghee in the formula helps the ingredients go directly into the blood stream. I like this company because it is revered for its purity which is vital when taking plants and herbs.
Below is a description from this lovely company ~
The quality of our ingredients is exceptional. We use a combination of Ethically Wild Crafted, Certified Organic and Pesticide Free botanicals and dietary ingredients. Wherever possible we have sourced wild crafted ingredients, which are ethically harvested in their pristine and natural environment. We believe that wild crafted herbs retain a special essence that only Nature in all her wisdom can provide. Other ingredients are chosen from certified organic farmers who respect the environment and employ fair labor practices. Our Raw Honey is wild crafted from the jungle and never heated or cooked. Our Ghee is procured from happy, Indian, non-hybrid cows that are free to roam and eat green grass. Our Saffron is the highest grade available on earth and sourced from the beautiful mountain region of Kashmir. In accordance with the ancient recipe we use Jaggery (known as Gud in India), a highly nutritious and mineral rich sugarcane mash. We spare no expense to provide only the highest quality, effective and meticulously sourced ingredients.
Tags:Ayurvedic, blooming, chyawanprash, ghee, herbs, honey, longevity, lotus, natural, rejuvenation, sage, wellness