Springtime Berry Resurfacing Mask
A DIY brightening solution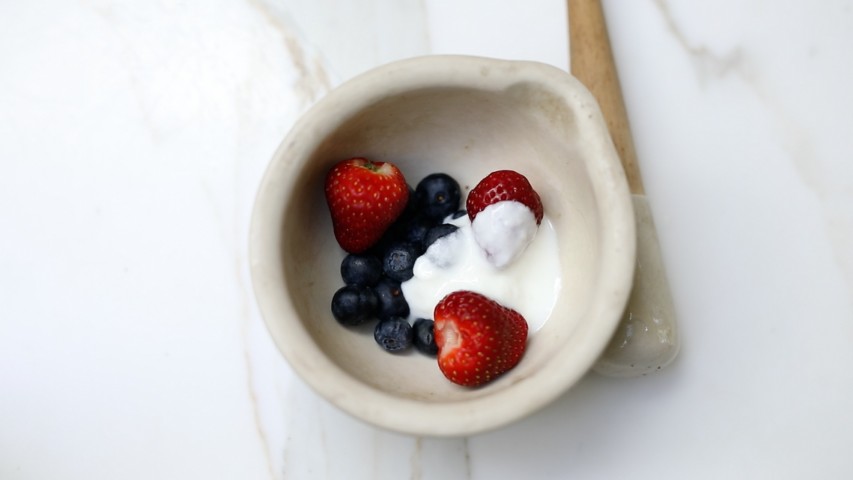 With Springtime here, we all want to clear the top layer of our skin to enhance a glowing look. For many years now women have been using microdermabrasion techniques, and peels to achieve that brighter more youthful look.  This is probably harmless from time to time, however, there are reports now emerging that too much can create thin skin and make the skin even more vulnerable to aging.
I love to make DIY masks to resurface the skin so my face oils and creams can penetrate even more efficiently. The super powerful ingredients  in many products (like pearl powder in the Rose Face  Cream) cannot really penetrate if the skin is built up too much. However, we also don't want to disrupt the micro biome of the skin which is a healthy protective, anti aging  element.  A wonderful, non toxic, method to create a natural lactic acid (which removes the top layer of the skin without stripping the micro biome) is making a berry, honey, yogurt mask.
The berries like strawberries and blueberries add incredible antioxidants and vitamin C to the epidermis. They also fight free radicals to keep the skin glowing. Honey will naturally balance the PH of the skin, and add well needed enzymes to the skin. This balancing action of honey helps prevent acne and will naturally plump up the skin. The yogurt is the lactic acid which gently exfoliate the skin while allowing the other beneficial ingredients to be soaked in.
You can always add a touch of lemon or some argan or rose hip seed oil to this recipe for an even denser mask.
Tags:antioxidants, blueberry, creams, DIY, face oils, free radicals, glowing, skin, strawberries, video, Vitamin C