Elizabeth Few ~ Dreaming on the Essence of Plants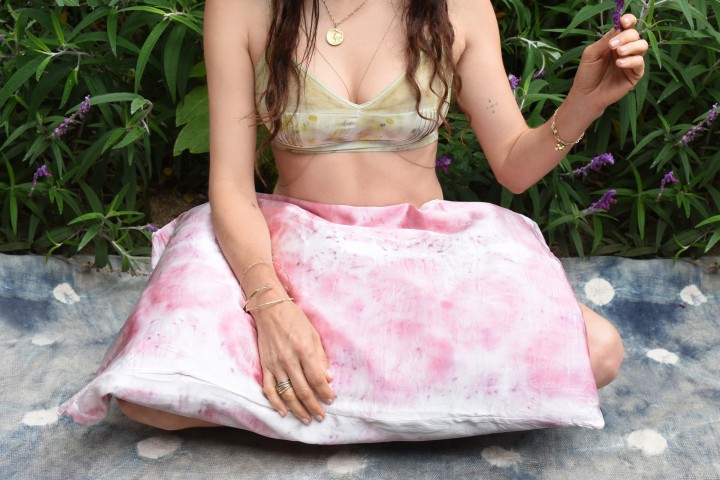 One of my most favorite things in the whole wide world, are fabrics, natural ones like cotton, muslin, and silks dyed with flowers and natural dyes. A few years ago we visited with the masterful Jane Palmer who has been on the cutting edge of natural dyes, creating colors using flowers, bark, roots and cochineal. She has truly been a vanguard in the area of natural dyes.
Now a few years later, there seems to be some incredible artisans budding on the East Coast using this language of roots and flowers. I have a natural pink dyed cashmere sweater by Audrey Louise Reynolds that I never take off in winter months.  I also am truly enamored with my lingerie piece or bralet, made by crushed plants by the uber talented Cara Marie Piazza. On Cara's site this manifesto took my breath away. It is the manifestation of what I have been trying to summon up through words.
manifesto ~ In the days of the witches, when spells were cast and potions brewed, the sorceresses would soak their undergarments in their magic to hold their incantations closest to the most powerful parts of their body. The most intimate layer between you and the world, your underwear, should be imbued with power, magic and love.
So needless to say, when I discovered that there was another artisan who is making beautiful silk sheets and pillow cases from plants, I knew it had to be a post. Elizabeth Few has taken the beautiful hues of natural flower and plants towards luxury sheets.  I have been using silk pillow cases for some time now, since I heard they can lesson split ends on hair strands, and are better on the skin. Elizabeth's work makes a bedroom soften and romantic with the song of flowers and plants. She repurposes all of the plants, and has a sustainable approach to her business which is centered where she lives in Virgina. When sleeping with my head against her exquisite pillowcases, I feel as if I am dreaming with the buds and blossoms of the natural world ~
Below is a bit about the benefits of using the silk sheets.
With any luck, you spend at least 56 hours a week in an intimate embrace with your pillow case. That's more time than you spend with your significant other or children, your favorite pair of jeans, and hopefully, your cell phone. We are here to create a very symbiotic relationship between you and your slumber. Leizu pillow cases are heavenly to the touch and a pleasing pop of color and pattern for your bed. The secret, after many millennia, is still not out about silk's incredible anti-aging benefits. Silk's proteins and amino acids help counter the effect of aging. Silk allows your skin and hair to retain their natural emollients, helps regulate your body temperature, and is naturally hypoallergenic.
We are so excited to carry a few of these pillowcases dyed with roses, carnations and eucalyptus. You can find them here ~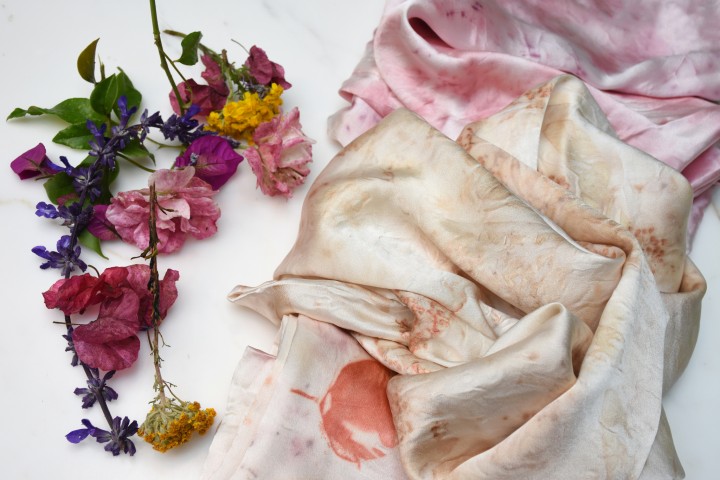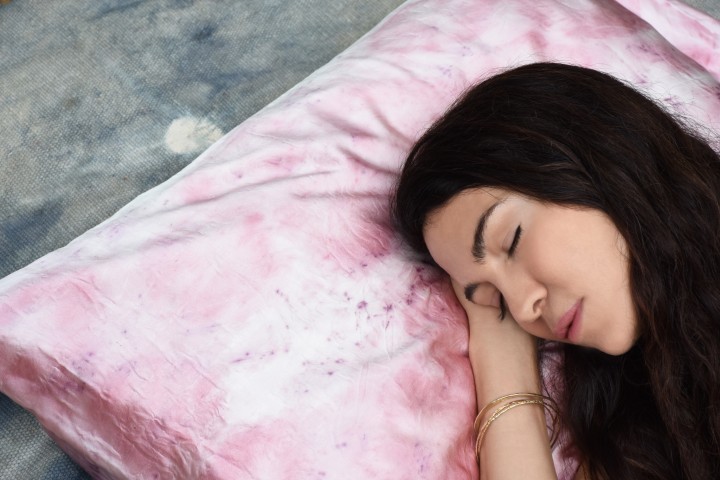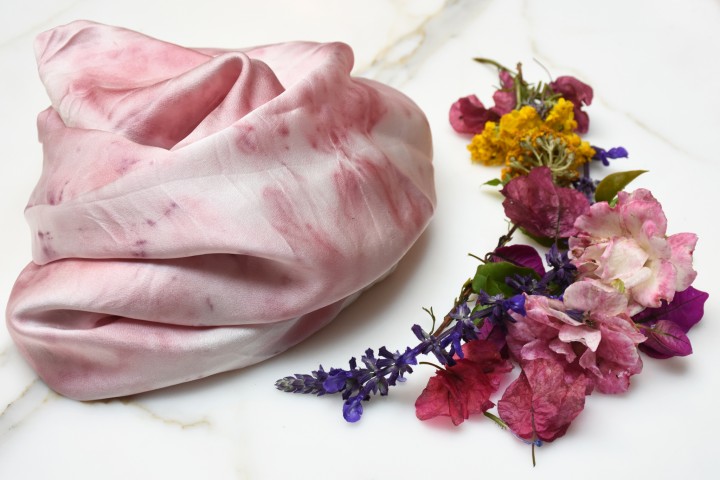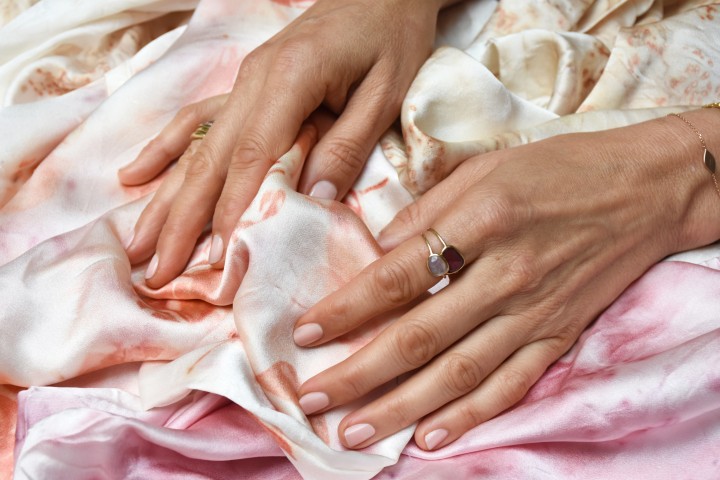 1) What makes your heart sing?
Laughing with my daughter, animals, my garden and New York City.
2) What happens to us when we use natural materials like silk to sleep against?
Silk has such a luxurious texture and our hair and skin just glide across it's surface. It feels so wonderful and cool to the touch. It helps us retain our natural emollients, so our hair and skin stay soft. It's kind of a miracle fiber. Silk and flowers are some of mother nature's greatest offerings and I love working with those materials to bring beauty into peoples environment. I think that anything that can bring us closer to nature is beneficial to the body and spirit.
3) How did you begin this path of natural dyes with plants?
I'm an artist and do a lot of collage. I love using materials that have a story and significance of their own and feel it adds to the depth of my own work. So when I started researching natural dying methods and stumbled on the technique of floral imprinting, it felt like the perfect extension of my work as an artist. It's like collaborating with nature and painting with flowers and leaves. Each piece tells a story.
4) Do you have a favorite beauty secret?
Humidity and Sleep are top of the list. I always look better when I exercise, but that often gets pushed aside when I am busy with work, which is almost always. I never go to bed without washing and moisturizing my face- that's almost sacrilegious to my southern Mother, who taught me that ritual at a very young age. And of course, sleeping on silk is an absolute must for my skin and hair! I travel with my Leizu pillow case.
5) Are you a mermaid or forest fairy?
I really want to say that I am half and half, even though my husband said that was a cop out. I don't know that I can choose! Nothing feels more restorative to my body than a swim in the ocean and most of my best memories take place in salt water. But I grew up near the Blueridge mountains and I long to settle somewhere like that. It feels so expansive and peaceful and my dream is to build my studio in the woods and spend my days working with lots of dogs, cats, goats and horses looming around nearby.
6) What are your top three flowers or plants to work with?
I love hibiscus, carnations and seeded eucalyptus. But the list goes on and one and I love that there is still so much to discover.
7) Do you have a motto or creed you live by?
Live your truth. I remind myself often to embrace all that I am and not to pay much attention to self doubt. As an artist, you have to find a way to make it work as their is never a clear path and you're required to remain vulnerable. But I know in the end, my best offering is my truth.
8) What is on your night stand right now?
A stack of books (novels, parenting books, books on meditation) I am too exhausted to read at the end of the day! I also have a tube of Weleda Skin Food that I slather on my work worn hands before I crash!
Tags:eco-friendly, natural dyes, organic, silk