Cauliflower Curried Soup
A delicious recipe for the anti-inflammatory vegetable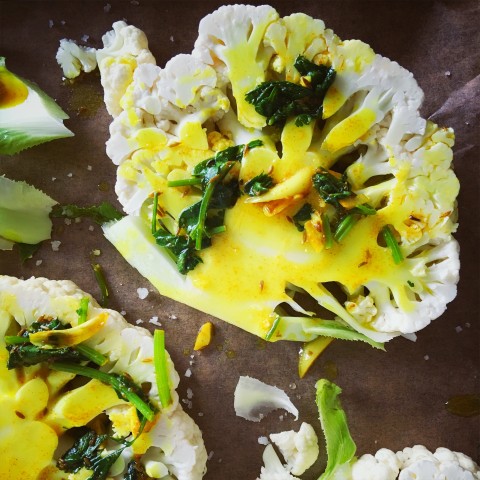 I have been growing and cooking cauliflower since last fall, and still haven't grown weary of this cruciferous wonder. Cauliflower can be traced to the wild cabbage and originally haled from Asia Minor. It reappeared in the Mediterranean where it became a standard in Turkey and Italy. Cauliflower is anti-inflammatory and rich in vitamin K, C, B6, B2, folate, magnesium and more. Now we are rediscovering ways to substitute gluten ingredients with healthier cauliflower, however I still like it simply roasted in the oven with some oils, or ghee  and spices. Another delicious way to have cauliflower is as a curried soup created by the lovely Mafaldo. Since I have been following mostly an Ayurvedic protocol lately, I like the idea of warm, nourishing soups and this one contains all the beneficial spices like turmeric and curry powder (cumin, coriander, fenugreek).
One of my favorite cooking Instagram sites belongs to Mafalda Pinto Leite who is plant based chef based out of beautiful Portugal. This mama to four children, has trained at the Natural Gourmet Institute along with working with Jamie Oliver and Mathew Kenney, who we featured here before his big rise to fame. Her dishes all look so healthy and scrumptious and she now also carries a line of affordable super foods. This soup was a hit at casa Rosa, and I toasted the pumpkin seeds with sea salt for an extra treat. Enjoy ~ recipe below ~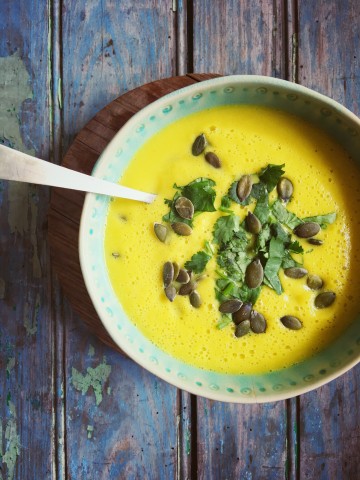 Curried Cauliflower Soup
serves 4
1 1/2 tablespoons of Ghee or coconut oil
2 minced onions
2 garlic cloves, crushed
1 tablespoon of curry powder
1/2 tsp turmeric powder
4 to 6 stalks of cilantro (save leaves for serving)
1 big cauliflower head or 2 small, cut in pieces
1/2 a butternut squash, cut in pieces
1 zucchini, chopped
4 cups of water
In a big pot melt the ghee or coconut oil, in medium heat. Add the onions and sauté for a couple of minutes until translucent. Add the garlic, curry powder, turmeric and cilantro stalks. Stir until it starts to smell good! Season to taste with salt.
Add the cauliflower, squash and zucchini, mix well, until the vegetables are nicely coated with the spice mixture. Fill the pot with water until it covers the . Let the soup start to boil, turn down the heat. Place a lid and let simmer for 5 minutes. Remove from heat and let the vegetables soften in the water. Let sit until veggies are soft (yes no more heat needed to preserve more nutrients).
Blend in a high speed blender (you can add coconut cream for an even richer taste), until completely smooth, creamy and velvety.
Serve topped with minced cilantro leaves and pumpkin seeds. Enjoy.
Tags:cabbage, cauliflower, coconut oil, cooking, curry, delicious, food, ghee, natural, recipe, tumeric, vegetable