Christmas Eve ~ Rose & Cardamon Egg Nog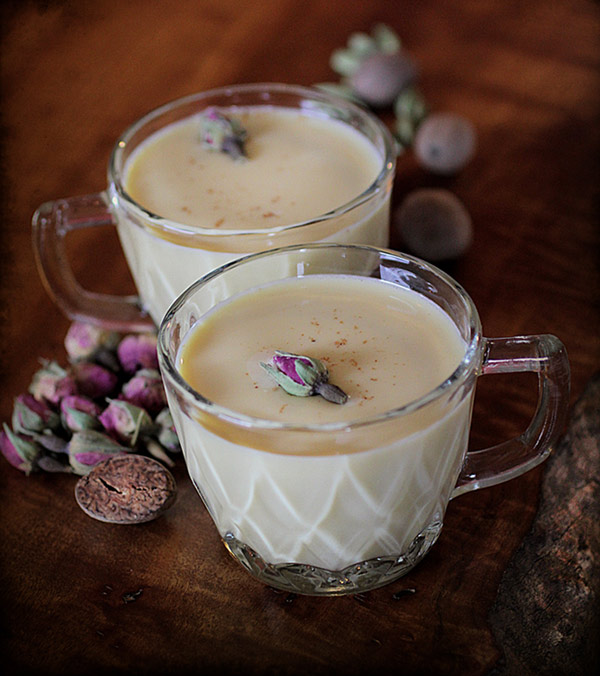 I love egg nog on Christmas eve or day ! All those  cozy, Christmas spices blend into a warm or cold decadent comforting drink! Spices like vanilla, nutmeg, cinnamon, and ginger wafting through the house. I just discovered an amazing recipe for a rose and cardamon version on one of my favorite sites for oils and spices Mountain Rose (of course). Here is the recipe! You can omit the rum for the sprites!
Rose & Cardamom Egg nog
2 fresh, organic eggs*
3 oz (by volume) organic granulated sugar
½ tsp organic cardamom seed powder
2 oz brandy
2 oz spiced rum
6 oz organic whole milk
4 oz organic heavy cream
2 tsp organic rosewater
organic nutmeg shavings to garnish
Directions:
Beat very fresh organic eggs in a blender or food processor for one minute on low speed. Slowly spoon in the sugar and continue blending for one minute to combine. With blender still running, add cardamom, brandy, rum, milk, and cream. Blend the ingredients together for one minute. Chill thoroughly to allow the flavors to meld. Stir in the rosewater and serve in two chilled glasses, grating nutmeg on top before serving and an organic rose bud if you're feeling sweet.
* We suggest caution in consuming raw eggs due to the slight risk of food-borne illness. To reduce this risk, it is recommended that you use only fresh, properly stored, clean eggs with intact shells, and avoid contact between the yolks or whites and the shell.
For more organic and seasonal recipes, see The Local Rose.