Kabocha Squash Pomegranate with Fresh Herbs
An all-natural recipe perfect for the changing Autumn season.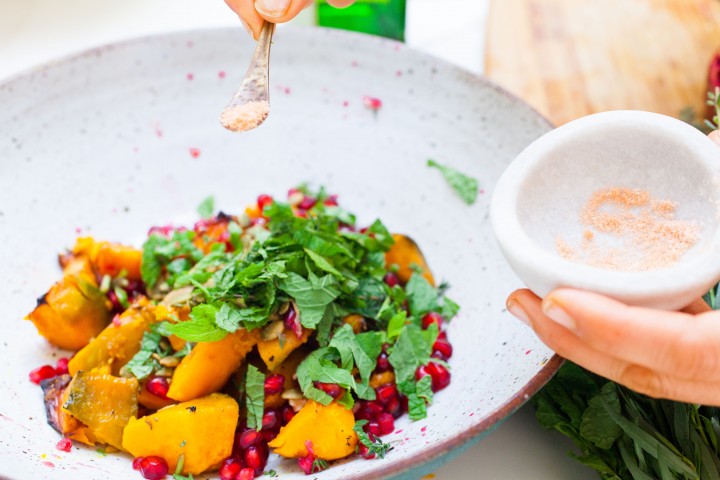 Contrary to what the blue skies and high 70 to 80 degree weather states, it is Autumn here at Rose land. We are carving pumpkins, drinking warm teas, baking Autumn fruit crumbles and best of all preparing all sorts of delicious squash dishes. One of my favorite and easy side dishes, is this colorful one using pomegranate and the Japanese Kabocha squash. This vitamin rich variety of Autumn squash has a chestnut texture which I so so adore. The vibrant orange Kabocha, mixed with the ruby jewels of a pomegranate, topped with verdant herbs makes this a perfect holiday dish. I also add some baked pumpkin seeds that have been flavored with a touch of tamari for extra crunch and flavor. The fresh herbs are so aromatic and add to the color palette. On this day I used tarragon, parsley, mint, and oregano but feel free to use others herbs too like coriander, thyme and rosemary.
As you know by now I am passionate about pomegranates and how to incorporate them in fall dishes. One thing I recently learned, is that pomegranates are an anti-parasitic food. Drinking the juice and eating the seeds daily, can help keep parasites from invading our GI tracks. My dear friend Pamela Salzman has a great tutorial on how to de seed a pomegranate without a mess.
Cutting and peeling a squash can take some knife skills, but if I can do it,  you surely can! A sharpened knife does help just be mindful of your safety. I usually slice the squash open, then cut it canoes so peeling is easier. I know some people like to use a peeler for taking off the thick skin, but I prefer the knife.
This is also really delicious with some fresh feta cheese sprinkled on top.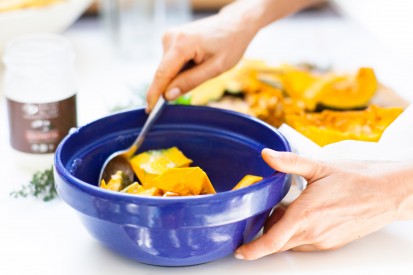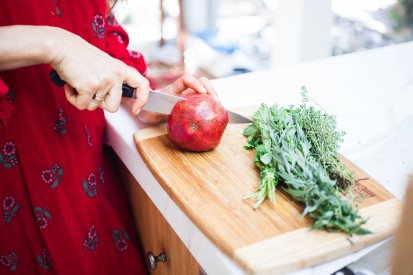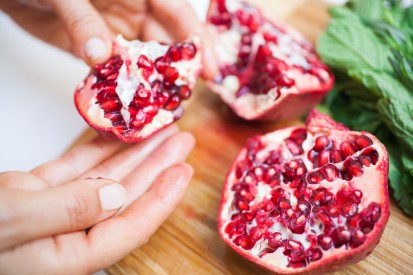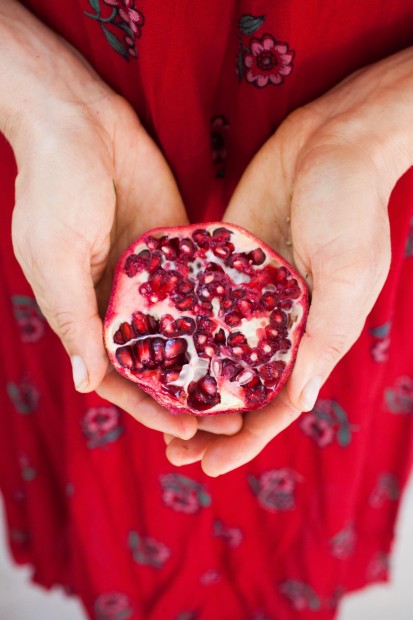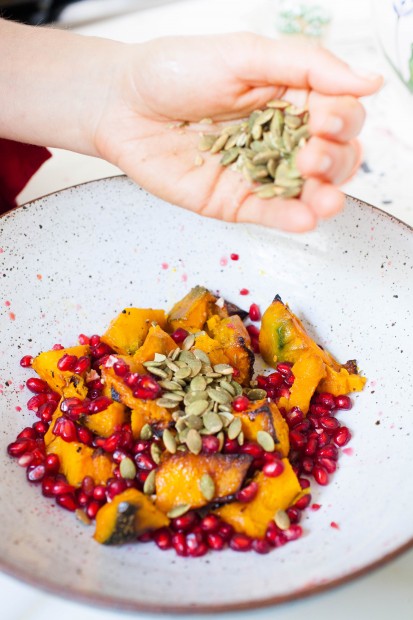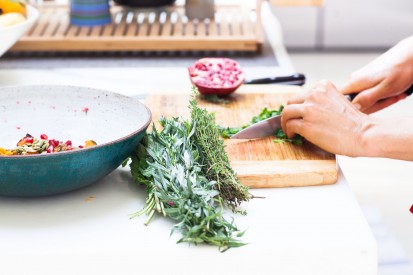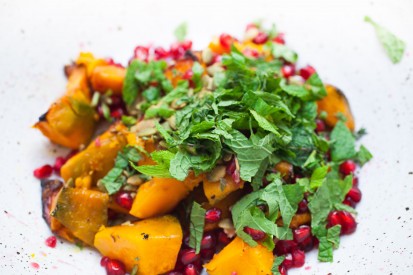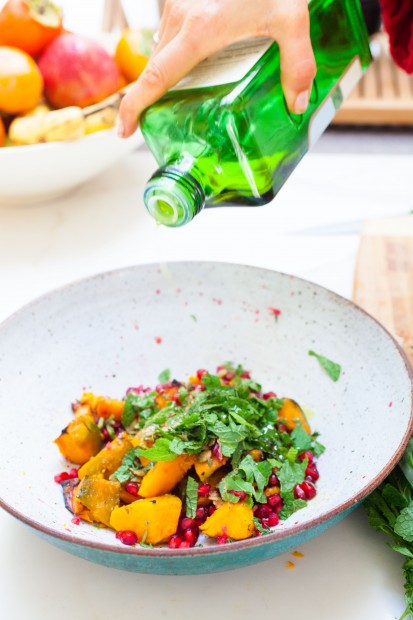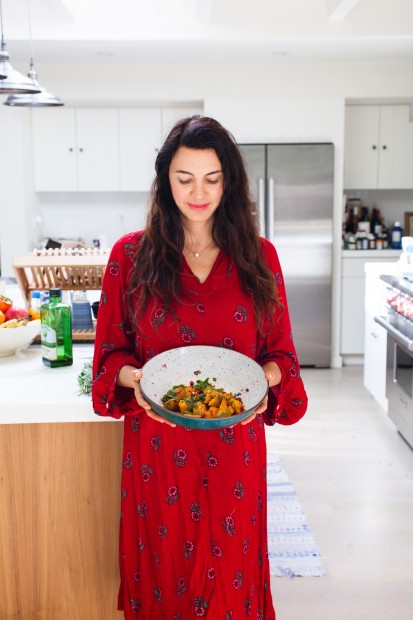 Recipe for Kabocha Squash Pomegranate Dish
1 Kabocha squash peeling and cut into cubes
1 pomegranate broken open
1 TBS coconut oil
1 TSP Tamari
1/2 cup roasted pumpkin seeds
1/2 cup freshly chopped herbs (tarragon, oregano, mint, parsley)
Olive oil
Sea Salt
Feta Cheese (optional)
First toss the squash in coconut oil and roast in the oven at 350 degrees until the squash is golden and soft. It takes about 40 minutes depending on how hot your oven gets.
At the same time you can roast the pumpkin seeds tossed with some olive oil, sea salt and tamari. Roast in the oven for 15 minutes.
Then assemble the dish by adding the cooked squash, pomegranate seeds, pumpkin seeds, and chopped fresh herbs.
Toss with ample olive oil, and add sea salt and pepper for taste.