Spring Time Frittata with Free
Persian Inspired Chickpea Frittata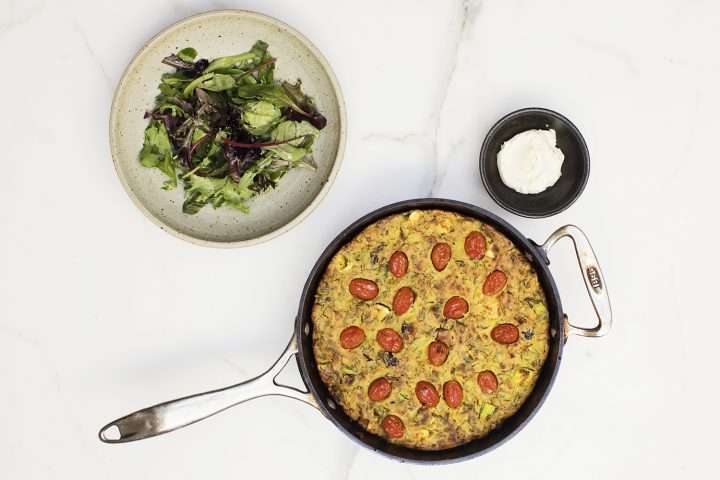 Each year I try to post a Persian inspired recipe to commemorate the Persian New Year and Spring Equinox. Last year we celebrated with a Persian Picnic and years before we had a Persian Spring feast.  For an actual Iranian egg frittata take a look at the classically delicious Kuku recipe which is an Iranian standard.
This year the lovely Free Dominguez who has graced the pages of TLR a few times in the past,  came over to share a vegan frittata dish with a side of labneh.
It seems the middle eastern influence in cooking has finally fully descended into mainstream cooking here in Cali. I have been adding dukkah and za'atar to most of my daily dishes to add some texture and flavor. My most favorite restaurant Kismet in the East Side, is a perfect example of this fusion of California and Mediterranean cooking.
Today there are many ways to substitute the heavy, oil rich dishes from traditional Iranian cooking with healthier options. I was thrilled to try Free's vegan version of a frittata. Honestly it was so delicious you never missed the eggs and heavy cream that usually makes this so sumptuous. Labneh is one my favorite side dishes.  Labneh is a versatile dish that is made by straining full-fat yogurt to make a tangy soft cheese consistency that can be used as a topping, side condiment, or part of a mezze spread/appetizer platter. Below is the plain version, but wonderful things can be added such as a pinch of saffron, lemon zest, a pressed garlic clove, chopped herbs (topping), a pinch of za'atar or dukkah, and is also wonderful served with olive oil
To learn more about the incredible recipes Free creates and her charitable work with our community visit her site!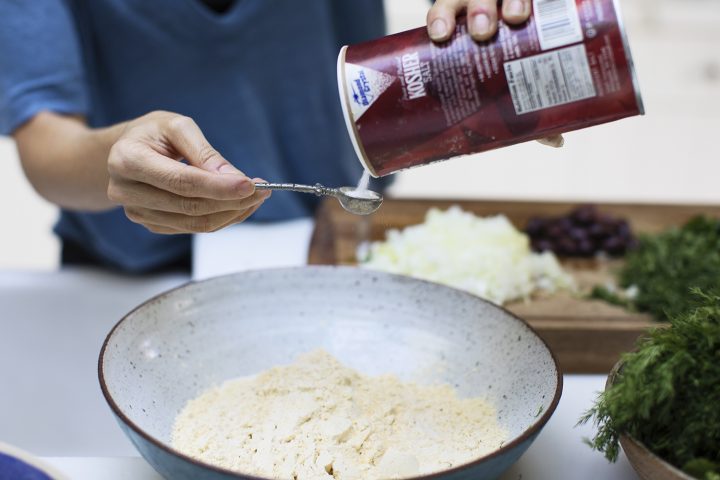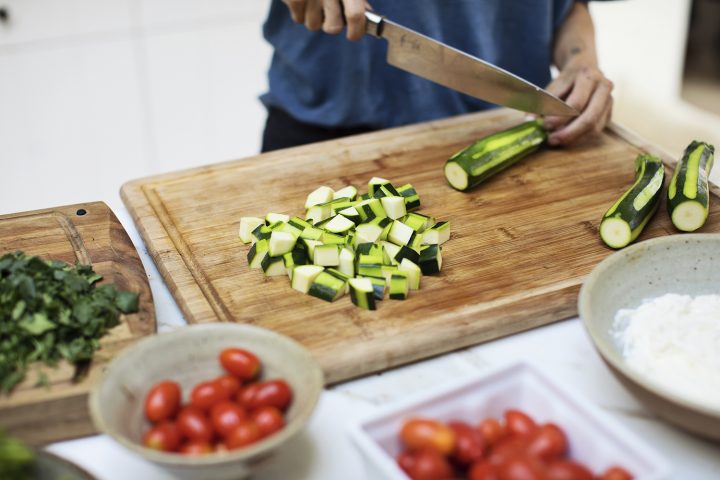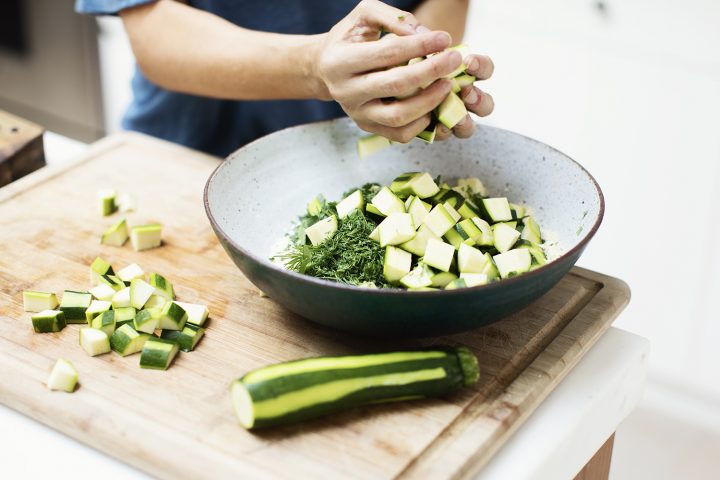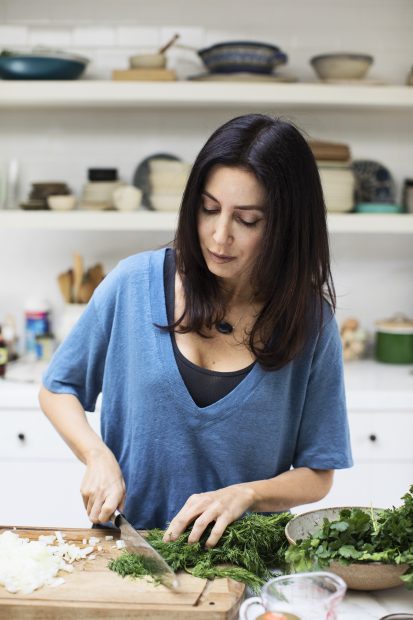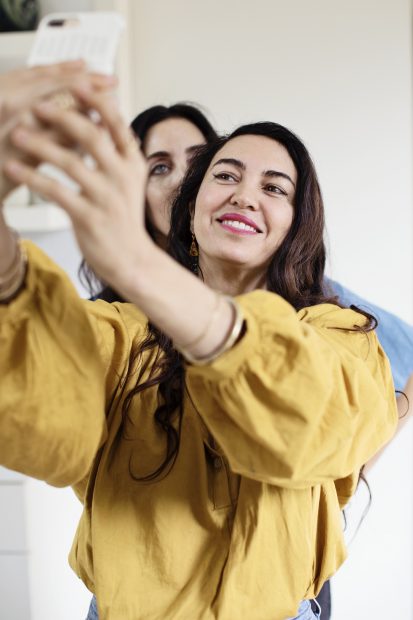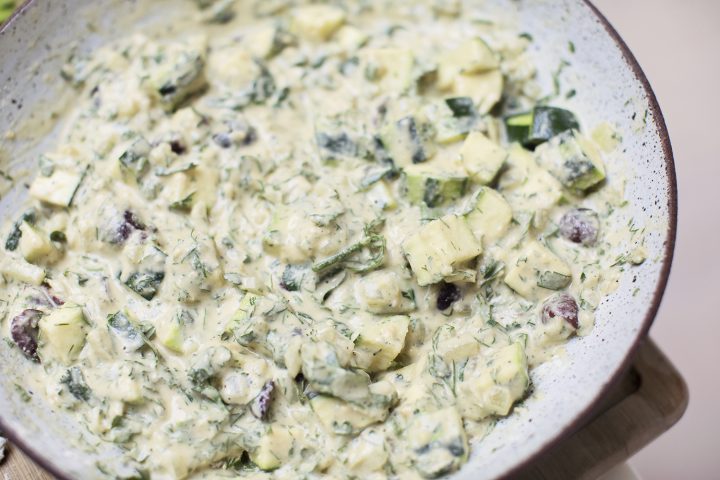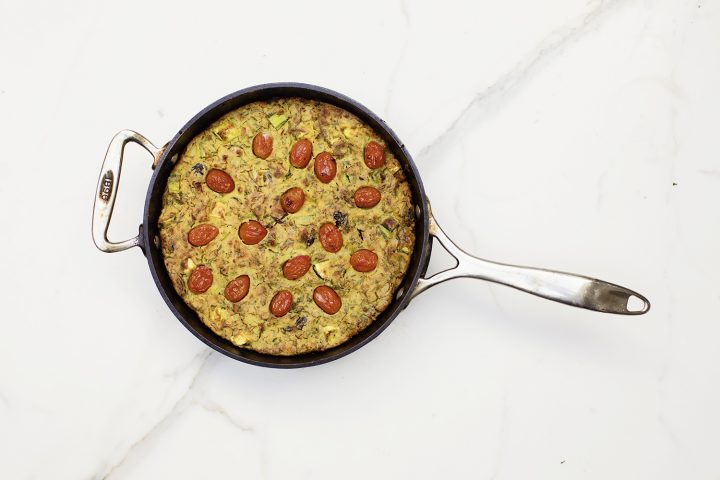 PERSIAN CHICKPEA FRITATTA (VEGAN AND GLUTEN FREE)
Kitchen supplies:
8" cast iron skillet
Mixing bowl
Vegetables:
1 yellow onion, diced
2 garlic cloves, minced or pressed
1 ½ cups of zucchini, stripe-peeled and cut in 1/2 inch pieces
12 Niçoise olives, sliced in half
1/3 cup each of herbs: dill, cilantro, parsley, chopped *
cherry tomatoes for topping
Extra Virgin Olive Oil
Frittata and Dry ingredients:
2 cups Chickpea Flour
1 tsp salt
1 tsp baking powder
½ – ¾ tsp black pepper
1 tsp turmeric
1 tsp garlic powder/granules
¾ teaspoon black salt
1 ½ cups water
DIRECTIONS:
1. Preheat oven to 350
2. Use a generous amount of olive oil to coat the skillet. On Medium heat, sauté onions and garlic until translucent, do not brown. Turn off heat.
3. Mix dry ingredients together evenly in mixing bowl.
4. Add 1.5 cups of water to the mixing bowl, stir until it forms a batter.
5. Stir in onion/garlic, zucchini, herbs and olives until evenly distributed.
6. At this point, if the skillet looks like you need to coat it again, do it at this step.
7. Pour the frittata batter into the skillet. Use a spatula to spread it evenly and lightly, without pressing the ingredients down too hard.
8. Coat the cherry tomatoes with a little olive oil in your hands, and place on top of the frittata, pushing them only halfway through the batter.
9. Bake for 30-35 minutes (test at 30 with a toothpick). You want the frittata to be moist, yet still cooked through.
10. Remove skillet from oven and allow to cool down for at least 30 minutes before serving, so the frittata can settle.
11. Serving options: With salad greens, labneh, or goat/feta cheese with optional sprinkle of sumac, olive oil drizzle and/or a side of harissa.
*For the cilantro haters, split the difference between dill and parsley.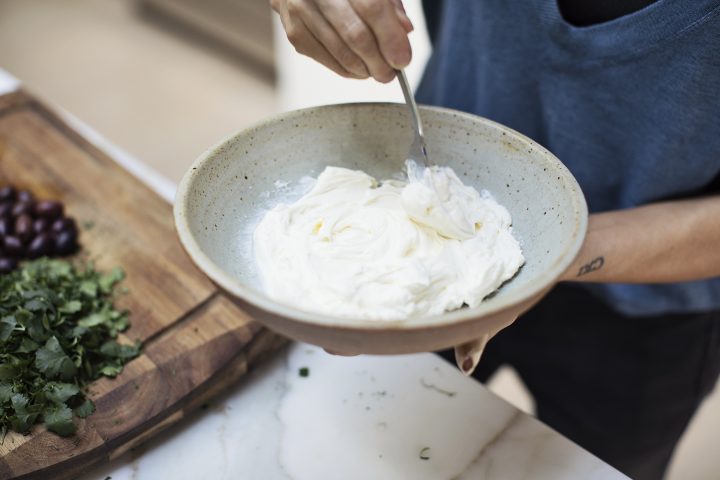 Labneh ~
Kitchen Supplies:
Fine Mesh strainer that holds up to 1 quart
Either white muslin cloth or 2-3 layers of Cheesecloth
Glass or Stainless bowl, and enough room in the refrigerator for it
Ingredients:
1 quart of whole-fat organic plain yogurt
¾ teaspoon salt
1. Pour yogurt into a bowl and stir in salt.
2. Set a large fine mesh strainer, lined with linen/muslin towel, or a few pieces or cheesecloth over a deep bowl (whatever you are using, you want to make sure yogurt doesn't seep through—you are simply straining the excess water out of it). Add yogurt to lined strainer.
3. Cover gently with the overhang of the linen towel, or another linen towel. Set in the refrigerator overnight and up to 24 hours. The consistency of labneh is a personal preference. Remove from strainer when it becomes a consistency you like. Store in refrigerator for up to 2 weeks.
(Note: If you strain the labneh until it gets very thick, approx. 2.5/3 days, you can roll it into little balls by putting some olive oil on your hands first, and put in mason jars with olive oil and herbs, such as thyme, bay leaf, rosemary, peppercorn.)