Mystical Malas ~ Nala Malas
The power and meaning of the prayer beads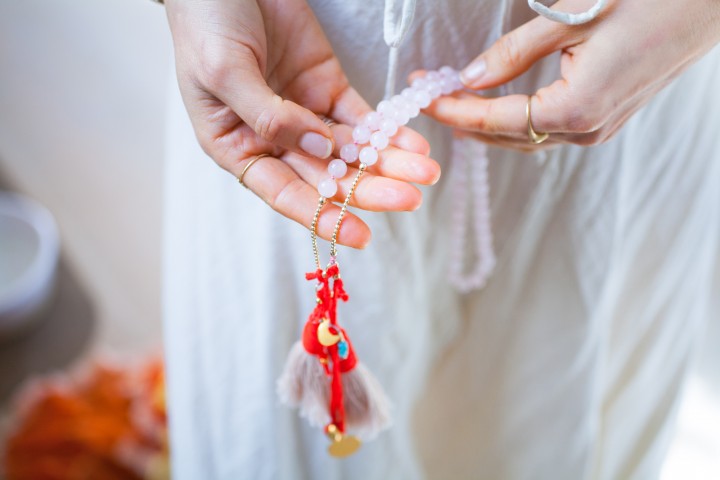 A Japa mala or mala (Sanskrit meaning garland) is a string of prayer beads commonly used by Hindus, Buddhists and some Sikhs for the spiritual practice known in Sanskrit as japa. It is usually made from 108 beads, though other numbers are also used. Malas are used for keeping count while reciting, chanting, or mentally repeating a mantra or the name or names of a deity. They can also be worn as sacred jewelry, and certain stones can absorb the energy from classes or meditations and therefore be a potent talisman.
Needless to say you would want your Mala's to come from a conscious source. I was blessed to have a beautiful mala hand made by New York based artist and jeweler Natalia Pascual. Her high vibrational line Nala Malas, are garlands of gems that you want to keep for a lifetime. She uses selectively sourced gems like amethyst (healing), apatite (manifesting), aquamarine (courage), citrine (abundance), garnet (energizing), moonstone (new beginnings), turquoise (protective), opal (psychic abilities), rose quartz (healing the heart), ruby (passion) and more. She also chooses unique pendants like moon symbols, stars, leaf, heart, butterfly and more to activate the malls. I have one made with opals and another with rose quartz. I energize them by the full moon light, wear them to Kundalini class and keep them on when creating products for my line.
More on how to use malas and an interview with the talented creator Natalia below ~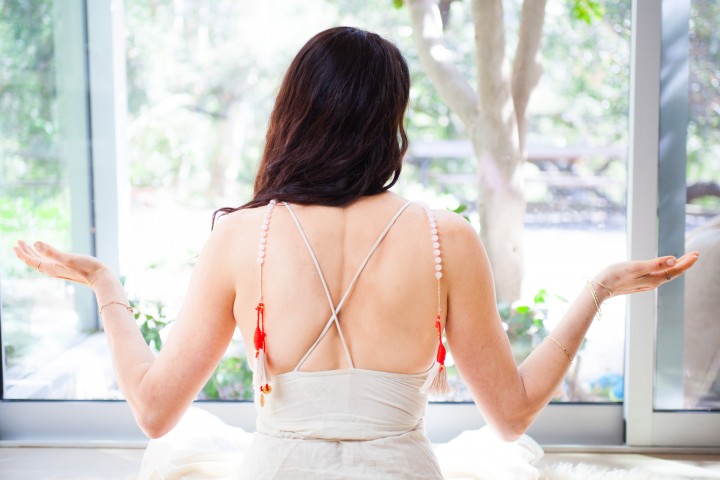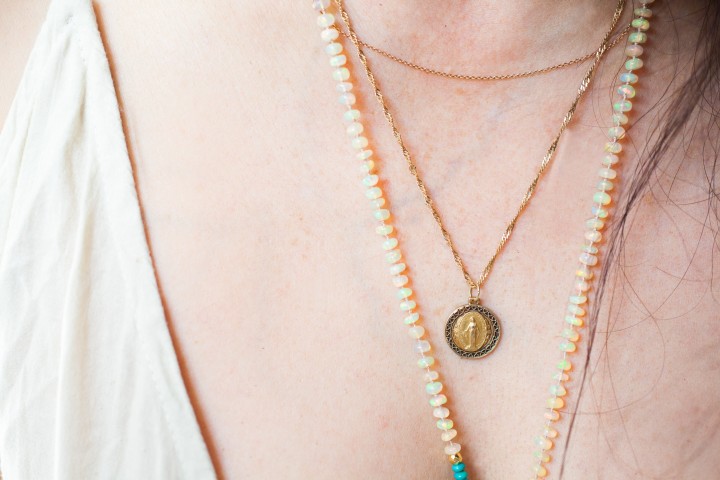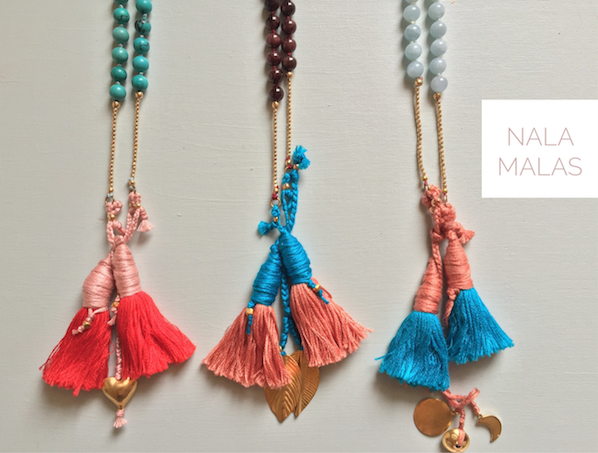 HOW TO MEDITATE WITH MALAS
1. Take a comfortable crossed legged position, sit on a cushion or blankets
2. Take a deep inhale through your nose and exhale out your mouth. Repeat this 3 times
3. Start with the first bead. Usually malas have a guru bead which is the bead that indicates where the mala ends and begins. Do not use that bead to count, the first bead will be the bead after to the guru bead. Use thumb and middle finger to count
4. Pick a mantra. It could be as easy as Om Shanti or I Am Peace. For each bead repeat the mantra until you reach the end of the mala cycle
5. Always sit for a few minutes after you are finished. Notice your breath and if it has changed the way you feel. Just observe
6. Bring hands into prayer and bow your heart giving thanks for your efforts and to the light within
Sit back and see what a difference it makes in your day!
Observation: The breath should be at ease and you should feel calmer. If a mantra makes you feel agitated or anxious please choose another mantra. Mantras can be really powerful and intense. It is recommended that you work with a teacher who understands and can recommend a mantra appropriated for your health and personal life.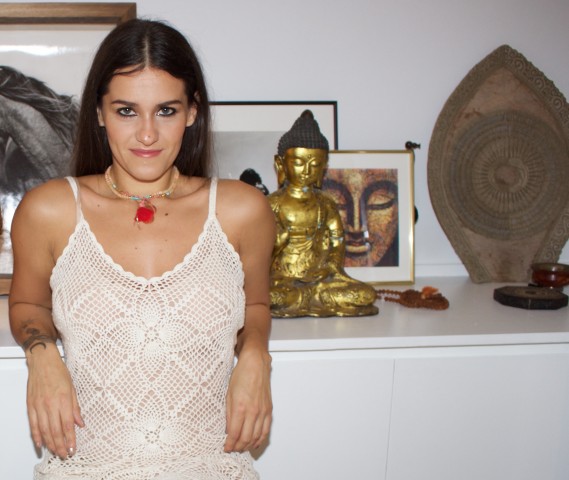 1) What inspired you to start your mala line?
I was a custom jewelry designer before I got into yoga about 5 years ago but went through a tough time in my personal life. I stopped designing and didn't create anything for 2 years out of fear. I got really depressed and cystic acne as a result. That was a call for me to connect with myself and my body so I started to seek holistic healing, practice yoga and got into ayurveda. Two years into practicing I did my first yoga teacher training. At graduation we had to come up with gifts for teachers. So we all came up with the idea of making malas. I designed them and all my friends loved them. Shortly after my friends and family lined up and placed orders. It happened very organically and less than a year into it I got a call to make a leap of faith and quit my day job, so I did. Though it has been a ride full of ups and downs I never looked back and am grateful everyday to do what I do.
2) How does your Kundalini practice inspire your work?
In so many ways. If I am not careful I get in my head a lot so I can get very insecure, protective about my work and overthink. Kundalini has been such an important tool to get off these "emotional" states and move into trust + beauty + grace. It helps me tap and connect with a pure space of my creatvity. I feel how much my work has evolved since I started practicing it. Grateful to my teacher Taylor Eyewalker who has guided me through these practices.
3) What makes your heart sing?
Color. I just love color and it is the best medicine for my soul. When I went to see "The Cut Outs" by Matisse a couple of years ago, I had a heart opening explosion. I go to museums a lot and always look for color inspiration there and nature. Seeing the works of Kelsey Brookes, Frida Kahlo, Louise Bourgeoise, Georgia O'Keeffe, Picasso inspires me tremendously. Also sun, beach, my dog Lua, seeing my favorite musician in concert and being in love.
4) Do you see something shifting in this Aquarian Age?
Absolutely, people are starting to seek more connection with themselves and each other. I notice by how many people who worked in fashion are now in health and wellness (laughs). Back when I interned and worked full time/crazy hours in the fashion industry nobody was talking about "spiritual awakening" and I feel like now people are starting to.
5) What are some of your favorite beauty remedies or products?
My sadhana has been the ultimate beauty remedy, no joke. My daily self care routing which includes dry brushing, abhyanga followed by a cold shower. On my body I use sesame oil from Banyan Botanicals. I also love my Jiva Apoha oils and the woman behind it, Angela. I use her Amma and Atman oil all the time, the sents are divine. Turmeric with pretty much everything, thriphala for my digestive system and bone broths for my gut.
6) What are your favorite places in NYC?
TO INPIRE:
The hall of minerals at the American Museum of Natural History. It is the most magical place where you find rare and beautiful minerals from all over the world. Sometimes I just go there and stay there for hours. The energy is amazing.
Central Park. I live a few blocks away and there is this little gem/hidden spot with a tinny waterfall, I love going there in warmer weather when I feel like the city is swallowing me dry and I need some nature connection. It's my secret spot and makes me escape the city for a bit.
ABC Carpet & Home, I have been going there for over 10 year and it never gets old. It's one of the most magical and inspiring stores I have ever been to.
TO EAT:
Foragers Kitchen in Chelsea, their food is super fresh, organic and delicious.
TO RELAX:
Pratima Spa, my favorite ayurvedic treatments and massages
TO SHOP:
Warm NY, carries my favorite brands including Ulla Johnson, Isabel Marant, Raquel Allegra and now Nala Malas.
7) Are you a mermaid or forest fairy?
Mermaid, I live in depths
8) Do you have a favorite motto or mantra?
Yogi Bhajan said it well "keep up and you will be kept up." It's a mantra I cherish and remind myself often. We gotta show up and put in the work.
Tags:amethyst, apatite, aquamarine, citrine, garnet, Kundalini, malas, meditation, moonstone, Natalia Pascual, new york, opal, rose quartz, ruby, turquoise